The largest annual convening of scholars and practitioners in the field of nonprofit, philanthropy and voluntary action, the conference included two plenary sessions and more than 180 sessions featuring panels or paper presentations.
Along with the public and private sectors, nonprofits, donors and volunteers step into action during crisis situations. But without effective mobilization, collaboration and innovation within and across sectors, responses can be ineffective or even worsen existing community vulnerabilities. Texas provides an important context to examine nonprofit capacity and management concerns, whether dealing with economic and infrastructure recovery needs after the record-breaking flooding of Hurricane Harvey or addressing the human service needs of asylum seekers and immigrant families along its international border.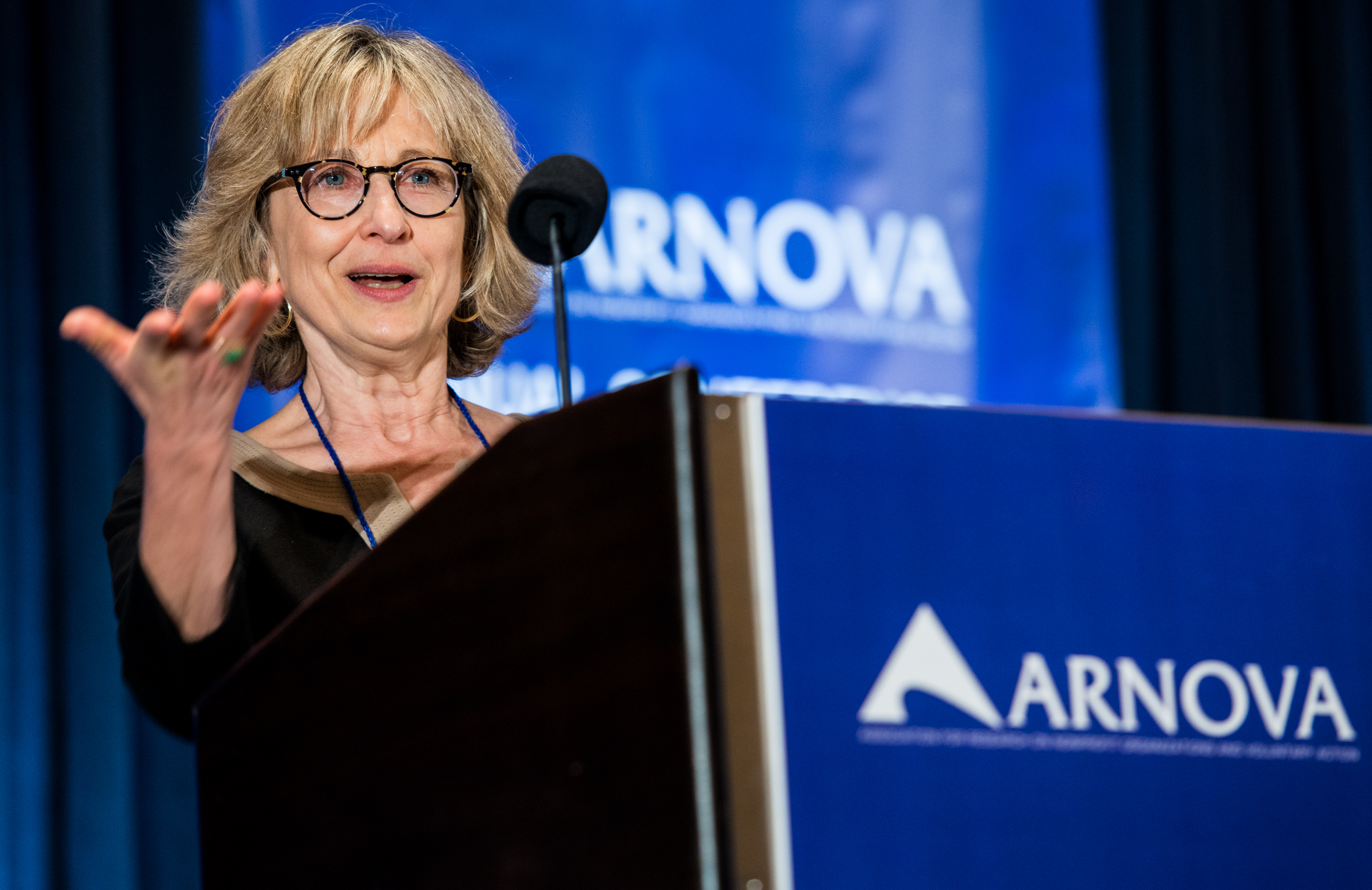 LBJ Professor Francie Ostrower kicks off the 2018 ARNOVA Conference with welcome remarks
to all of the participants. at the 2018 ARNOVA Conference. (Photo by Sasha Haagensen)

The LBJ School's RGK Center for Philanthropy and Community Service and Texas host committee convened more than 800 scholars and practitioners on the theme "From Relief to Resilience: How Philanthropy, Nonprofits and Volunteers Bridge the Gap between Crisis and Sustainability" at the Association for Research on Nonprofit Organizations and Voluntary Action (ARNOVA) 47th annual conference, held in Austin Nov. 15-17.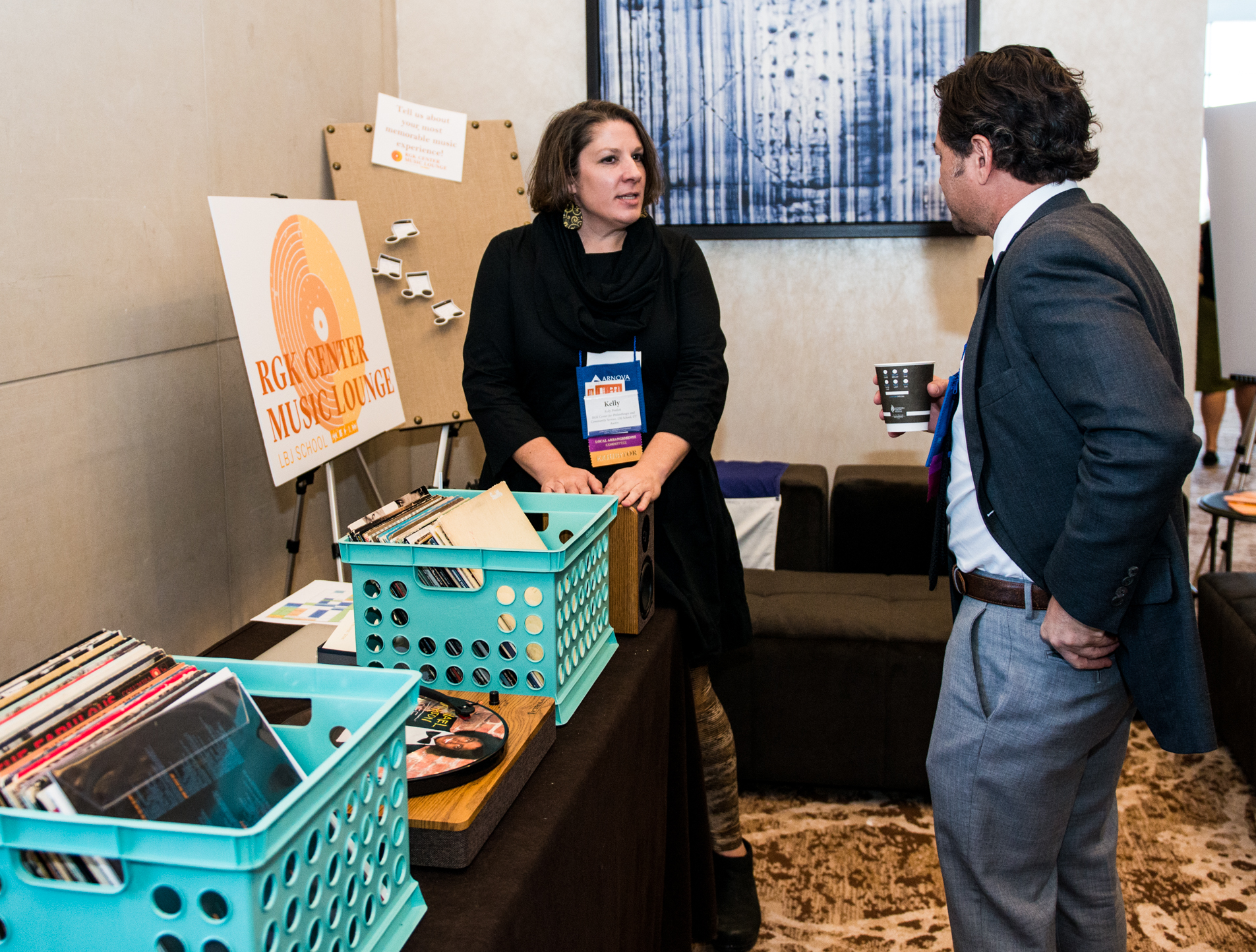 LBJ Professor and RGK Center Director David Springer prepares to spin some records
as guest DJ at the RGK Music Lounge. (Photo by Sasha Haagensen)

"This conference is a fun way for the RGK Center to highlight its role in advancing new knowledge for the field, in working closely with philanthropic and nonprofit organizations, and making meaningful connections between research and practice," said LBJ Professor David Springer, director of the RGK Center.
A host of RGK Center faculty, alumni and advisory board members presented research, spoke on panels and added Texas perspective to a wide variety of conversations:
LBJ School Professor Ji Ma appeared on a panel discussing open data and chaired the Emerging Scholars on Chinese Nonprofit Research meetings.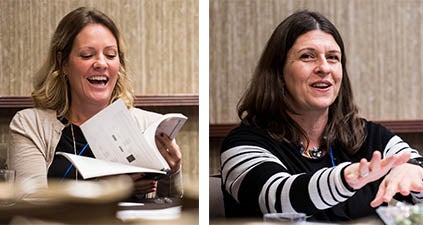 LBJ alumna Jennifer Esterline (MPAff '01) and Professor Jenny Knowles Morrison
during a panel on a Texas education funding consortium. (Photo by Sasha Haagensen)
Professor Patrick Bixler chaired one panel on developing a regional nonprofit data in Austin and another on catalyst funds encouraging nonprofit collaboration with RGK Advisory member Dennis Cavner, presented research on volunteer engagement and teamed with RGK Director and LBJ Professor David Springer for a presentation on nonprofit sector data.
RGK Faculty Fellow and Professor Pamela Paxton chaired a panel on the new IRS data release of nonprofit 990 filings.
RGK Center Nonprofit Portfolio alumni in attendance included Ashley Li, Research Specialist at the Environmental Grantmakers Association and Leslie Chandler Wang, Associate Director of the Rice University Center for Philanthropy and Nonprofit Studies.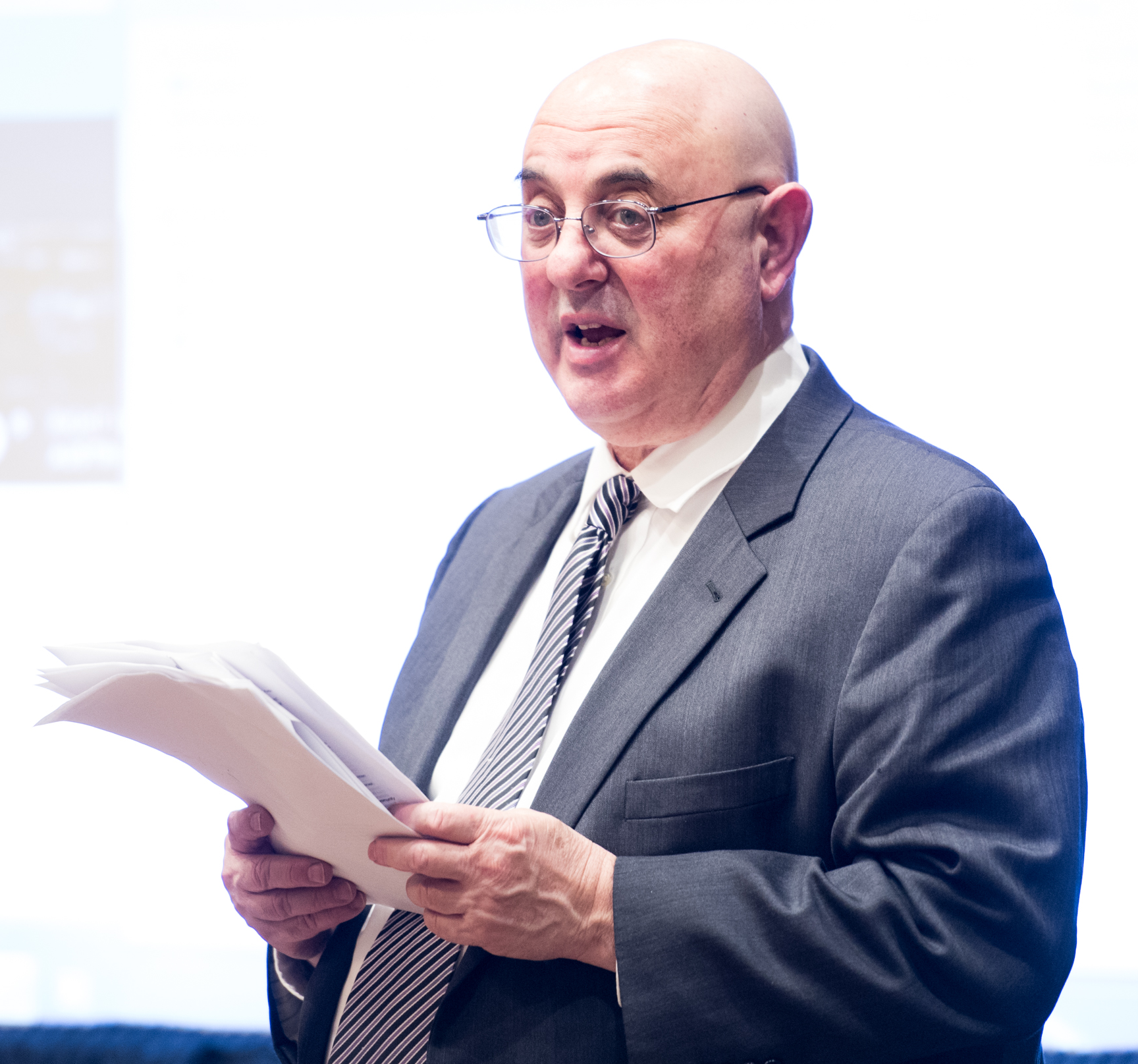 LBJ Professor David Eaton presents research
at the 2018 ARNOVA Conference. (Photo by Sasha Haagensen)

"It's critical to highlight what real civil society organizations on the ground are doing to build understanding and trust, to work on issues that others think are too difficult, to tackle divisions that exist inside our own communities," said Eaton. "The research has important findings regarding ethical considerations and investment that builds long-term local capacity in addressing conflicts."
"I'm grateful for the amazing LBJ School students and conference volunteers who dedicated time behind the scenes," said Moira Porter, Associate Director of the RGK Center. "For everyone, it was an amazing time to learn and to network with thought leaders in our field."
Make sure to stop by and fill out a postcard at the @RGK_Center booth right next to #ARNOVA18 registration table - they'll even mail it out for you for free! pic.twitter.com/eXyZfxjpff

— ARNOVA (@ARNOVA) Nov. 14, 2018
Learning about TX Ed Policy advocacy from @TEGACTX at @ARNOVA. Glad the @RGK_Center told me about this; it's good for my Ed Policy and Planning studies @utexascoe.

— E. Anthony-Benavides (@DJTinyCat) November 15, 2018
Looks like a full house at @ARNOVA opening plenary. #standingroomonly #ARNOVA18 pic.twitter.com/hncFx0gmMF

— Maarten Bout (@sauerbout) Nov. 15, 2018
Thank you @ARNOVA and organizers for an outstanding #ARNOVA18 conference! I really enjoyed the sessions; wish I could have attended more! Austin was lovely and so was a meeting up with an old ski racing friend—I hadn't seen in 40 years! pic.twitter.com/2FpkmpvADw

— Yvonne D. Harrison (@profharrison) Nov. 18, 2018
Presidential conversation...! #LBJLIBRARY #ARNOVA2018 #ARNOVA18 pic.twitter.com/rJJ1MyQr18

— Dr. Naim Kapucu (@nkapucu) Nov. 17, 2018
Another amazing year at @ARNOVA! Love this research community - full of thoughtful, rigorous research and people here, and those govern and manage with LOVE! :) #ARNOVA18

— Viviana Wu (@VivianaCSWu) Nov. 18, 2018