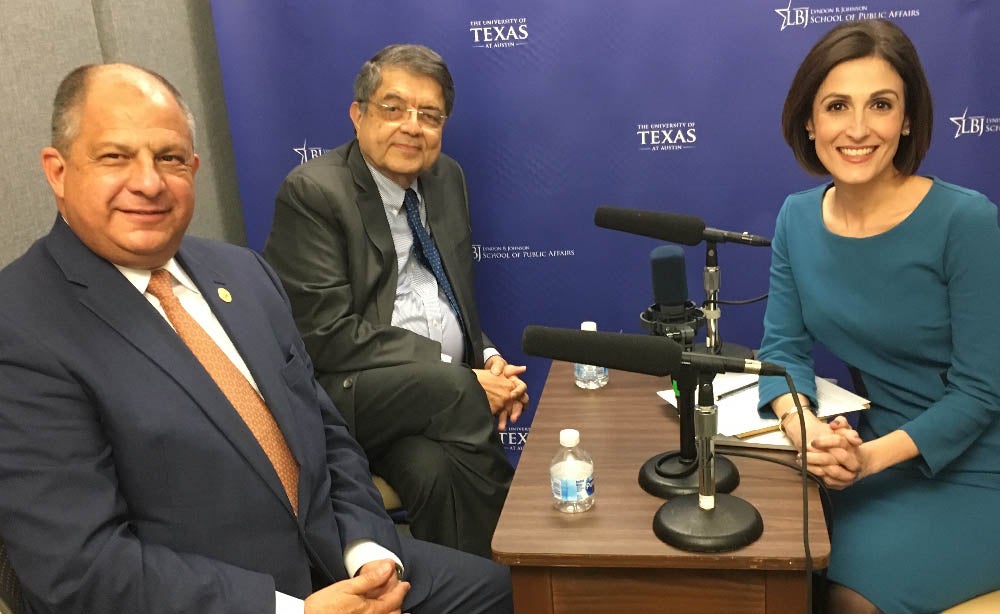 Former President Solís of Costa Rica (left), Vice President of Nicaragua Ramírez (center) and Professor DeFrancesco Soto
during a podcast recording.

In this special episode of "Policy on Purpose," former President of Costa Rica Luis Guillermo Solís and Vice President of Nicaragua Sergio Ramírez join guest host Dr. Victoria DeFrancesco Soto to discuss the current crisis of democracy in Nicaragua, challenges and opportunities in relations between the Central American nations and their neighbors to the north and the ongoing migration crisis at the U.S.—Mexico border. This episode was recorded in Spanish.
---
---
Luis Guillermo Solís Rivera was the 47th president of the Republic of Costa Rica from 2014 to 2018. He was inaugurated into office on May 8, 2014. He is a member of the center-left Citizens' Action Party (PAC). Solís led the field in the 2014 presidential election and won the presidency in a landslide election, winning more votes than any presidential candidate in the history of the nation. Solís has a long academic and political career, culminating in his election as the first president of Costa Rica to be a member of the PAC.
Sergio Ramírez Mercado is a Nicaraguan writer and intellectual who served as vice president of the country from 1985 to 1990 under the presidency of Daniel Ortega. Ramírez has retired from politics, and his literary work has gained international recognition and his novels have been translated into several languages. He recently won the "Carlos Fuentes" prize, awarded by Mexico, in recognition for his lifelong work.
The LBJ School's podcast, "Policy on Purpose," takes listeners behind the scenes of policy with the people who help shape it. Host Angela Evans, dean of the LBJ School, dives into real-world and timely policy topics with leading experts from the school and the policy world at large. Listen and subscribe.