LBJ School's Benjamin Sasse Named President-Elect of Midland Lutheran College
"Around the country many schools are turning to leaders with business, government and educational backgrounds, and Dr. Sasse brings a unique set of experiences, along with a passion for our college, community and state."
-Dr. Steven Bullock, Chairman, Midland Lutheran College Board of Trustees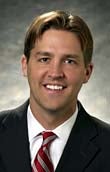 AUSTIN, Texas-- Nov. 13, 2009-- The Midland Lutheran College Board of Trustees has named Benjamin Sasse as president-elect of the 126-year old liberal arts college in Fremont, Nebraska. Sasse, who will take office in late spring of 2010, is currently an assistant professor at the LBJ School of Public Affairs, where he serves on the executive committee of the LBJ School's Center for Health and Social Policy and as a Fellow at the School's Center for Politics and Governance. Previously, Sasse served as U.S. assistant secretary of health and human services (HHS) where he led policy, planning, and research functions across the Department's eleven operating divisions.
In making the announcement, Midland Lutheran College Board of Trustees Chairman Dr. Steven Bullock said, 

"Around the country many schools are turning to leaders with business, government and educational backgrounds, and Dr. Sasse brings a unique set of experiences, along with a passion for our college, community and state."
"We congratulate Dr. Sasse on his new position as president of Midland College," said Admiral Bobby R. Inman, U.S. Navy (Ret.), interim dean of the LBJ School of Public Affairs. "While we regret losing a valued member of the LBJ School community, we are grateful for his many contributions as both a remarkable practitioner and scholar. Dr. Sasse's achievements in both the academic and professional arenas more than merit such an esteemed appointment."
"My years at the LBJ School have made a deep impression on me," said Sasse. "We expect often to be journeying back to Austin to participate in the engaged scholarship that is modeled so well here."
"This is a unique moment in our country," continued Sasse, who has deep roots in the Midland College community as a graduate of Fremont High School and as the grandson of Elmer Sasse, who was vice president of finance for Midland and worked at the college for 33 years. "Not since the Great Depression has higher education faced so many challenges. Schools that developed a vision during the Depression have prospered, and I look forward to working with others to reinvigorate Midland and assure Nebraska parents their children will receive a quality liberal arts education at our Fremont campus."
Sasse attended Harvard, Oxford and St. John's before receiving his Ph.D. from Yale. Sasse began his career with the Boston Consulting Group and has advised a wide variety of organizations at moments of strategic crisis – working with airlines, utilities, manufacturers, the Department of Homeland Security, the FBI, the Federal Bureau of Prisons, the government of Iraq, and a number of nonprofit and educational institutions. Prior to being confirmed as U.S assistant secretary of health and human services in 2007, Sasse served as a chief of staff in the U.S. House of Representatives and as the chief of staff of the Office of Legal Policy, the internal think-tank of the U.S. Department of Justice.
Related:
The Omaha World Tribune - President has ambitions for school - November 11, 2009
The Fremont Tribune - Midland Lutheran names new president - November 10, 2009