The LBJ School Presents:
LBJ School Students Recognized for Outstanding Research at 2009 Convocation Ceremony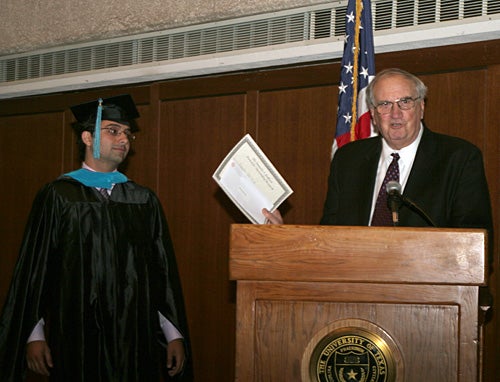 AUSTIN, Texas-- May 27, 2009-- LBJ School Students, Melissa King and Akram Al-Turk, were awarded the Emmette S. Redford Award for Outstanding Research at the 2009 LBJ School Graduation Convocation on May 23, 2009.
Melissa King, a student graduating with the Master of Public Affairs (MPAff) degree, was given the award for her research into non-governmental organizations (NGOs) and the role of civic engagement in providing efficient health care to those with HIV and AIDS in rural Africa. Akram Al-Turk, a student graduating with a Master of Global Policy Studies (MGPS) degree, was recognized for his thesis "Internal Displacement in Iraq: History, Implications and Future Projects."
LBJ School Professor David C. Warner presented the awards to the students at the graduation ceremony.
"After an exhaustive discussion of world health initiatives and some of the conflicts people have seen between spending a lot of money on treating people with specific diseases as opposed to building up general primary care, Melissa argued that actually both were being advanced by NGOs, which increased civic engagement," said Warner.
LBJ School Professor Jacqueline Angel nominated Melissa King for the award.
"Melissa's research investigation breaks new ground in helping health care NGOs and practitioners in the field to more broadly define, promote, and evaluate the success of HIV intervention efforts in the developing world, initiative by initiative," said Angel. "One important implication of her findings points to the need for future research exploring the relationship between HIV incidence and social determinants of disease that may be addressed by policymakers."
King hopes that her research will be useful to public servants who are working right now to develop programs to help those suffering from HIV/AIDS.
"Emmette S. Redford was dedicated to promoting good governance and a better understanding of the policy process, both through his political career and through his teaching," said King. "It is a sincere honor to receive this award for my research on the efficiency of HIV/AIDS programming in rural Africa. My hope is that it will be of practical use to public servants working to develop programs that are both cost-effective and accountable to the needs of the communities they serve."
Al-Turk used Geographic Information System (GIS) to aid his research into the internal displacement of people in Iraq.
"Akram not only gives a thorough analysis of the three stages of internal displacement, he pulled data together and used [GIS] mapping to really show who had been displaced, where they had been displaced, and implications of that displacement," said Warner.
LBJ School Professor Josh Busby advised Al-Turk on his thesis.
"What I found most interesting about Akram's thesis was how he effectively used Geographic Information Systems to map and document the distribution of internally displaced people in Iraq by location and by ethnicity," said Busby. "He used this analysis to reveal gaps in service provision to certain populations. Given the fragile political status of Iraq and U.S. troop deployments to the country, the displacement of hundreds of thousands of Iraqis, many of them still lacking essential services, is an important policy question. Akram's mapmaking, nuanced appreciation of Iraqi history, and incisive policy recommendations made for an excellent thesis."
Al-Turk hopes his research will inspire others to give the issues of internal displacement in Iraq a closer look.
"It's a great honor to receive this award, because I'm sure all the nominees did great work for their PRs," said Al-Turk. "I hope that my research will help raise more awareness about the IDP situation, both in Iraq and globally, and persuade academics and policymakers to examine this issue more closely."
The Redford Award, which includes a monetary gift, has been awarded to a member of the graduating class since 1976 for outstanding research. The students are nominated by members of the faculty for creating an original study that is of practical significance to policy makers or that develops insights, ideas, or concepts of significance to the understanding of the public policy process or the solution of a public problem.