LBJ School Alumnus Named Executive Vice President of Governmental and Stakeholder Affairs for the DFW International Airport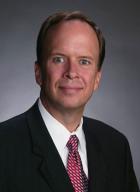 DALLAS, Texas, February 10, 2009 -- Lyndon B. Johnson School of Public Affairs Alumnus Philip J. Ritter has been named Executive Vice President of Governmental and Stakeholder Affairs for the Dallas/Fort Worth (DFW) International Airport.
Earlier this month, Ritter completed 20 years of service at Texas Instruments Incorporated, headquartered in Dallas, Texas where he most recently held the position of Senior Vice President, Public Affairs with global responsibility for government and community relations. At DFW, he will direct public policy at the international, federal, state and local level and provide oversight of the Airport's industry and association leadership, media relations, community relations and other public affairs functions. He assumes his duties February 23, 2009.
Ritter currently serves as Chairman of the Board for the United Way of Metropolitan Dallas, where he also held the position of regional campaign chair in 2005. He is a member of the Board of Governors of the Dallas Symphony Orchestra, and a trustee of the Dallas Foundation. In 2004 he led the successful Dallas County Community College District Bond Campaign, which resulted in voter approval of $450 million in financing for educational facilities and infrastructure. From 1993-2000 he was a member of the Dallas Area Rapid Transit Board of Directors, which included a period of service on the Regional Transportation Council of the North Central Texas Council of Governments.
"I am delighted to join DFW, and I look forward to working with the board, with my new colleagues on the Airport staff, and with elected officials, business and civic leaders to maximize the value of our greatest regional asset." Ritter said. "Assuring the growth and competitiveness of the Airport and its stakeholders, and being a good neighbor in the community, is essential for realizing our regional goal as a preeminent global destination for business, education and culture."
Ritter earned an undergraduate degree in Urban Studies and a Juris Doctor degree from the University of Maryland, and a Master of Public Affairs from the LBJ School of Public Affairs at the University of Texas at Austin. He is admitted to the practice of law in Maryland and Texas. Prior to joining Texas Instruments, he served on the staff of the Texas Senate Jurisprudence Committee and as an attorney with Sun Exploration and Production Company in Dallas.
For more information, contact; Ken Capps, Vice President of Public Affairs, DFW Internationl Airport, 972-973-5555