On the evening of September 20, the LBJ Washington Center celebrated its grand opening at its home in the historic Greyhound Suite and Lobby at 1100 New York Avenue in the nation's capital.
Policy and political dignitaries, LBJ School alumni, members of the national media and invited guests joined the LBJ Washington Center in honoring its principal supporters with a star-studded program featuring Speaker of the U.S. House of Representatives, Paul Ryan, U.S. House Democratic Leader Nancy Pelosi, former Majority Leader of the U.S. Senate, Tom Daschle, former Lieutenant Governor of Texas Ben Barnes, POLITICO founder and CEO Robert Allbritton, and our own Dean Angela Evans. Others in attendance included U.S. Representatives Gene Green, Eddie B. Johnson, Sheila Jackson Lee and Marc Veasey. Motion Picture Association of America President and former U.S. Senator Chris Dodd, former U.S. Ambassadors Jim Blanchard, Lloyd Hand, James Jones and Lloyd Olson, LBJ Foundation Chair Larry Temple, and LBJ School Advisory Board Chair Joe O'Neill, as well as President Lyndon B. Johnson's daughters, Luci Baines Johnson and Lynda Bird Johnson Robb, also attended.
The program honored key friends and alumni of the LBJ School community with inaugural awards. Leader Pelosi presented the LBJ Washington Center's Founders Award to Ben Barnes; Dean Angela Evans presented the Dean's Award to Robert Allbritton, POLITICO's CEO; former Leader Tom Daschle presented a Distinguished Federal Policy Alumni Award to Carmel Martin ('94), the Executive Vice President for Policy at the Center for American Progress; and Speaker Ryan presented a 2016 Distinguished Federal Policy Alumni Award to his policy director, Austin Smythe ('80).
The LBJ School offers an 18-month D.C. Concentration program that provides master's students the opportunity of working and earning a graduate degree simultaneously. The goal of this one-of-a-kind national program is to transition graduate students into the federal policy workforce a full semester earlier than traditional public policy programs and to better prepare them for the unique D.C. policy environment.
LBJ D.C. Fellows spend their first year in Austin as part of the LBJ School community receiving a rigorous analytical and theoretical foundation in public policy as well as an understanding of policy issues at the local, state and national levels. They then move immediately to Washington, D.C. in late May of their second year to continue their studies and to add professional policy experience via a 6-month, 32 hours per week, Policy Apprenticeship with a public, private, non-profit or non-governmental organization. Simultaneous with their Policy Apprenticeships, the D.C. Concentration students take core academic courses at the Center during the evening that focus on the essentials of policymaking at the federal level. The LBJ School will celebrate its first D.C. Concentration graduates this December.
Learn more about the LBJ Washington Center: https://lbj.utexas.edu/washington
View photos from the grand opening below.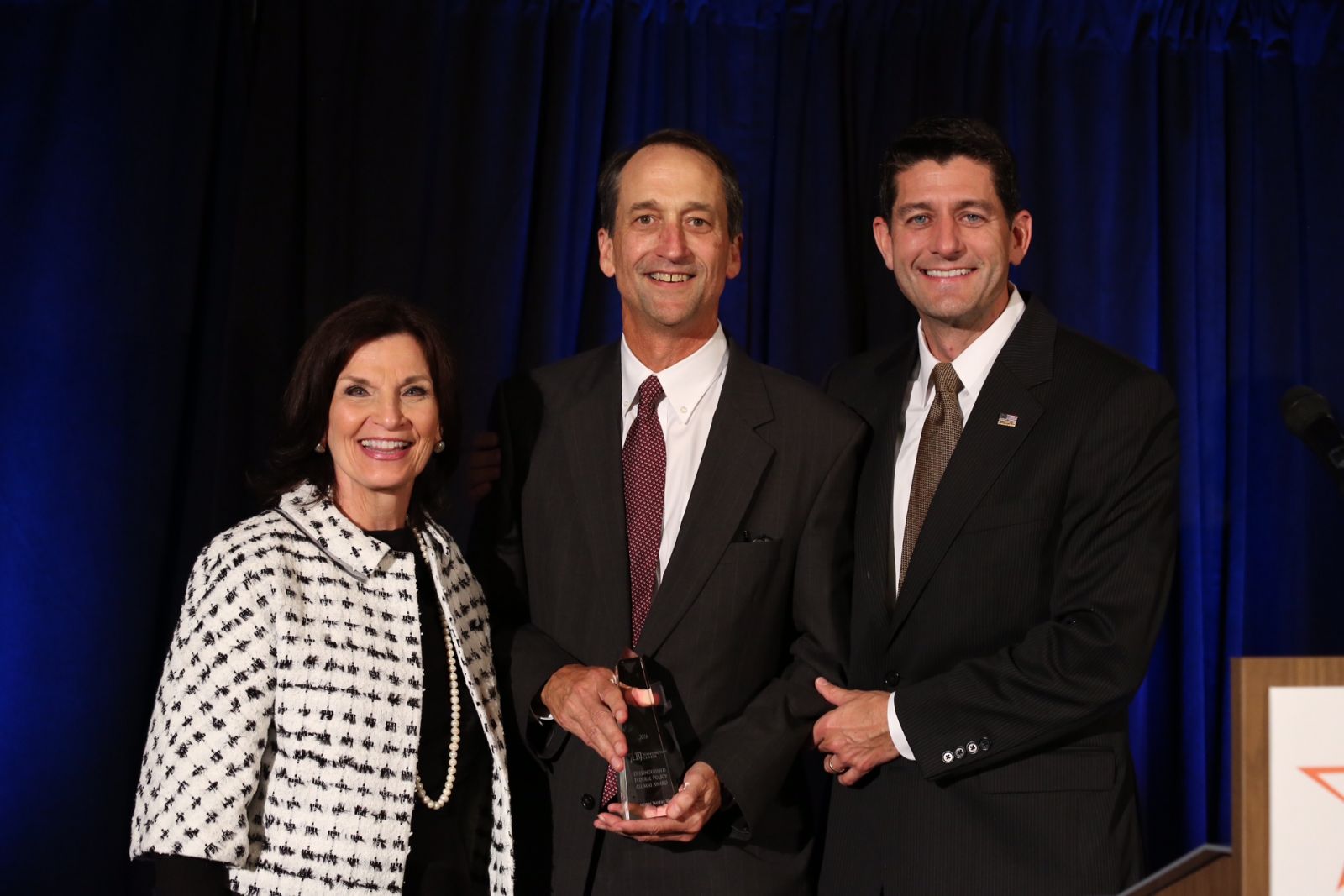 Dean Angela Evans and Speaker Paul Ryan present the 2016 Distinguished Alumni Award to LBJ Alumn and Speaker Ryan's Policy Director Austin Smythe (center)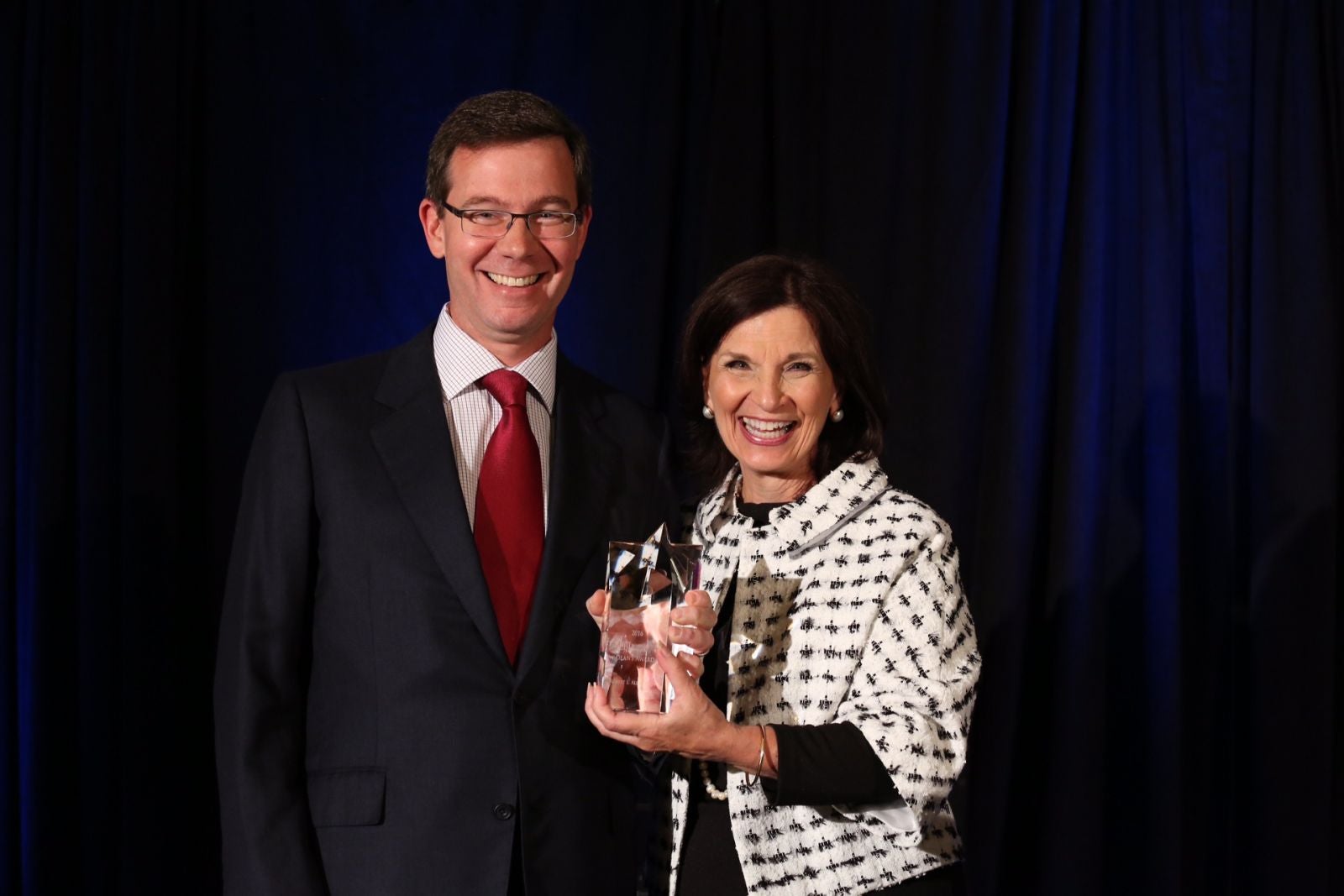 Dean Angela Evans presents the Dean's Award to Robert Allbritton, owner and founder of Politico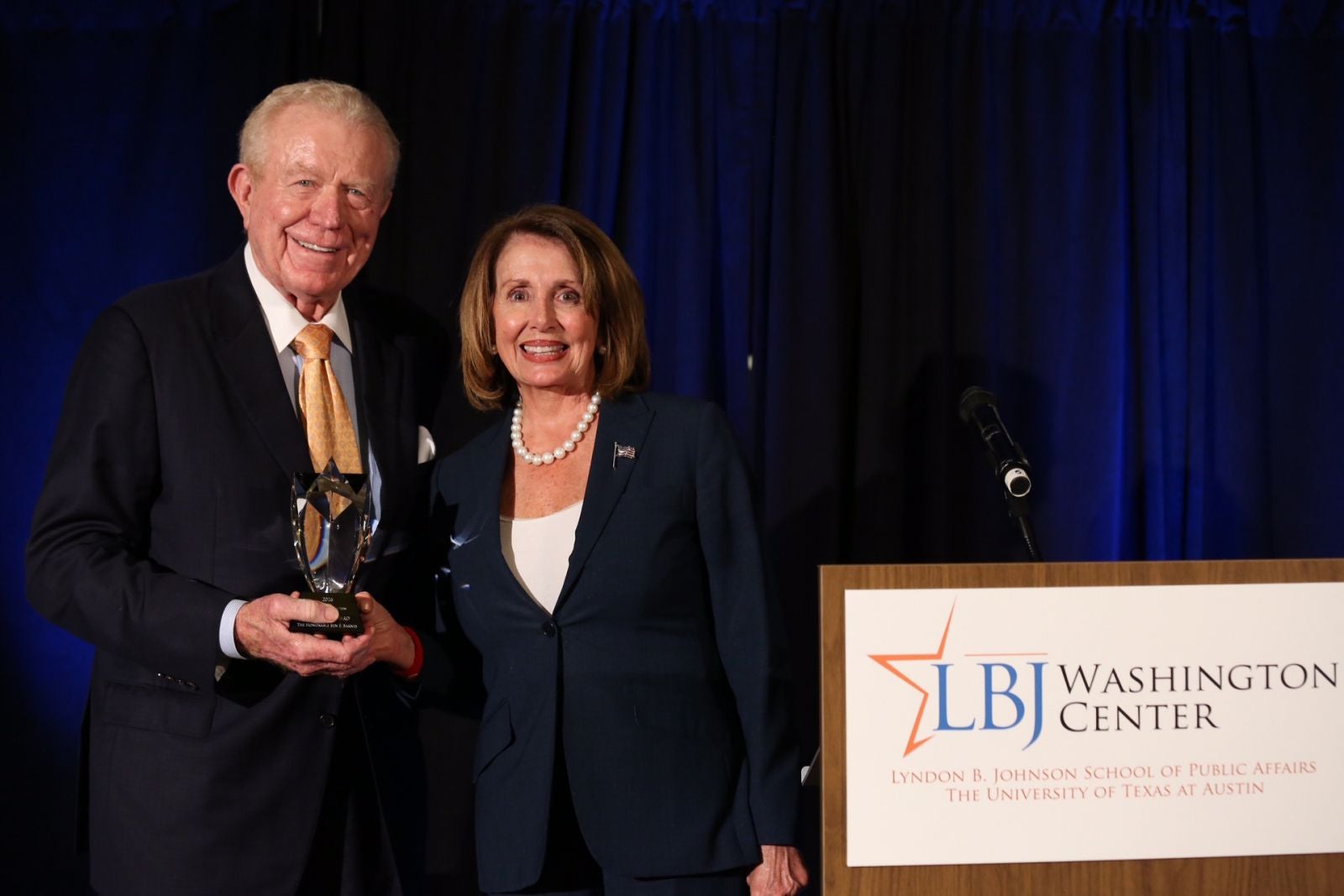 Minority Leader Nancy Pelosi presents the Founder Award to Ben Barnes, former Lieutenant Governor of Texas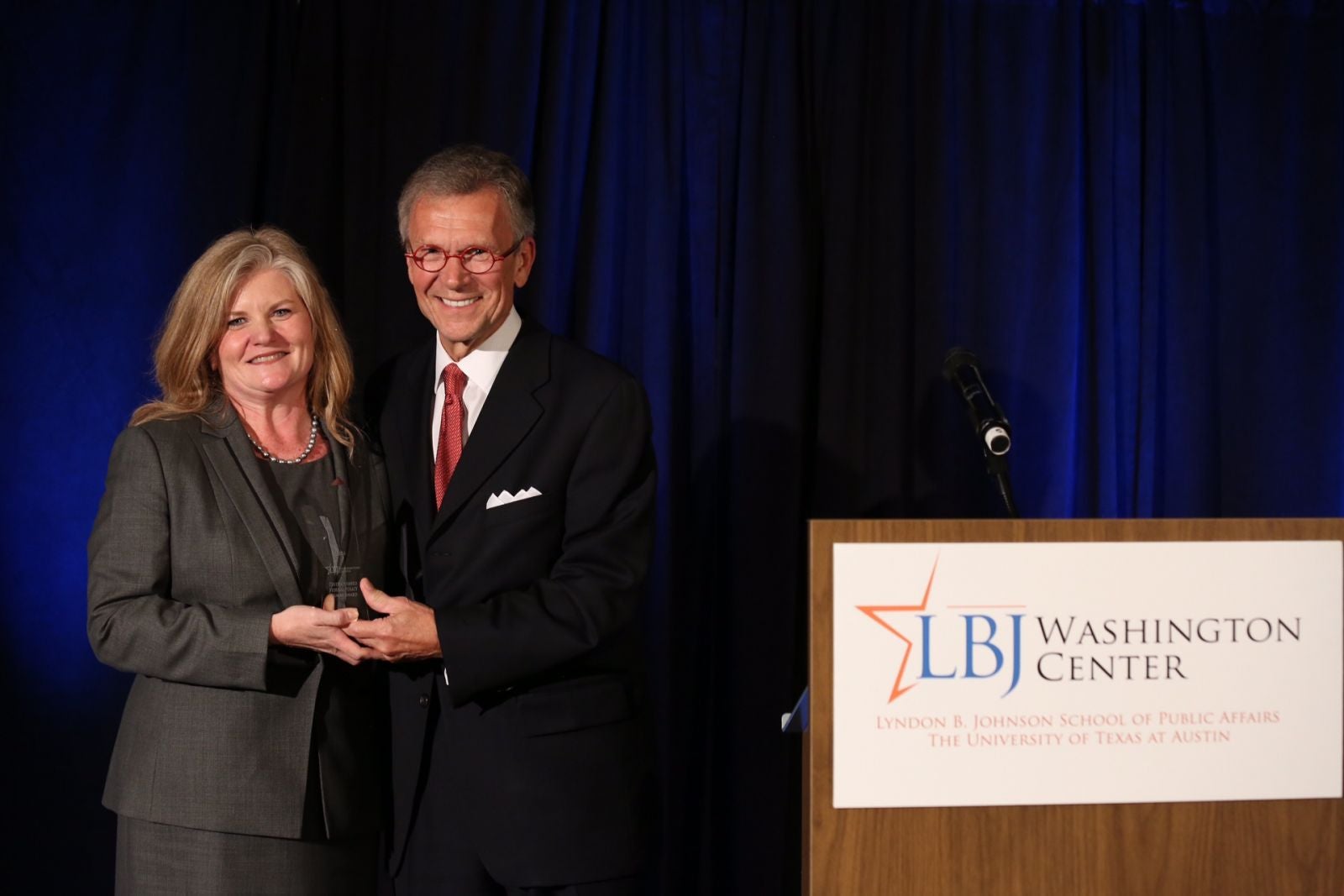 Senator Tom Daschle presents the Distinguished Federal Policy Alumni Award to Carmel Martin, the Executive Vice President for Policy at the Center for American Progress