Michele Deitch, a professor with a joint appointment at The LBJ School of Public Affairs and the UT Law School, has dedicated her career to remodeling laws and policies governing both the juvenile and adult criminal justice systems.
In December 2014, Deitch returned to her alma mater, Amherst College, to give a TEDx talk entitled "Why are we trying kids as adults?" The talk focuses on the harms caused by housing youth in adult prisons and jails. Deitch's lecture is a winning synthesis of logic and emotion, and she details the arch of change necessary to keep juveniles out of the criminal justice system and in effective juvenile justice programs. Her sobering anecdotes and matter-of-fact delivery elegantly frame a sensitive issue and highlight her research findings. Deitch's talk was designated a TEDx Editor's Pick for January 2015, one of only 11 selected from thousands of talks posted worldwide, with more than 16,000 views to date.
A graduate of Harvard Law School and Oxford University, as well as Amherst College, and an attorney for more than 28 years, Deitch has served as a federal court-appointed monitor of conditions in the Texas prison system, General Counsel to the Texas Senate Criminal Justice Committee, Policy Director of the Texas Punishment Standards Commission, and a consultant to numerous justice system agencies around the country.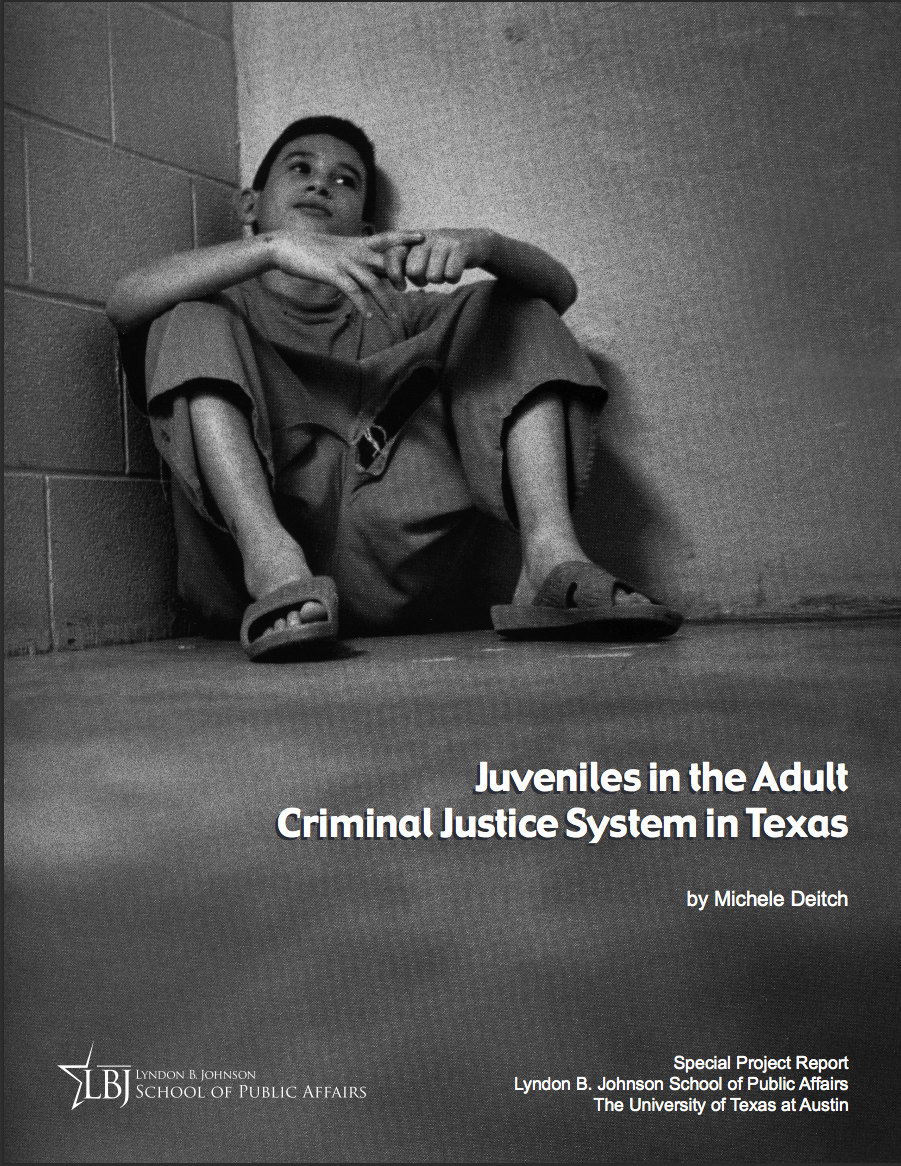 Much of Deitch's recent focus has been on raising the age of juvenile jurisdiction from 17 to 18 in Texas. Currently in Texas, 17-year-olds are considered adults for all criminal justice purposes, whether they are charged with shoplifting or murder. Deitch stresses the inconsistency of the jurisdiction age with other laws and norms including brain development and youth responsiveness to rehabilitation.
As part of a Policy Research Project conducted last year on behalf of the Texas House Criminal Jurisprudence Committee, Deitch and a team of her students set out to understand the 17-year-old juvenile offender population. They also worked to analyze and understand the impact that changing the age of jurisdiction would have on various components of the Texas justice system. The research team found that the vast majority of 17-year-old offenders are non-violent misdemeanants. These offenders look substantially like 16-year-old offenders who remain in the juvenile system and who have much better outcomes there. They also found that this population of youth represents a substantial burden for the adult jails where they are housed while awaiting trial, due in part to requirements that they are kept separate from adult inmates. Additionally, they researched the experiences of several other states that had recently raised the age of jurisdiction and the impact of that change on their respective criminal justice systems.
Since Deitch and her students first highlighted their analysis of the potential to "raise the age" in Texas at an interim legislative committee hearing in March 2014, their findings have received widespread media attention and support. This "sleeper" topic has burst into prominence at the Texas Legislature and galvanized the attention of stakeholder groups, who have been relying heavily on Deitch's research. The House Criminal Jurisprudence Committee issued its interim report in January 2015 endorsing a proposal to raise the age of juvenile jurisdiction from 17 to 18, and five bills to "raise the age" have already been filed this legislative session in Texas.
She emphasizes her pride in her students and her commitment to giving them the opportunity to work on meaningful projects that have the potential to result in significant policy change. "If students feel like they are part of something big," she said, "they are more than capable of producing magnificent work. And hopefully the experience will inspire them to stay involved with these issues throughout their careers."
Violence and Behavior Management of Juveniles in Juvenile Facilities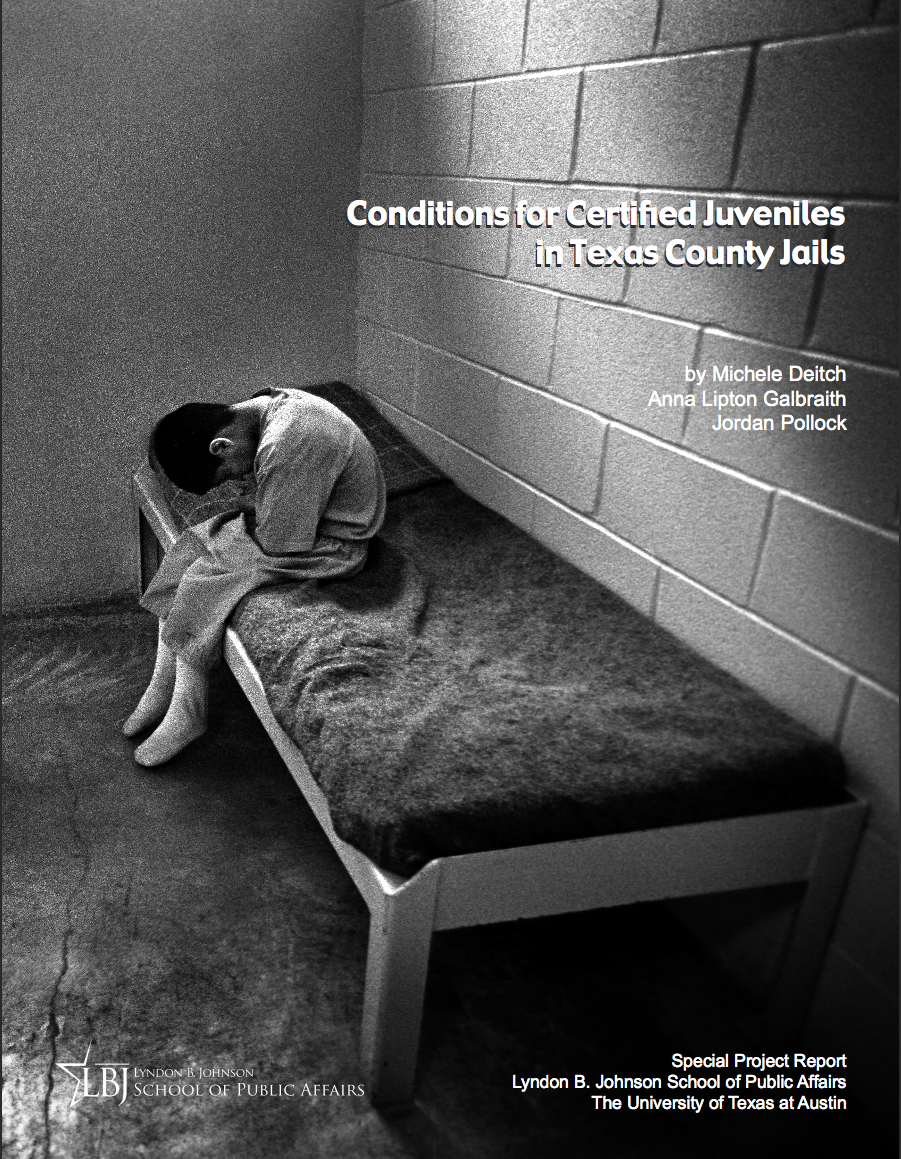 Deitch has long been committed to improving safety in correctional facilities. In 2012, when reports of pervasive violence in state-run juvenile prisons hit the media, the Independent Ombudsman for the Texas juvenile agency asked Deitch and her students to conduct a study of youth violence and best practices in behavior management. Deitch and her student team wrote a comprehensive reportnalyzing the extent of youth violence in custody and proposing a wide range of improvements. That report later became the basis for a book chapter in a national government manual for juvenile practitioners about how to manage the behavior of youth in confinement.
Research Spans the Breadth of Criminal Justice Reform
Deitch's dedication to an improved justice system is also evident in her contributions to adult criminal justice reform and her work to increase transparency and accountability in adult correctional facilities. She is considered a national expert on independent prison oversight, having authored numerous publications on this topic, and she has been asked to provide lead testimony on prison oversight before high-profile national commissions. Deitch also serves as co-chair of the American Bar Association's Subcommittee on Correctional Oversight, which seeks to encourage jurisdictions to develop mechanisms for monitoring conditions in prisons and jails.
Though her research spans diverse issues related to criminal justice reform, Deitch says that there are consistent themes in her work. She points to her interest in ensuring humane treatment of both juvenile and adult inmates, reducing unnecessary incarceration, promoting good outcomes, and relying on good data and research to make policy decisions.