AUSTIN, Texas, February 11, 2015 - Dr. Julia E. Sweig, an eminent scholar of international relations in the Americas, has been appointed Senior Research Fellow at the Lyndon B. Johnson School of Public Affairs at The University of Texas at Austin.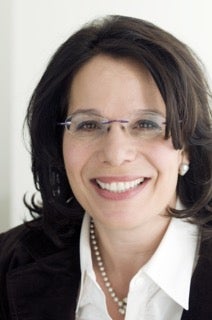 A public intellectual renowned for successfully championing the normalization of relations with Cuba, Dr. Sweig joins the LBJ School from the Council on Foreign Relations, where she has been the Nelson and David Rockefeller senior fellow and director for Latin America Studies since 2005. Based in Washington, D.C., Dr. Sweig will work in both Washington and Austin, while continuing to write and lecture on Cuba, Brazil, Latin America and American foreign policy.  
The LBJ School will serve as Sweig's research home for her upcoming biography on Lady Bird Johnson, to be published by Random House in 2017.  For Sweig, the book will mark a significant expansion from her three previous books focusing on U.S. foreign policy.  The biography will be edited by Pulitzer Prize-winning historian Jon Meacham, executive editor at Random House, and funded in part by the Ford Foundation.
"Julia brings a depth of knowledge and expertise in a time of widespread focus for the American public on U.S. - Cuban and Latin American relations," said Robert Hutchings, dean of the LBJ School. "Her extensive studies in the areas of Latin American and U.S. foreign policy will serve to strengthen and enhance the LBJ School's profile in this increasingly important policy sector. We also look forward to sharing with Dr. Sweig the many personal accounts of Lady Bird Johnson's immeasurable support and dedication to LBJ students throughout the years."
"The LBJ School, which I have long admired from afar, is an ideal platform for my work," said Sweig.  "No other public policy school, nor any other university, is more relevant both to my upcoming book and to the changing world of Latin America, where the University of Texas is a longtime leader in research collections and scholarship. To be part of the LBJ School and just a stone's throw from the LBJ Presidential Library that she helped found, provides the best possible environment to tell the story of Lady Bird Johnson's too-often underestimated role in American public life."
Dr. Sweig, whose scholarship and policy innovation on Cuba helped lay the groundwork for President Obama's current policy initiative, is the award-winning author of several books, including "Cuba: What Everyone Needs to Know," and "Inside the Cuban Revolution: Fidel Castro and the Urban Underground." She has also authored numerous other publications and policy reports on Cuba, U.S.-Cuban relations, Brazil as an emerging global player, Latin America and American foreign policy. She holds a bachelor's degree from the University of California, Santa Cruz and both a master's and doctorate degree from Johns Hopkins School of Advanced International Studies. Dr. Sweig is a columnist for Brazil's largest daily, Folha de São Paulo, and a frequent commentator across multiple media platforms.