LBJ School students continue to gain invaluable opportunities to work alongside scholars and leading academia from around the world discussing the most prevalent topics in international security.
Most recently the School hosted the annual conference for the International Security and Arms Control of the American Political Science Association (ISAC) and the International Security Studies Section of the International Security Association (ISSS), two of the major security focused academic groups in international relations, bringing an international audience represented by more than 20 countries around the world.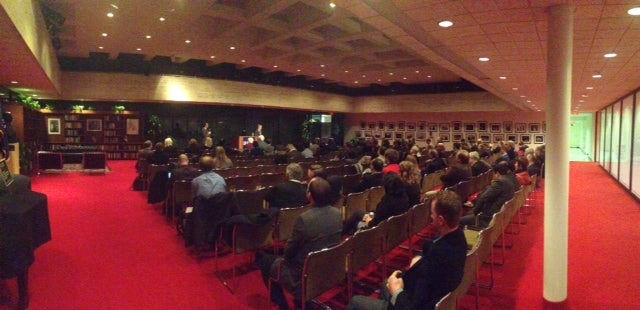 Dr. Eugene Gholz, an associate professor at the LBJ School who served as the faculty host and program director, chaired the event that boasts the title of the largest annual academic security studies conference.
The winter Conference focused specifically on security issues and provided an outlet for detailed, focused discussions for students through engaging panels and lectures. Keynote speakers for the event included Ambassador Hank Crumpton, former coordinator for counterterrorism at the Department of State and U.S. Representative Michael McCaul. Focus points during the six sessions consisting of eight simultaneous panels concentrated on issues such as grand strategy, counterterrorism, nuclear disarmament, coercion, and arms control. Panelists presenting topics to the students hailed from universities and institutions around the world, offering broad perspectives on some of the most prevalent, pressing international security issues at hand.