Veteran civil rights activist Julian Bond visited campus last Wednesday to reflect on past struggles of the civil rights movement and the challenges ahead. Bond's keynote address was part of the LBJ School of Public Affairs' 2015 Barbara Jordan Forum.
Virginia Cumberbatch, a DDCE graduate student assistant, introduced Bond to a full crowd in the Lady Bird Johnson Auditorium, providing an overview of his significant contributions to society as a renowned professor, statesman and activist.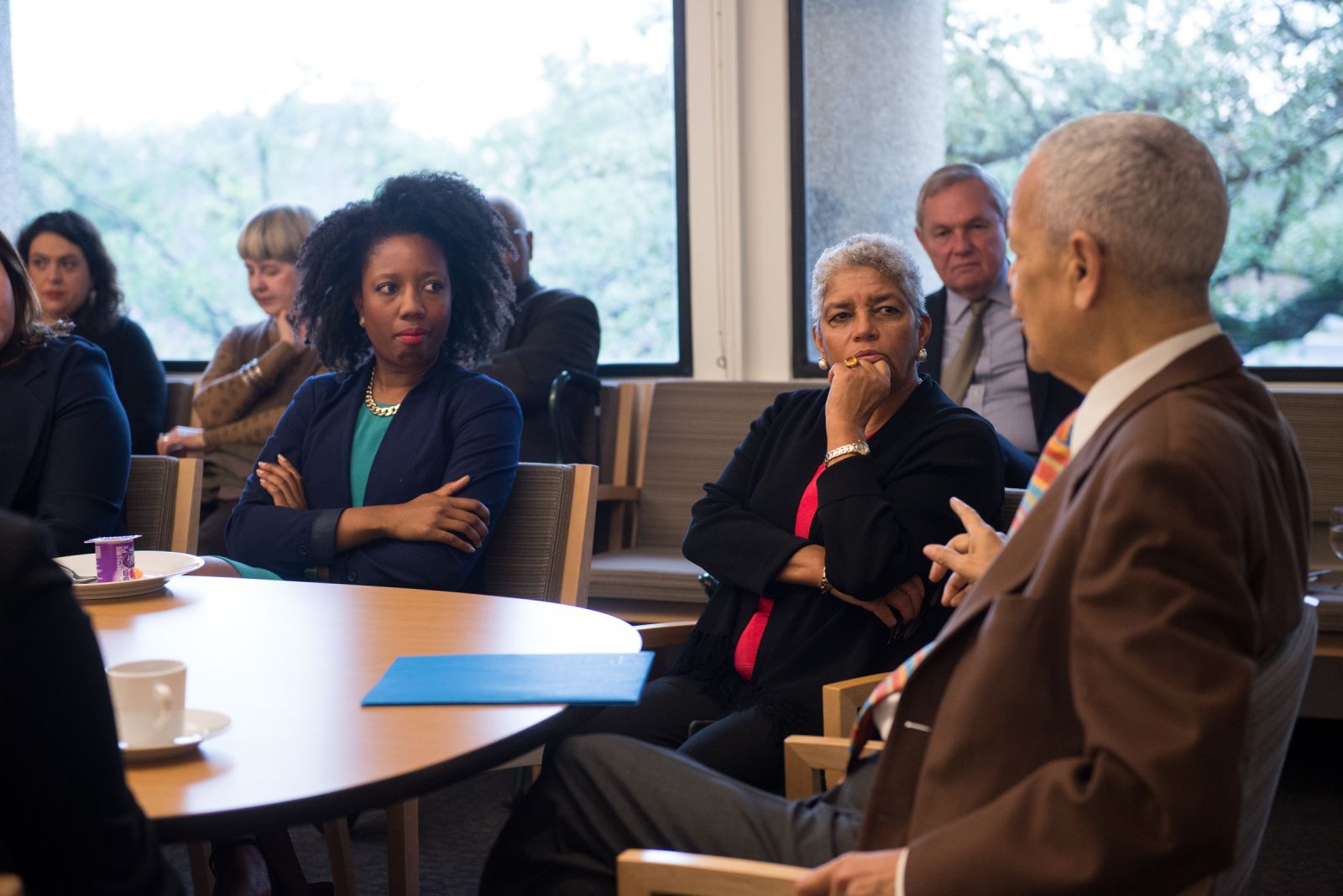 A leader in Dr. Martin Luther King Jr.'s March on Washington for Jobs and Freedom in 1963 and the Mississippi "Freedom Summer" voting rights campaign of 1964, Bond has dedicated his life and work to the fight for equality. In 1961 he co-founded the Student Nonviolent Coordinating Committee and later served as chairman of the NAACP.
"As the country engages in important conversations on civil rights and human rights, the voice and virtue of Julian Bond represents a model of advocacy and activism that stands to forge connection between legacy and momentum," Cumberbatch said in her introductory speech. "The life-long work of Julian Bond should not only impress us, it should also inspire us to sustained and meaningful action, as his leadership stands as a blueprint for social advocacy."
In his talk, Bond elaborated on the differences between the movements of the 1960s and today, sharing insight into how far the nation still needs to go to become a post-racial society.
"The greatest impediment to achieving racial equality is the narcotic belief that we already have, "Bond said. "The truth is that Jim Crow may be dead, but racism is alive and well. That's a simple fact of life for every non-white American, including the president of the United States. It eclipses income, position and education. Race triumphs it all. "
Despite the election of the first U.S. African American president, there is still plenty of work to be done to eliminate structural inequity and racial attitudes, Bond added.
"Barack Obama's election and reelec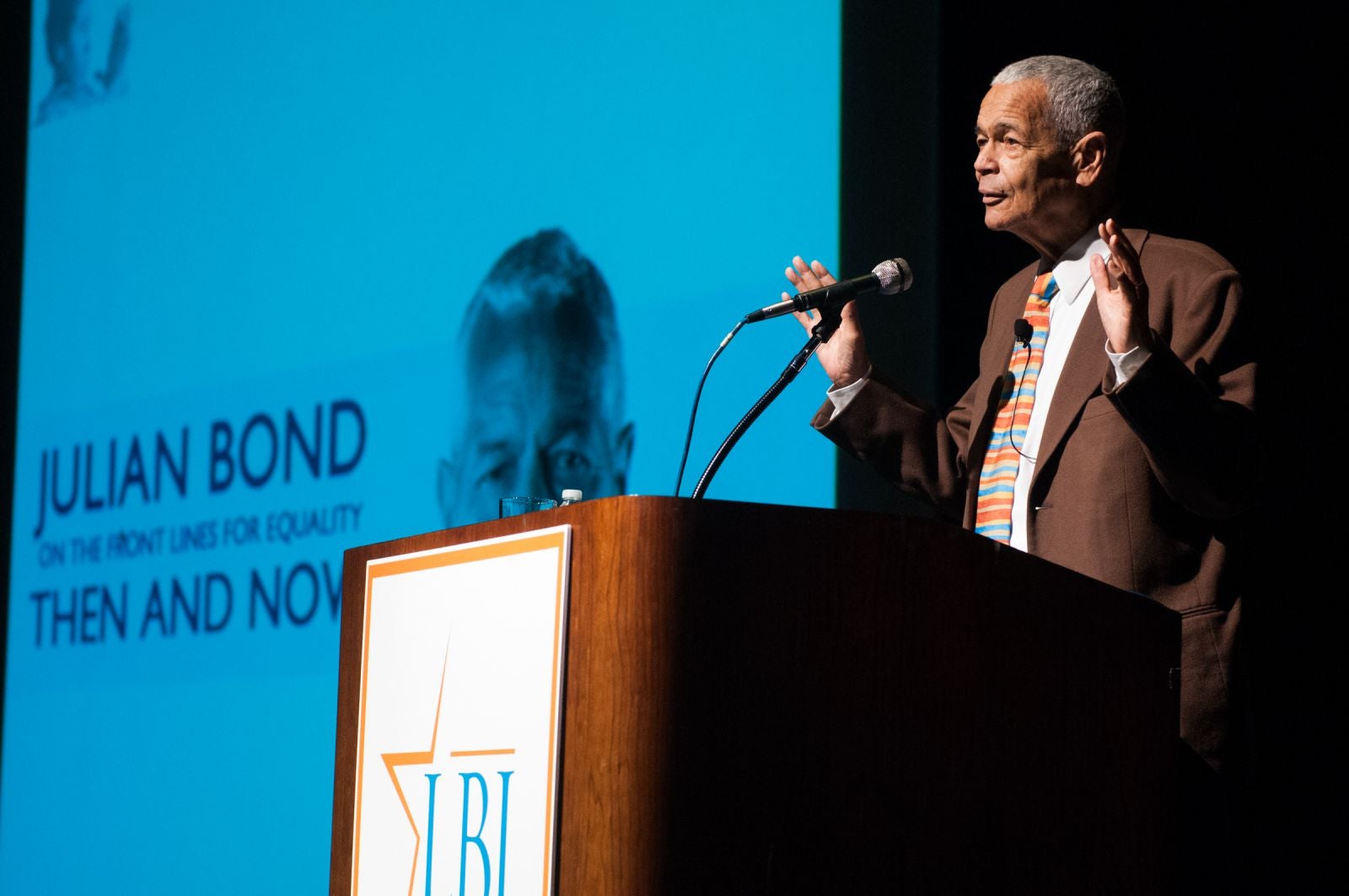 tion was testament to one man's singular abilities and not to racial nirvana across the land," Bond said.
He shared examples of how some things during the civil rights era were better than today. Yet he noted that even the "good old days" were marred by white supremacy.
"As William Faulkner taught us, 'the past is never dead. It's not even past,'" Bond said. "We look back at the years of the Montgomery Bus Boycott of 1955 and the passage of the Voting Rights Act of 1965 with some pride. Those were the days when politicians and both parties supported civil rights. Now they struggle to be civil. Those were the days when banks loaned money to people, and not like these days when people loan money to the banks. Those were the days when we were powered by our values, not valued for our power. Those were the days when good music was popular  and when popular music was good."
Pointing to past leaders of the civil rights movement, he emphasized the need to fight discrimination wherever it raises its ugly head—in the halls of government, in corporate suites or in the streets.
"Yesterday's movement succeeded, in part, because the victims became their own best captains," Bond said. "When Rosa Parks refused to stand up, and when Dr. King stood up to preach, mass participation came to the movement for civil rights. Now it's up to all of us to continue this fight."
He added that democracy and any social movement needs people willing to act and vote. To emphasize his point, he shared a passage from Dr. Martin Luther King's letter from Birmingham Jail: "We will have to repent in this generation not merely for the hateful words and actions of the bad people but for the appalling silence of the good people."
"We must realize our full political potential—making sure every citizen registers to vote," Bond said. "Anyone who does not has failed the rest of us. Those who do not vote are dangerous to us all and are as useful as wings on a frog—and are just as ugly too."
Story courtesy University of Texas Division of Diversity & Community Engagement.
Photos courtesy of the LBJ School of Public Affairs. Photographer: Sasha Haagensen