In a day of celebration, the newest graduating class of the LBJ School enjoyed inspirational remarks by San Antonio Mayor Julian Castro, Dean Robert Hutchings and Peter La Fountain, the student class speaker.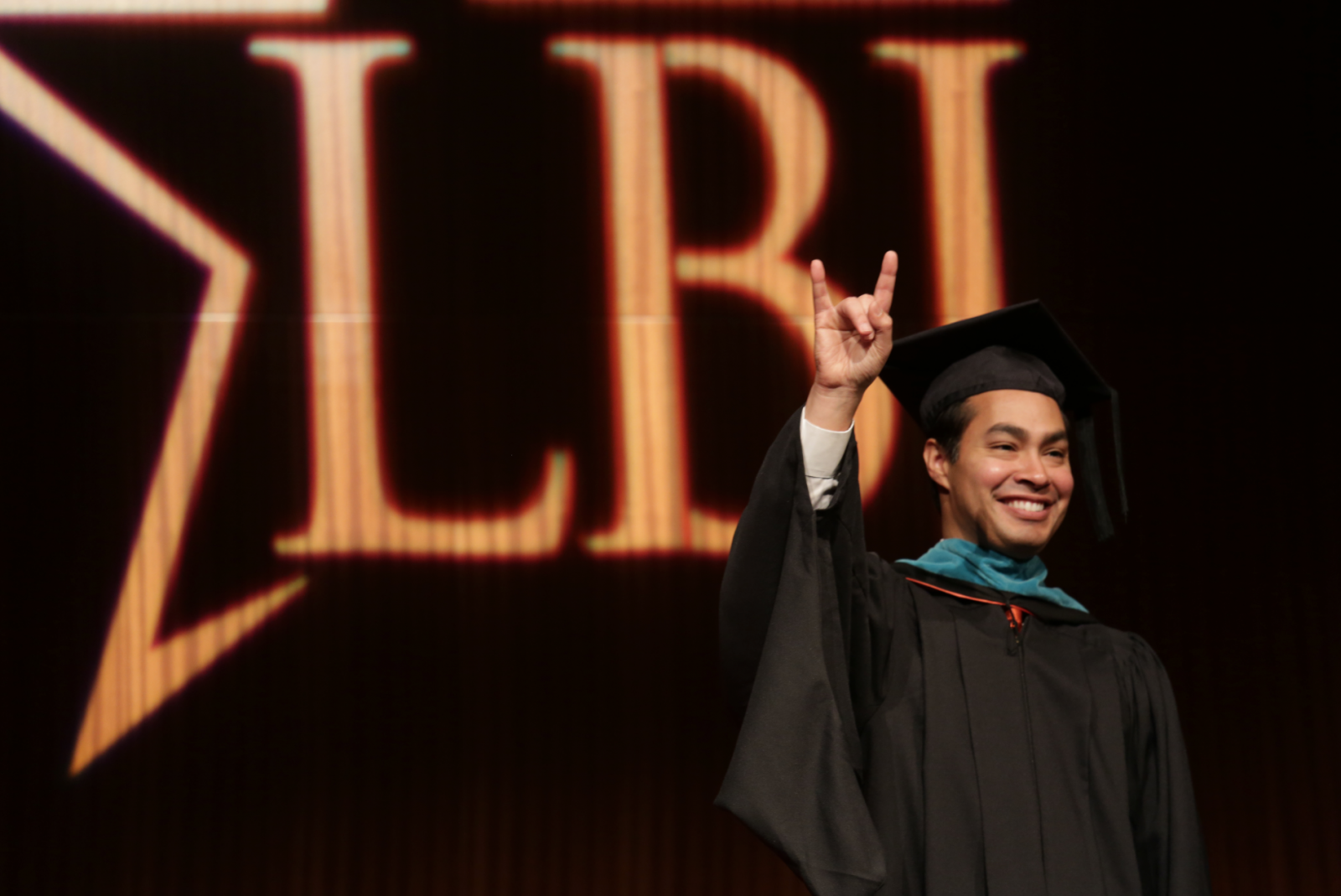 Mayor Castro offered graduates words of wisdom gleaned from two anecdotes from his own life that the Mayor says shaped his career and personal ethos. He shared stories from his childhood attending public middle schools in San Antonio and of the influence his mother had on his life. He urged students to surround themselves with those that truly love them throughout their lives.
"Find the people in your life who believe in you," said Castro. "The ones who often see more potential in you than you can even see in yourself. Whether you're a sixth grader or you're sixty, it matters. And more than that, you be that person for those in your life. Be a shepherd."
Castro concluded his remarks with quotes from President Lyndon Johnson's 1965 "We Shall Overcome" speech where LBJ implored Congress to heal the nation's racial divide.
"Through his Great Society agenda, LBJ opened up the promise of America to all Americans," said Castro. "You are part of LBJ's legacy and in this 21st Century – in this time of rapid change – America needs your talent. I have no doubt that in years to come you will stand in many great places. And you will have a chance to do enormous things for people who need you."
In his remarks, Dean Robert Hutchings harkened back to when the 2014 graduates first entered the LBJ School. "At convocation when you first arrived, I spoke to you about the call to public service that is our common bond here at the LBJ School," said Hutchings. "As you become alumni, it is your turn – your time to take your ideas and ideals into a world that urgently needs your leadership."
Peter La Fountain was elected by his class to represent them at the commencement ceremony. In his speech, Peter focused on what he calls "colleagueship", the importance of ethics, and the applied idealism that drives his fellow graduates.
"And over two years, we have been transformed," said La Fountain.  "We've gotten skills, yes, but we've also become better people. We've become deeper in our knowledge, and stronger in our experience. And it's this strength that we bring to bear in leading our generation in the next challenges to come."
---
San Antonio Mayor Julian Castro Delivers 2014 Convocation Address
Video of Full 2014 LBJ Graduation Ceremony
---