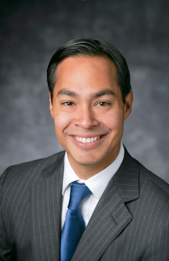 AUSTIN, Texas, May 6, 2014 – San Antonio Mayor Julián Castro will deliver the convocation address on Saturday, May 17, to the 2014 graduating class of the LBJ School of Public Affairs at The University of Texas at Austin.
Mayor Castro was first elected Mayor of San Antonio, Texas, in 2009 and was re-elected to his third term in 2013. At age 39, Castro is the youngest mayor of a Top 50 American city.
Mayor Castro recently spoke at the LBJ Library's Civil Rights Summit on a panel titled "Pathway to the American Dream: Immigration Policy in the 21st Century" on April 8 with former Governor of Mississippi Haley Barbour and Texas Monthly Executive Editor Brian Sweany. Excerpts from the panel are available on the LBJ Now Youtube channel.
"I am delighted that Mayor Castro has accepted our invitation to deliver the 2014 convocation address," said Robert Hutchings, dean of the LBJ School. "As one of our country's stand-out leaders in local government and one of the rising stars in American politics, Mayor Castro is a dedicated public servant who sets an inspiring example for our new graduates of how far passion and commitment to the public good can take you in your career."
More on Mayor Julián Castro:
Mayor Castro created SA2020, a community-wide visioning effort turned nonprofit that has galvanized thousands of San Antonians around a simple, but powerful vision for San Antonio ¬– to create a brainpower community that is the liveliest city in the nation.
Under his leadership, the city established Café College, a one-stop center offering high-quality guidance on college admissions, financial aid and standardized test preparation to any student in the San Antonio area. Since opening in 2010, Café College has served more than 25,000 area students.
During his tenure, San Antonio ranked No. 1 on the Milken Institute's Best-Performing Cities list, graded A+ for doing business by Forbes and ranked as the nation's No. 3 new tech hotspot by Forbes.
In November 2012, Mayor Castro led a voter-approved public referendum that will expand high-quality Pre-K services to more than 22,000 San Antonio four-year-olds over the next eight years.
Mayor Castro also been dedicated to revitalizing the city's urban core, including the underserved East Side of San Antonio, by initiating the "Decade of Downtown" and approving a series of incentives to encourage inner city investment. These efforts have spurred plans for the construction of more than 2,400 housing units in the center city by 2014.
In March 2010, Mayor Castro joined executives from Google and Twitter in being named to the World Economic Forum's list of Young Global Leaders. Later that year, Time magazine placed him on its "40 under 40" list of rising stars in American politics. Mayor Castro also is a member of the Inter-American Dialogue, an Aspen Institute-Rodel Fellow and serves on the board of the LBJ Foundation.
Mayor Castro earned his undergraduate degree from Stanford University with honors and distinction in 1996 and a juris doctorate from Harvard Law School in 2000. In 2001, at the age of 26, Castro became the youngest elected city councilman at that time in San Antonio history.