Assistant Professor Sam Richardson was awarded a grant of $19,250 by the Hogg Foundation for Mental Health to head a unique project that will effectively map the mental health workforce shortage in Texas. Using ArGIS software to create interactive maps that combine census data with addresses of licensed mental health providers, as well as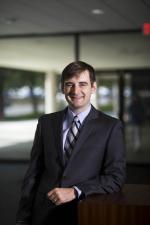 incorporating data on income and race/ethnicity, Richardson's study aims to provide a more detailed understanding of mental health workforce shortages in the state.
"My project will provide a fuller understanding of which populations and geographic areas of Texas are underserved by the mental health system," said Richardson. "This grant allows me to embark on a line of research aimed at understanding mental health workforce shortages and how they can best be addressed."
Richardson's project was among nine selected from a pool of 51 applicants from universities across Texas. The foundation awarded the grants, totaling $173,250, to tenure-track assistant professors in Texas whose research will advance our overall understanding of mental health.
The goals of the Hogg grants are to increase the pool of junior faculty doing quality mental health research and to encourage the disbursement of research findings through presentations at state and national conferences and meetings.
The Hogg Foundation advances recovery and wellness in Texas by funding mental health services, policy analysis, research and public education. The foundation was created in 1940 by the children of former Texas Gov. James S. Hogg and is part of the Division of Diversity and Community Engagement at The University of Texas at Austin.