BY: Justin Sykes
Instead of relaxing on the beach, LBJ School students Christie Wright, Lance McNeill and Miha Vindis spent their spring break preparing a proposal for the Fels National Public Policy Challenge in Philadelphia. Their idea: build a comprehensive online platform to increase civic activity among young adults.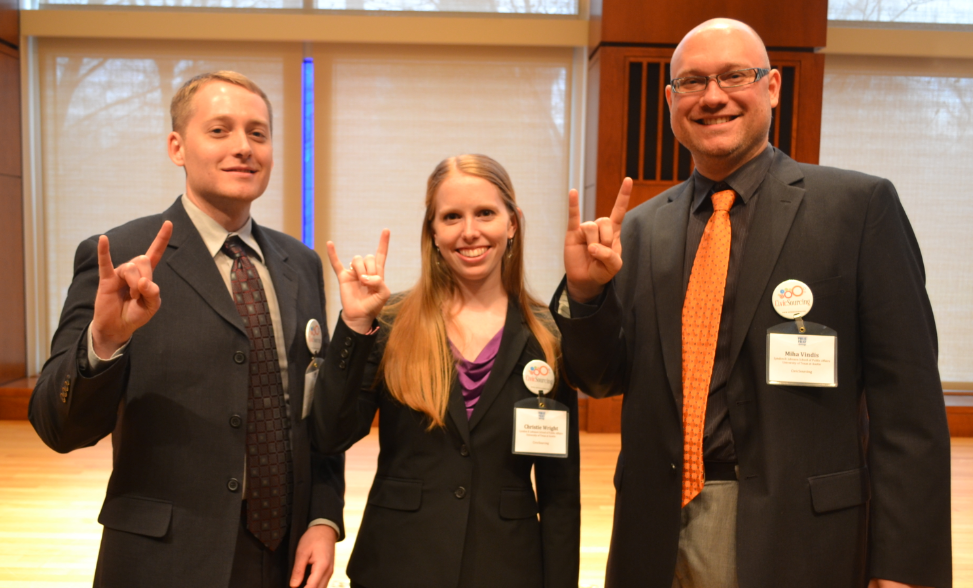 "The reason we're doing this is because we really believe that we need to increase civic engagement, particularly among the 18 to 29 year old demographic," said Vindis. "According to the Annette Strauss Institute, those aged 18 to 29 lag behind their elders in almost every measure of civic engagement."
Concerned about the lack of civic participation among their own generation, the team designed an innovative online platform that combines crowdsourcing and "gamification" to better identify, prioritize and tackle local issues.
The idea grew out of McNeill's interest in using crowdfunding to find community solutions and an article Vindis wrote for The Baines Report about the impact of digital games. They also received assistance from LBJ School faculty including Professor Angela Evans, Admiral Bobby Inman, and Dean Chandler Stolp as well as the Annette Strauss Institute.
"It evolved into something that was more innovative than what any one of us could have done," said McNeill. "It was a great collaborative effort."
The Fels National Public Policy Challenge, now in its third year, brings together social entrepreneurs from top policy schools across the country. Each team presents its proposal to address a public issue and judges from the public sector provide feedback and determine which finalists should receive prize money to implement their solution.
Although the LBJ School team did not win, their idea garnered a lot of attention. After they presented, the editor of Governing magazine and an executive from United Healthcare approached the team about refining their idea and showcasing it at different venues.
Vindis says it was encouraging to see so many young people willing to invest the time and effort to draft a concrete plan of action for a policy solution.
"It's easy to get cynical in the world today, particularly when we see how politics works," said Vindis. "But when you see young people come to a competition like this with great ideas and the motivation to change the world it makes you optimistic about the future."
Wright thinks policy students could benefit from more opportunities to develop and present policy solutions.
"There's so many good ideas out there," said Wright, noting that pitch competitions are commonplace at business schools and in Austin's tech community. "So why aren't there more public policy-centered pitch competitions?"
Wright, McNeill, and Vindis all plan to mentor next year's LBJ School team and think that team can do even better in the competition if they get an earlier start and more feedback on their proposal.
"We'll all be here in the fall and we're all about this," said Wright.