By Meenakshi Awasthi, MGPS 2016
Awake before sunrise, Jamie Klein, a first year Master of Public Affairs student at the LBJ School of Public Affairs, made her way to the ambulance station for her first ride-along. As a requirement for her Policy Research Project course, she would be accompanying a paramedic and an EMT on their shift to assess efficiency of service. The first call was a senior citizen who fell at a gym in North Austin, requiring stitches. The patient requested to be taken to St. David's instead of a closer hospital, adding 15 minutes to the drive time.
"It's frustrating to be required to take people to their hospital of choice," says Klein. "It wastes time and money. It also takes EMTs out of zone and extends time patients have to wait until treatment."
Policy Research Projects (PRPs) have long been the cornerstone project for LBJ master's degree students, providing the opportunity to research relevant policy issues and work with a client to implement student-generated recommendations.
In Dr. Todd Olmstead's second year as a professor at the LBJ School, he is directing a PRP aimed at rethinking the delivery of pre-hospital emergency care. Olmstead is the first joint hire between the LBJ School and Seton Healthcare and the James M. and Claudia U. Richter Fellow in Global Health Policy. A leading health economist, Olmstead has contributed to important statistical and economic analyses in the fields of behavioral and global health. With Seton, Olmstead advises clinicians about research infrastructure and helps evaluate the impact of pilot programs. Olmstead also has a unique partnership with the Dell Medical School. His PRP this year is entitled "Improving ATCEMS Integration with Local Healthcare Networks." The client, Austin-Travis County Emergency Medical Services (ATCEMS), is facing a significant change in how they provide services.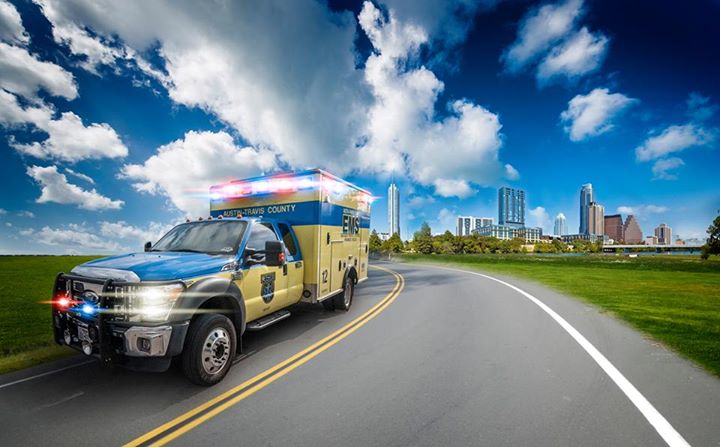 "The city of Austin is interested in how ATCEMS can better integrate with local healthcare networks as healthcare moves from a fee-for-service, volume-based system to a patient-centered, value-based system," says Olmstead.
According to Olmstead, ambulance transportation and emergency department visits are expensive and may not be the most cost-effective ways to seek treatment.
"Emergency departments are exactly where you want to go if you're in a car wreck or have a stroke or heart attack, but they're not great places if you have a bad cold or a mental illness," says Olmstead.
With multidisciplinary degrees in Public Policy, Operations Research, and Industrial Engineering, Dr. Olmstead has a unique perspective on the issue. His interests in behavioral health and transportation logistics make him ideal for a PRP focused on reimagining emergency services in the context of an evolving healthcare industry.
"A lot of patients call EMS, believe it or not, because they need a ride, but EMS can't take them to their primary care physician so they bring them to the Emergency Department," says Olmstead.
The PRP is laid out in four phases of development: orientation, assessment, brainstorming, and feasibility. Olmstead wants his students to become familiar with EMS culture through standard practices such as assigned readings, but also interactive experiences including ambulance ride-alongs, guest speakers, and listening to 911 calls. Olmstead stresses the importance of cultural immersion in ultimately being able to make relevant, informed policy recommendations.
"You can read about it in a book or listen to me tell you how it works or even listen to people who do it for a living, but I think being there, seeing it firsthand, and experiencing it will give you more factual information and a better sense of the EMS culture," says Olmstead.
According to Klein, her ride-along helped familiarize her with technicalities such as computer systems and with the more emotional sides of the job such as bedside manner. She said the 8-hour shift gave her perspective and will serve as a reference point for future policy recommendations she develops and endorses.
Throughout the year, the students taking the PRP will brainstorm alternate points of contact and protocols for improving patient-centered, out-of-hospital care. Ideas could range from minor adjustments like adding another healthcare professional to the team to novel delivery strategies such as Mobile Integrated Healthcare Practice (MIHP). When describing possibilities for an MIHP, Olmstead notes it might be more efficient to have an RN or physician in the ambulance to deal with problems in the field to the extent they can, which would mean fewer patients brought back to the Emergency Department. According to Olmstead, an EMS system, which is by nature reactive, is an entirely different culture than a proactive MIHP that tries to anticipate your needs.
"In an MIHP, you have paramedics responding to emergencies, but also being proactive – giving vaccinations, checking in on high utilizers of the EMS system, finding out if they're taking their meds regularly," says Olmstead. "If it's a post-discharge elderly patient, you might make sure their home railings are screwed in tight, or if their bedroom is on the second floor, maybe put a cot on the first floor for the next two weeks."
Olmstead's PRP ultimately intends to help ATCEMS consider its future options in the face of a changing healthcare scene. The end product for the fall semester will be a concrete list of alternatives to be considered by ATCEMS Chief Ernie Rodriguez and Medical Director Paul Hinchey, M.D. In the spring, students will flesh out selected alternatives, outlining costs, benefits, and stakeholder analysis.
"PRPs are a yearlong marathon, not a sprint," says Olmstead. "The goal is to figure out what makes sense, then as a public affairs school, pay attention to who the stakeholders are and how this could be implemented."
Photo credit: ATCEMS Facebook page.