A multidisciplinary team including an LBJ School Ph.D. student recently won first place and a $10,000 award in the Power Across Texas Energy Innovation Challenge. As part of the competition, teams developed proposals to bring power to colonias, unincorporated neighborhoods with inadequate infrastructure and substandard housing across Texas' border with Mexico.
The winning team proposed a sun-to-grid model in which solar installations would temporarily provide electricity until colonia households could connect to the more reliable energy grid. The team was made up of Carlos Olmedo, a Ph.D. student at the LBJ School of Public Affairs, Charles Upshaw, a Ph.D. student at the Cockrell School of Engineering, and Patricia Varraveto, a second year MBA student at the McCombs School of Business. Dr. Fred Beach, a research associate and lecturer with the Jackson School of Geoscience's Center for International Energy and Environmental Policy, who also holds a Ph.D. from the LBJ School, acted as the team's advisor.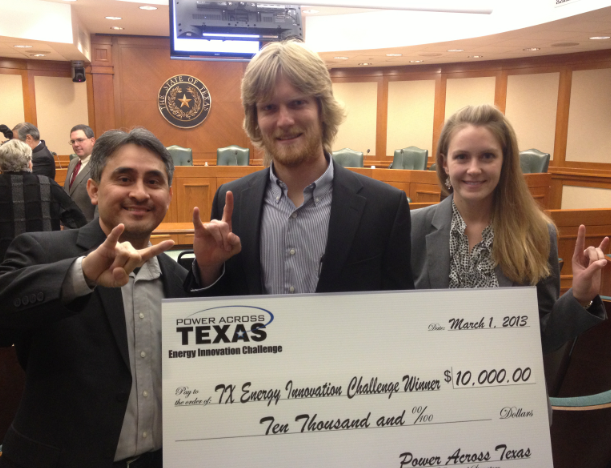 The three University of Texas at Austin graduate students had never met prior to working on their proposal, but were able to divide the work for the competition based on each student's expertise. Olmedo has conducted field survey work in colonias over the past three years on behalf of LBJ School professor Dr. Peter Ward.
For the Energy Innovation Challenge, Olmedo developed colonia baseline characteristics and a mixed-methods and spatial approach to identify households without electricity since there is no database on the extent of need. Upshaw tackled the tiered electricity service and solar PV technological aspects, while Varraveto offered a way for families to affordably finance solar installations while building equity to pay for grid connectivity and bring homes up to code for connection.
"It's a practical solution for colonia populations designed to attract private-based social investments," said Olmedo. "It was great to know that our hard work paid off in terms of both winning and creating a solid proposal."
Since the competition, Olmedo said there is continued interest and discussion about finding a social-impact investing solution to electrification of colonia homes. Principal advocates from Power Across Texas, NADBank, SunEdison and AEP/ETT, alongside the UT student team members, have formed work groups to turn the sun-to-grid idea into reality. Next steps include better understanding energy use and expenses in colonia homes, designing systems suited to colonia needs, and soliciting funding.