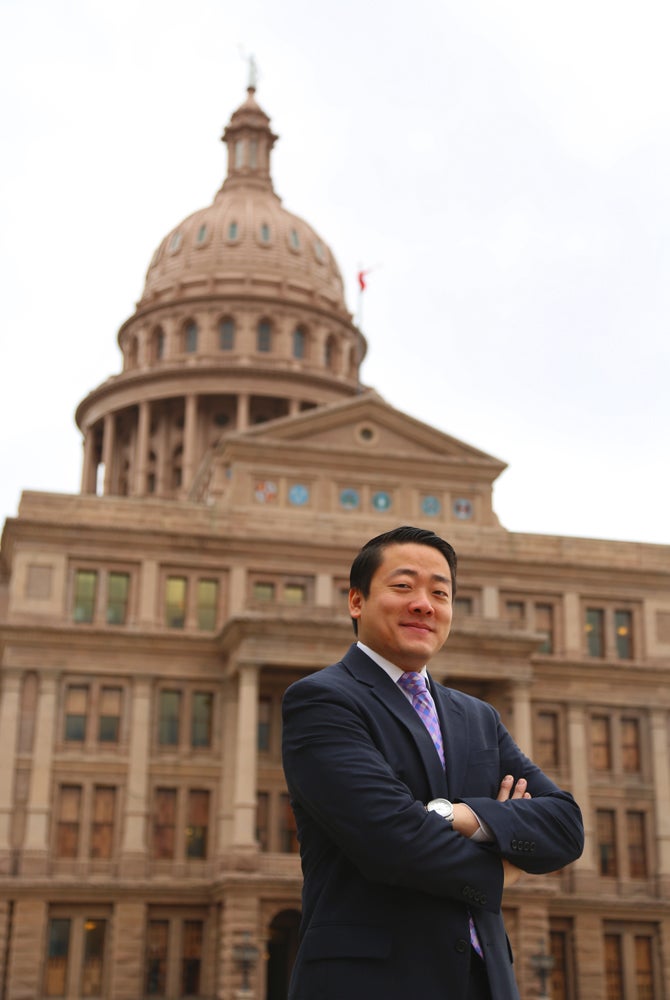 Freshman Texas State Representative Gene Wu has made a reputation as a staunch advocate for reforming education finance and modernizing the criminal justice system in the few short months that the 83rd Texas Legislature has been in session. A graduate of the LBJ School (MPAff 2004) and a former Prosecutor in the Harris County District Attorney's office, Wu holds the seat for Houston's District 137. As a dedicated community leader, Wu tutors at-risk youth in programs in his district, mentors adults in the Skills for Living Program, and assists residents in their pursuit for United States citizenship through Neighborhood Centers, Inc. You can follow along as Wu advocates for reforms in education, health and human services, and criminal justice at http://genefortexas.com or on Twitter @genefortexas. We asked Wu to share his thoughts on the greatest policy challenges facing Texas and the U.S. and his inspiration for running for office.
Q: What do you think are the greatest policy challenges we're facing as a state and nation?
The honest answer is there's no one single thing. Everything is an impending crisis. There's a crisis in water. There's a crisis in roads. I think we have a massive issue in education. But if you want me to break it down for you, the best way to summarize it is that we have a competitiveness problem. America is a great place to live because for so long we've towered over the rest of the world in terms of commerce, education, and everything we do that keeps our competitive advantage. But the world is not a sprint, the world is marathon. And just because you are in the lead does not mean you'll stay in the lead. In a footrace, if you're keeping a good pace, but those behind you are accelerating, they're closing the gap and they might overtake you. If we want to keep our lead, we need to keep accelerating before the rest of the world can catch up. At some point, I hope we realize that.
The problem with our nation – the problem with our society – is we're a relatively young society. We're a society that reinvents itself every 20 years, and we're a society with very short-term memories and very short-term goals. In looking at public policy, you see a lot of things that make sense in the short-term, but what about 15, 20, 25, 30 years down the line? How is that going to effect us then? The way we deal with crime, with education, with our energy policy and environmental policy, women's health, Child Protective Services – it'll save money in the short-run, but in the long run this is going to hurt. I know we want to see immediate results. We want to see immediate consequences or benefits from our actions, but if you look down the line, our decisions should always be what is best in the long-term and not what is best just for tomorrow.
Q: What has been the biggest surprise you've encountered as a new member of the Texas State Legislature?
I think what surprised me is that you have people who are very passionate about areas you would not expect. For example, Representative Tom Craddick is very passionate about regulating payday loans because he understands the impact it has on his community and how much working class people suffer because of it. Representative John Davis is not an attorney, but he is a huge proponent for indigent counsel programs like Lone Star Legal Aid, because he understands that people need legal assistance when they're facing a life crisis. You have women who are abused and need to be divorced from their abusive husbands, but they have no means to do that. We can't keep them in that situation. There have been many other situations like that where I was surprised at who was championing a cause and realized that these issues aren't based along party lines. These people really are here because they care. I'm very pleasantly surprised by that.
Q: What led you to decide you wanted to run for such a high level position?
This is actually something I've always wanted to do – running for state rep. But LBJ School Lecturer Sherri Greenberg was the catalyst. I took her state government class and I really enjoyed it. In fact, she brought in a lot of people to talk to us that I've met here again. She started that spark of 'Hey, this is the place to go.' It's quite an adventure and there are a lot of things you can do to change the world, to make life better for people, and I truly believe in that. I think that was dormant for a little bit until after I was a little more settled. When I learned my predecessor, Scott Hochberg, decided to step down, I said this is what I've been waiting for. This is what I've been building myself up for all these years. I'm ready for this now. Let's do it.
Q: How did your LBJ School degree influence your career path?
Back when I worked in the housing department at the University of Texas at Austin, I was chatting with friends and we started talking about our interests and what we wanted to see out of the world. My friend told me these amazing things about this program she was in at the LBJ School. I thought, 'That's what I want to do.' Right then and there, I knew that was what I wanted because it encapsulated everything I wanted out of life – the opportunity to learn how to change the world. That was very meaningful to me and I applied within the month.
The LBJ School made me work for a lot of government agencies. That laid the foundation for me and since then I've always chosen career paths that serve a greater purpose than merely providing me with an income. I've worked for the Governor's office, the Workforce Commission, the legislature, the District Attorney's office, The University of Texas at Austin, and Texas A&M. So I think LBJ helped keep me on that path and opened up new doors for me in terms of helping people. And even when I went to law school, most of the places where I interned or clerked were government agencies – the Thirteenth and Fourteenth Court of Appeals, U.S. Attorney's Office, Harris County District Attorney's Office.