BY: Justin Sykes
Nine LBJ School graduates have authored chapters in an edited volume titled "Nuclear Terrorism and Global Security: The Challenge of Phasing out Highly Enriched Uranium." The volume is the result of a policy research project (PRP) course taught by Associate Professor Alan Kuperman on nuclear nonproliferation.
As editor of the volume, Kuperman details ways of reducing the availability of bomb-grade uranium across the globe. He enlisted his students to study various countries' approaches firsthand and used their research as the basis for his new book.
Kuperman has been interested in the topic of highly enriched uranium or HEU since his first job out of college in the 1980s at the Nuclear Control Institute.
"It was the combination of the ease of making a bomb with highly enriched uranium and the fact that this material was being used at very vulnerable facilities around the world that caught my attention," said Kuperman.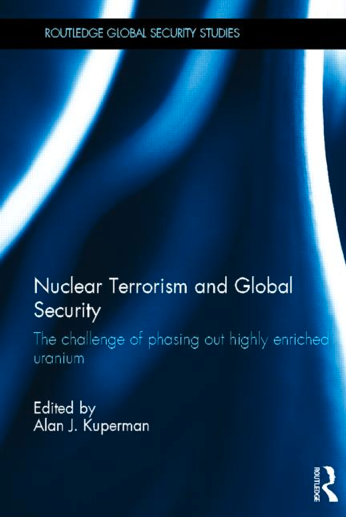 The student authors, now graduates of the school, traveled as far away as China to conduct original research into successful efforts to phase out highly enriched uranium as well as remaining challenges related to its use, as part of Kuperman's course. The project, which started out as a report for the Nuclear Threat Initiative, became a book when Kuperman saw the quality of the students' work.
"My part was dividing up the pie into thirteen separate pieces of research, then sending the students out to investigate and write up their findings, and then editing at the end," said Kuperman. "Once we had it, I thought this was pretty good!"
Students took the lead in finding experts to interview, setting up the appointments and arranging their own travels.
Jared Berenter, a graduate of the LBJ School and The University of Texas at Austin's Latin American Studies program, traveled to Argentina to research the production of isotopes, which are used in medical imaging. While the world's major medical isotope producers use highly enriched uranium to make these isotopes, Argentina converted its production facilities to use low enriched uranium or LEU.
"I wanted to find out what considerations drove Argentina's conversion, whether the conversion was cost-effective and whether Argentina could serve as a model for LEU conversion by larger producers," said Berenter.
To accomplish this, he visited the Ezeiza Atomic Center near Buenos Aires, where medical isotopes are made. Berenter interviewed officials at the facility as well as a former official from Argentina's National Atomic Energy Commission, the regulatory body involved in oversight during the conversion process from HEU to LEU.
"My biggest takeaway from this project was gaining experience in integrating science and policy," said Berenter. "This project helped me develop skills to inform policy with scientific insight and to make highly technical information accessible to a policy audience."
Chloe Colby also participated in the PRP, conducting similar research at Pelindaba, a nuclear research center outside of Pretoria, South Africa. She focused on understanding how a subsidiary of the South African Nuclear Energy Corporation overcame the political and economic pressure and technical obstacles associated with using low enriched uranium instead of highly enriched uranium.
"It's probably the most impressive thing on my résumé," said Colby.
Kuperman's goal for the project was to give the students an assortment of research skills.
"I wanted every student to have the experience of doing all the pieces of the puzzle. That is, formulating a methodology, going out and doing interview research, writing up an initial draft, editing the draft and then finalizing it," said Kuperman.
Being published authors is an additional perk for students who participated in the project.
"That is something I think could be very helpful when it comes to the job market," said Kuperman. "If you're going up for a job and you're against someone else and they ask for writing samples and one person sends a term paper from college and the other person sends a book chapter that's published, it's got to give you a leg up."
Kuperman also believes his students have a much greater understanding of current events related to North Korea and Iran.
"They can understand these issues in a way that the average student can't," said Kuperman. "When people are talking about Iran enriching uranium and what enrichment levels they're enriching to and what the significance of that is for weapons, I don't think most people understand those distinctions very well whereas the students who came through this certainly do."