Shama Gamkhar, Associate Professor of Public Affairs and long-time faculty member of the LBJ School of Public Affairs, was killed in a plane crash, along with her husband Sid Shah, on August 4, 2013. Gamkhar was an expert in environmental economic policy and a teacher of public finance and financial management. Gamkhar was 54.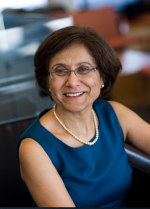 "We have lost a beloved colleague, devoted teacher and wonderful friend, whose memory and example we will carry with us," said Robert Hutchings, Dean of the LBJ School. "Our hearts go out to Shama and Sid's family and friends."
Gamkhar joined the LBJ School in 1996 as an Assistant Professor and more recently served as graduate adviser for the Master of Public Affairs degree program. Her research interests included fiscal federalism, transportation finance, public school finance and municipal bond markets. In the field of environmental policy, her focus was on climate change, pollution abatement and enforcement regulation and water management in international river systems.
She served as the co-editor of the Annual Review of American Federalism published by Publius: The Journal of Federalism. She published peer reviewed research papers in The National Tax Journal, Public Finance Review, Public Budgeting and Finance, Journal of Health Politics, Policy and Law and Journal of Policy Modeling. Her recent publications include: "The State of American Federalism 2011–2012: A Fend for Yourself and Activist Form of Bottom-Up Federalism" (co-authored), Publius: The Journal of Federalism, and "Health Impacts of Air Pollution in China," Environment International, 2012. She is the author of two books, "Federal Intergovernmental Grants and the States: Managing Devolution" and "The Indian Economy and its Performance Since Independence."
She received a Ph.D. in economics from the University of Maryland at College Park and an M.Phil. in economics from the Delhi School of Economics, Delhi University.
A Memorial Tribute will be held on September 11 at 12:15 PM in the First Floor Lobby of the LBJ School of Public Affairs for students, faculty, alumni and staff.
We invite you to share your thoughts and stories of our colleague, mentor, teacher and friend at our Memorial Page.