Austin, Texas, Oct. 9, 2013 — Amid growing public frustration over congressional gridlock, a LBJ School new report is recommending a number of reforms with the goal of improving congressional procedures and encouraging compromise.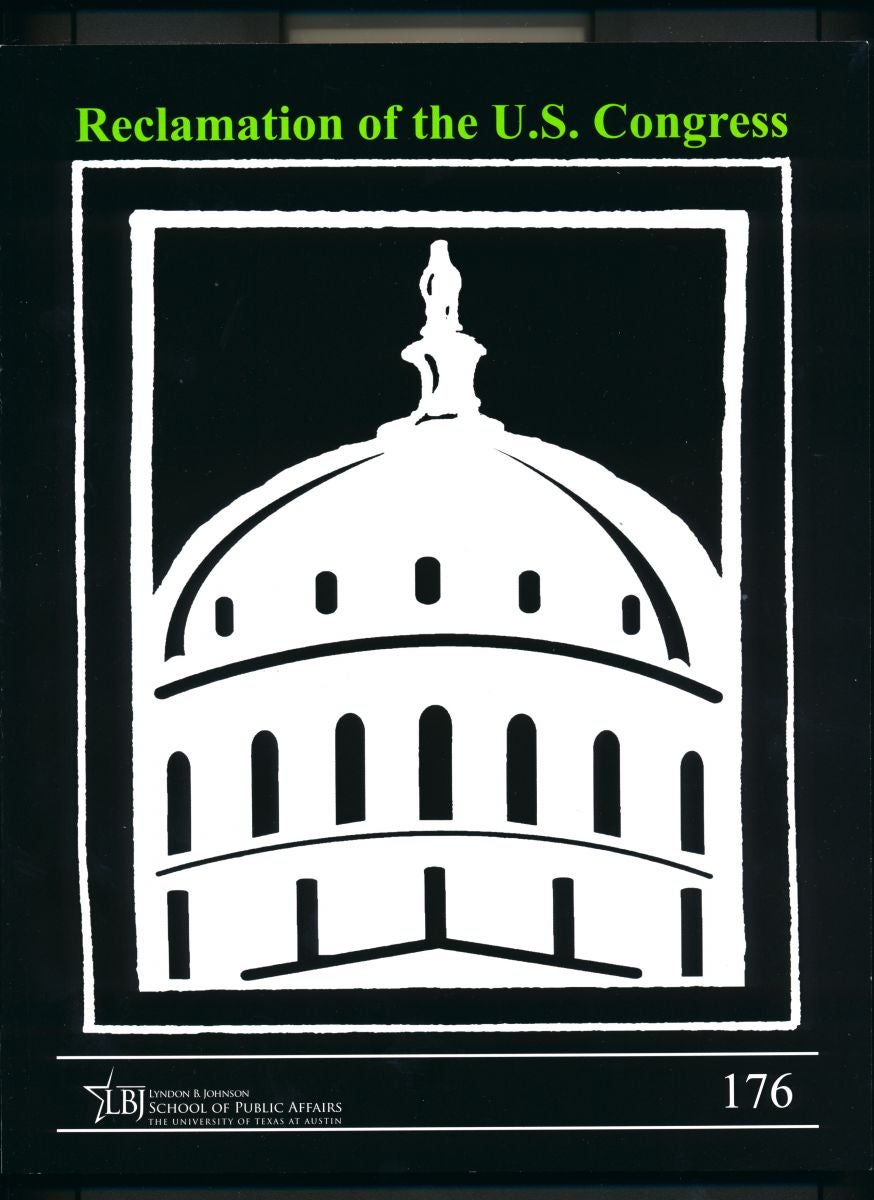 "'Reclamation of the U.S. Congress' goes beyond merely restating contemporary dissatisfactions with Washington to provide a detailed analysis of potential congressional reform proposals — both in terms of historical context and in recognition of contemporary political influences," said Clinical Professor Angela Evans, who led the project for the LBJ School and, before that, spent 30 years at the Congressional Research Service where she served as deputy director.
The report is divided into four distinct areas: agenda setting, deliberations, budget and appropriations, and staff. Each area offers tangible suggestions for both parties to jettison outdated practices and to embrace new procedures that ensure participation and representation. Some specific reform options recommended by the report include:
Instituting a "sunset" review of all executive and legislative agencies.
Creating an independent commission to conduct regular comprehensive reviews of all tax and mandatory spending legislation according to defined timelines.
Requiring parties and major caucuses to publish their legislative policy agendas at the beginning of each Congress and to disseminate them publicly.
Providing automatic one-year funding authority at the prior year's fiscal levels for all agencies, programs and activities when appropriations legislation has not been enacted prior to Sept. 30.
Requiring all appropriations bills to be considered on the floor without amendment and with an up or down vote after reported out of committee.
Establishing specific periods in the legislative calendar when committees undertake oversight.
Reducing the membership on the House and Senate budget committees to seven.
Adopting a congressional workweek that allows members to spend more time in Washington, D.C., for example, a five-day workweek for three weeks, with one week off for work in their home states/districts.
Abolishing the filibuster practice and limiting debate on any bill to 30 hours.
Integrating the Congressional Research Service, the Government Accountability Office and the Congressional Budget Office under one umbrella agency to increase the efficiency of the support agencies.
"Reclamation of the U.S. Congress" is the product of nearly a year of extensive research by 16 graduate researchers at the LBJ School in consultation with current and former U.S. senators, two former speakers of the House, congressional scholars and legislative staffers, as well as extensive examination of past efforts to reform Congress' internal operations.
"The report reviews previous internal reform efforts spearheaded by specially established Joint Committees on the Organization of Congress in 1946, 1970 and 1994," said Evans. "The analysis is intended to assist Congress should it decide to once again undertake a formal review of its operations."
For more information, contact: Kerri Battles, Lyndon B Johnson School of Public Affairs, 512-232-4054.