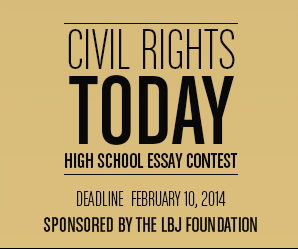 The LBJ Presidential Library is holding an essay contest for Texas 12th graders to mark the Civil Rights Act of 1964 signed by President Johnson almost 50 years ago.
Monetary prizes will be awarded to the two best essays addressing "how civil rights remains an enduring issue in society" and "one aspect of the Civil Rights Act of 1964 that impacts the writer's life today" and the sponsoring teacher of the first place winner. The first place winner and the sponsoring teacher will also receive airfare and accommodations to attend one day of the LBJ Presidential Library Civil Rights Summit in April 2014.
To be considered, essays must be submitted by February 10, 2014. The contest is sponsored by the LBJ Foundation, the LBJ Presidential Library, the LBJ School of Public Affairs and The University of Texas at Austin College of Education.
More information about the contest can be found on the LBJ Presidential Library website: http://www.lbjlibrary.org/education/civil-rights-today-essay-contest