On the 50th anniversary of the March on Washington, LBJ School faculty share their reflections of the iconic Martin Luther King, Jr. "I Have a Dream Speech," share their personal experiences attending the March and address how much further we still need to go as a society to achieve true equality.
---
Dorn: Remember hard truths of King speech
By: LBJ School Professor Ed Dorn
It was an inspiring moment: 200,000 people had assembled at the statue of the Great Emancipator to call for racial and economic justice. Many of them, including speakers such as Martin Luther King, Jr. and John Lewis, were battered veterans of a hard and sometimes deadly struggle.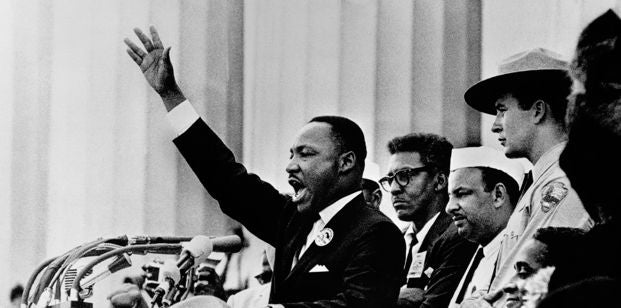 But they were veterans of a struggle that should never have been necessary. Think about what was happening in this nation 50 years ago, when the grandparents of today's college freshmen were themselves just entering adulthood. Men and women were being beaten for trying to buy a Coke at a lunch counter; they were being killed for trying to vote. It was a national disgrace. MLK said as much in the first part of his famous "Dream" speech, where he accused the nation of moral bankruptcy for failing to pay the "promissory note" of equal justice.
I began my freshman year at the University of Texas at Austin a week or two after the march. (In those days, the fall semester started after Labor Day, with final exams in January.) UT was undergoing a gradual — some would say grudging — process of desegregation, and my encounters with white students and professors were not uniformly positive. One thing that kept me going, that caused me to keep my eyes on the prize of a college degree, was King's inspiring dream of a time when people would be judged by their character rather than by their color.
I was so taken by the dream sequence at the end of the speech that I almost forgot that MLK began the speech with the charge that our country had defaulted on the "sacred obligation" of equal justice for all. "America has given the Negro people a bad check," he said. Like many Americans, I wanted to believe that the promissory note was paid by the 1964 Civil Rights Act and the 1965 Voting Rights Act. Years later, however, I concluded in my book "Rules and Racial Equality" that the '64 act was a weak piece of legislation — a good start, but insufficient.
To be fair, it probably was the best we could get at the time. President Lyndon B. Johnson had to use all of his considerable talents to overcome the procedural flimflams and states-rights folderol that the Southern "bulls" in Congress threw in the path of progress. But the '64 act could do little to close the enormous economic gap between the races. The equal employment opportunity provisions of Title VII, for example, could not mitigate the huge disparities that developed during centuries of preferential treatment for whites.
Further, the victories of the 1960s were not final. Resistance to civil rights and voting rights did not end with the passage of laws, even when the laws were vigorously enforced. And as the Supreme Court's recent decision in Shelby County v. Holder demonstrates, five justices would rather base the enforcement of voting rights on wishful thinking than on the harsh lessons of history. Encouraged by the court's decision, Texas and several other states quickly passed laws intended to reduce voting by black and Hispanic citizens. One can understand U.S. Rep. John Lewis' despair.
Properly commemorating the March for Jobs and Freedom requires that we remember the moral reproach with which MLK began his speech, as well as the soaring rhetoric with which he ended it. If we want to achieve the dream, we have to pay the promissory note.
---
By James Barragan - American-Statesman Staff
Shirley Franklin was an 18-year-old Howard University student when she stood with 200,000 people in front of the Lincoln Memorial for the March on Washington on Aug.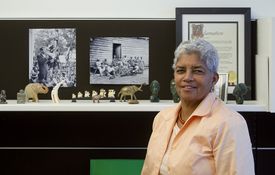 28, 1963.
At that time, she said, she couldn't have dreamed she would go on to become a college professor and the mayor of Atlanta. Looking back, Franklin, now a visiting professor of ethics and political values at the University of Texas, says the experience was one of the highlights of her life.
"I felt I was in the right place at the right time," she recalled this week.
Franklin said she remembers waking up early to attend the march. Her mother had traveled from Philadelphia to join Franklin, her aunt and her cousins, who lived in Washington. "People were coming from all over," she said. "Streets were packed. The buses were packed."
The diversity of the crowd struck Franklin. People of different races, ethnicities and religions were all there fighting for civil rights.
Franklin was most excited to listen to John Lewis, who was chairman of the Student Nonviolent Coordinating Committee and was only a few years older than her. Lewis, now a U.S. congressman from Georgia, had attracted the attention of the nation by becoming a leader in sit-ins during the early years of the civil rights movement. But Franklin said the highlight of the march was listening to Martin Luther King Jr.'s "I Have a Dream" speech.
Fifty years later, civil rights leaders and historians say progress has been made in many areas, but more work remains to be done.
Jim Harrington, director of the Texas Civil Rights Project, worries that younger generations will forget the struggle of civil rights activists because it seems so far in the past and that the movement is often condensed to King's "I Have a Dream" speech.
Laurie Green, a UT associate professor who is teaching a class on civil rights this semester, said the movement also pushed for access to jobs, an issue that is often overlooked now but was seen by civil rights leaders as the way to reach many of their other goals.
Progress includes greater access among people of color to higher-earning and higher-level jobs, said Janice Sumler-Edmond, a history professor at Huston-Tillotson University.
But civil rights leaders and historians also point out that unemployment rates for low-income people of color are still high and schools in poor neighborhoods often are not as good as schools in more affluent areas.
Nelson Linder, chairman of the Austin chapter of the NAACP, said progress still needs to be made on the local level to have the greatest effect.
"The word is not equality anymore, it's equity," Linder said. "Equity is when people have the same institutions, the same income levels, and you see stability in all systems."
And even though institutional discrimination is now illegal, the country must grapple with a different kind of discrimination that is more veiled and can include code words and behavior, Green said.
"We know that racism isn't eliminated, and it's harder when you're not fighting against laws, but you're fighting more about practices," Green said.
---
Fifty years ago, on a warm late-August day, more than a quarter of a million people participated in one of the country's largest ever political rallies for human rights. The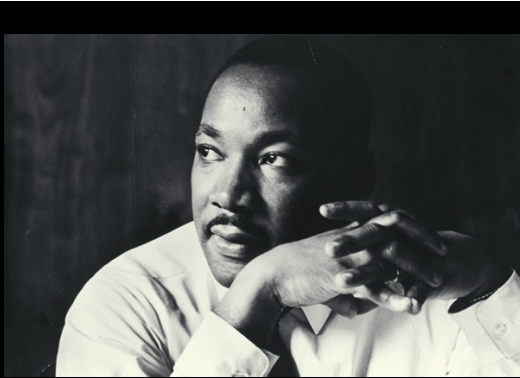 event was the March on Washington for Jobs and Freedom and is best remembered for an iconic speech delivered by Martin Luther King Jr. that has come to be known as "I Have a Dream."
On the occasion of the event's 50th anniversary, we gathered images of King taken by Flip Schulke (1930-2008), a noted photojournalist who donated his vast collection of images taken over a 40-year career to UT's Briscoe Center for American History. And we invited scholars, staff and students to reflect on the legacy of the speech and how it rings today.

"As a young student at Howard University I marched that day with my mother and family. Looking back, I am reminded of the power of people coming together peacefully to petition their government for support and policy changes. I expected the federal government to respond with thoughtful and carefully crafted legislation and policy to right the wrongs of the day. My career in public service is informed by the powerful messages of Dr. King, John Lewis and others, and the courageous response of Presidents Kennedy and Johnson and the majority of Congress with the passage of the Civil Rights Act and the Voting Rights Act. America is a better country for their inspiration and actions."
—Shirley Franklin, Barbara Jordan Visiting Professor of Ethics and Political Values, LBJ School of Public Affairs, former mayor of Atlanta

"The March on Washington demanded far-reaching changes in law, education, economics and politics. Dr. Martin Luther King, Jr.'s speech fused a passionate plea for change with a strong commitment to civility and respect for the dignity of all citizens, even those with whom he disagreed. As he inspired listeners "to shake the foundations of our nation until the bright day of justice emerges," King also reminded his followers: "Let us not seek to satisfy our thirst for freedom by drinking from the cup of bitterness and hatred." We would do well, today, if we learned to pursue passionate change with more civility and much less bitterness and hatred."
—Jeremi Suri, professor, Department of History and LBJ School of Public Affairs