BY: Justin Sykes
This summer the LBJ School of Public Affairs hosted thirteen students from Mexico's Centro de Investigación y Docencia Económicas (CIDE) and three students from Israel's Lauder School of Government, Diplomacy and Strategy at Interdisciplinary Center Herzliya (IDC) for a two week Public Management and Leadership Program.
The summer program develops the leadership skills of mid-career professionals pursuing a foreign public administration master's degree and fosters contact between cultures. Students from CIDE have come to the LBJ School for fifteen years as part of an international partnership agreement. This is the first year the LBJ School has partnered with IDC, due in large part to the generosity of Livingston and Saranne Kosberg who set up an exchange fund for students and faculty between the LBJ and Lauder Schools.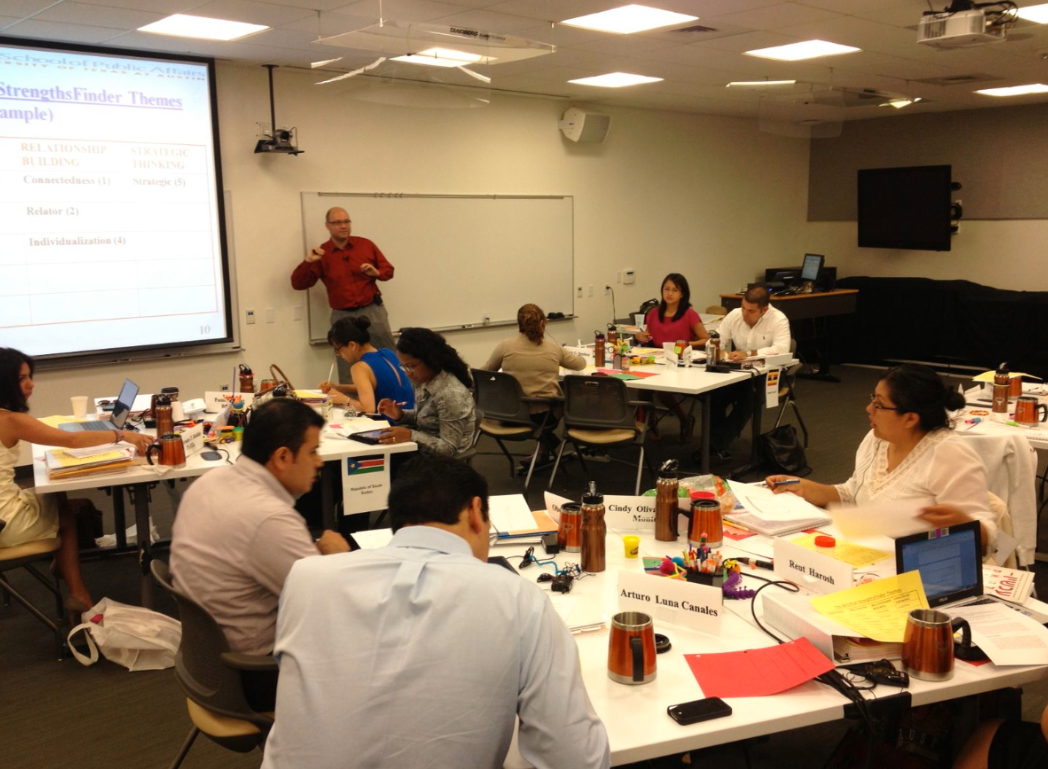 CIDE student Myriam Roldan, an attorney who will be starting a new job at Mexican development bank Banobras when she returns to Mexico City, said studying at the LBJ School was an opportunity for introspection.
"I've seen many behaviors that I should change and that I should improve with my subordinates," Roldan said. "Being the leader of a team is not as easy as you think. You don't just take the position and that's it. You have to know a lot about the work, but also about relationships."
Roldan said another benefit of the program was that it helped her better understand cultural differences with the Israeli students.
"Today I can say I love them, but at the beginning it was shocking. And I'm sure they thought the same," said Roldan.
Roei Gabay, an IDC student running for city council in the Israeli city of Yavne, said the experience helped him think more systematically.
"There are lots of tools that organize your material and your theories and you can use them to think more clearly and do practical things," said Gabay.
The program included sessions on emotional intelligence, strategic planning, and state and local collaboration as well as a crisis simulation. Students assumed the roles of stakeholders in the crisis simulation and attempted to negotiate a solution to a dynamic conflict between Sudan and South Sudan.
Lauren Glass, a 2013 graduate of the LBJ School's MGPS program, helped create the crisis simulation scenario and led the session with Miha Vindis, an LBJ School Ph.D. student. Afterwards, she reflected on the exercise with the international students.
"Many students commented on how difficult they learned crisis negotiations can be due to limits on time, information and resources," said Glass. "They mentioned that it also helped them learn how to work as a team and be prepared for unexpected events as it is always necessary to be in the policy world."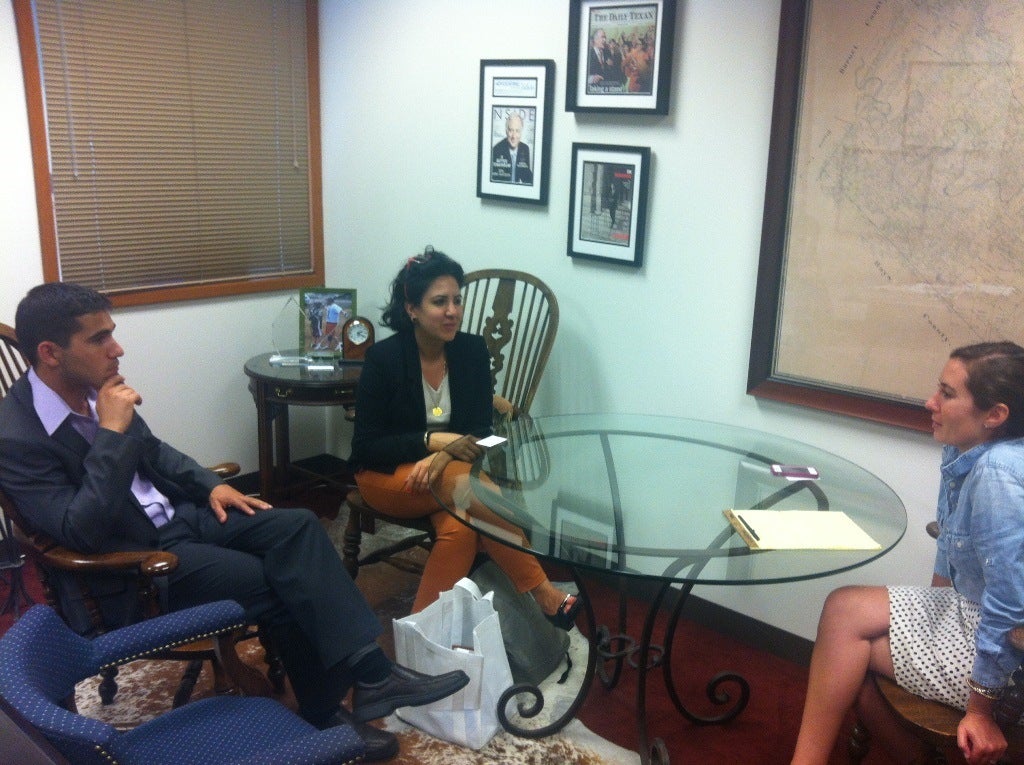 Students also visited the Texas Department of Information Resources and Austin City Hall to engage with state and local leaders. IDC student Reut Harosh, the Director of the National Program For Children and Youth at Risk in Haifa Municipality, said the on-site visits helped her understand structural differences between government in Israel and the United States.
"In the US you have the national, state and local governments and in Israel you only have national and local so it's very, very different," said Harosh. "It really opened up the way I think and see things so it was great."
Sherri Greenberg, Director of the Center for Politics and Governance, accompanied the students on their visits with state and local officials and said both the sheer number of local government entities and the autonomy they are granted by the central government surprised them. Greenberg was especially impressed with the students' questions.
"Having international students is enriching," said Greenberg. "We learn as much from them as they learn from us. Their questions about why we have the system of government we do in the United States make us think about assumptions we take for granted."