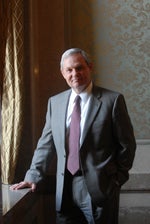 The Association of Professional Schools of International Affairs (APSIA) has named LBJ School Dean Robert Hutchings to the role of Vice President for the organization. Dean Hutchings previously served as Secretary/Treasurer of APSIA.
Before joining the LBJ School in March 2010, he was Diplomat in Residence at Princeton University, where he had also served as Assistant Dean of the Woodrow Wilson School of Public and International Affairs. His combined academic and diplomatic career has included service as Chairman of the U.S. National Intelligence Council, Director for European Affairs with the National Security Council, and Special Adviser to the Secretary of State, with the rank of ambassador. Dean Hutchings is also a Director of the Atlantic Council of the United States and is founding President of the Austin Council on Foreign Affairs.
Susan M. Collins, Dean of the Gerald R. Ford School of Public Policy at the University of Michigan, assumes the role as President of the Association. Dean Collins has served as Vice President for the past two years.
Dean James Goldgeier of the School of International Service at American University assumes the role of Secretary/Treasurer.
The Executive Committee is also composed of three At-Large Members:
Director Resat Kasaba, Jackson School of International Studies, University of Washington
Dean Kishore Mahbubani, Lee Kuan Yew School of Public Policy, National University of Singapore
Dean Ghassan Salame, Paris School of International Affairs, Sciences Po