LBJ School student researchers "scrape" 1 million data points on how Congress uses social media
For over a year, 17 LBJ School student researchers spent over 900 hours collecting more than 1 million data points on how members of Congress use social media. To their surprise, they discovered that these elected officials used social media most often to publicize their positions on policy issues, not for self-promotion, campaigning or media appearances, as the researchers originally thought.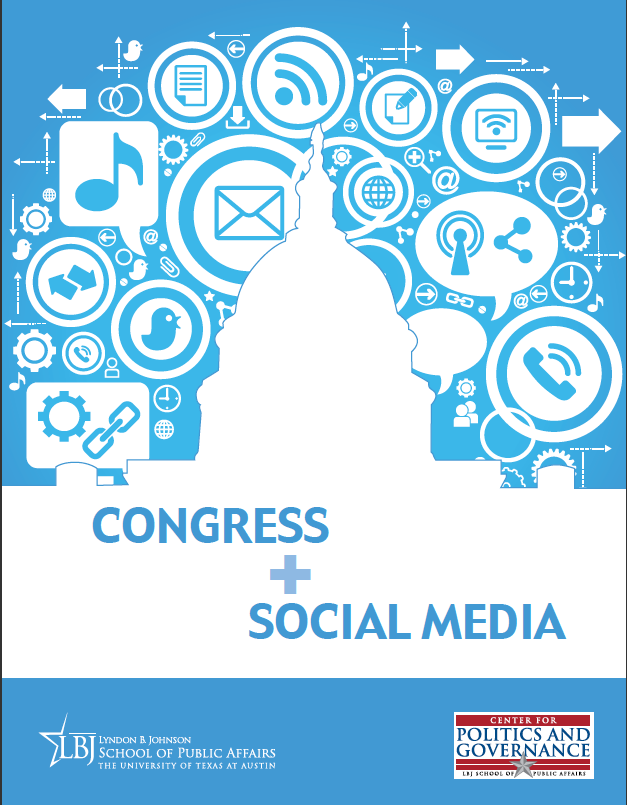 LBJ School Lecturer Sherri Greenberg led the research team, which "scraped" official congressional Twitter and Facebook accounts during a 59-day period in 2012. The team then coded each update or tweet to define its purpose, spending months analyzing the data.
"There had been very limited studies up to this point so we really didn't know what to expect," said Greenberg, director of the school's Center for Politics and Governance. "Certainly people had been following the use of social media since the Howard Dean email fundraising campaign but there wasn't much research on how social media is being used to govern."
In total, the student researchers looked at over 47,000 original posts on official congressional Facebook and Twitter accounts and assigned a category to each post. Categories included: campaigning, official congressional action, position-taking, policy statements, district or state-related information, media appearances, personal and other.
As part of this study, says Greenberg, they discovered that social media had become part of what she calls the governing structure.
"That's really one of the major takeaways from this study," said Greenberg. "Social media is now part of governing and managing and not just a part of politicking and campaigning."
If elected officials are using social media to govern, then that opens up greater questions about transparency, said Bryce Bencivengo, one of the student researchers.
"Social media fall under the same franking rules that apply to the mail," said Bryce. "It's kind of naïve to think that you can make the same rules that apply to the mail and phone calls apply to Facebook and Twitter. I would love to see this study spur on more research into best practices on how social media should be regulated to comply with open records."
Racheal Kane, another student researcher, said she was most surprised by the different ways that Democrats and Republicans use social media.
"Republicans tended to post more official congressional actions while Democrats focused on district and state affairs," said Kane. "All in all, Republicans had a stronger presence on social media and I think that stems from the reaction to President Barack Obama's first campaign win."
The position-taking tweets that the Republicans seemed to favor were retweeted more often than other categories, said Kane.
"If you think about it, the Republicans in Congress are getting their message out there more," said Kane. "People are retweeting what they've said whereas with the Democrats, not so much."
For student researcher Elizabeth Joseph, her key takeaway was the importance of a solid social media strategy.
"We just observed these hundreds of social media accounts and you could see specifically when certain members were using their accounts in a fine-tuned way," said Joseph. "But then there are some people who were all over the place. It reinforced to me the importance of a defined strategy, not just for members of Congress but any organization adopting social media."
Download the study: http://lbj.utexas.edu/cpg/docs/research_congress_social_media.pdf
As part of the yearlong research project, which was originally sponsored by the Congressional Research Service (CRS), students traveled to Washington, DC, to present their findings to CRS.
"It's really impossible to put into words how important an opportunity like this is for students," said Greenberg. "They had to get up in front of an audience and present without looking at PowerPoint, without looking at notes, followed by a question and answer session. This was just an invaluable experience whether they find themselves one day in a future board meeting or committee hearing."
Elizabeth Joseph was thrilled at the opportunity to present formally to a client.
"It was standing room only," said Joseph. "It was packed and everyone was really engaged. I thought they were going to ask a lot of technical questions about our methodology, but they really wanted to know more about the broader policy implications of our research."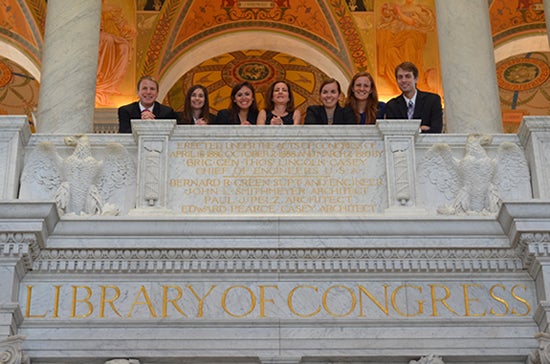 The project was part of the school's capstone Policy Research Project series, a keystone of the curriculum at the School. Each student is required to participate in a yearlong project with a real-world client and defined deliverables.
"I call it the ultimate group work because it was the first, truly large-scale, collaborative project I've ever been a part of," said Joseph. "It has created this whole new section of interest for me with social media and messaging and how public officials are presenting themselves with these new technologies. It was a lot of hard work but completely rewarding and I'm proud of the product we created."
Greenberg is currently designing two future research projects that would involve students, one focused on government innovation and digital technology and another looking at managing use of social media in government.
"Social media isn't going anywhere," said Greenberg. "That doesn't mean it's not changing. It is here to stay as part of governing and part of managing."