Former Secretary of State Condoleezza Rice spoke twice at the LBJ School of Public Affairs on March 18 on a variety of topics ranging from the anniversary of the start of the Iraq war, to leadership, education, health care and international development.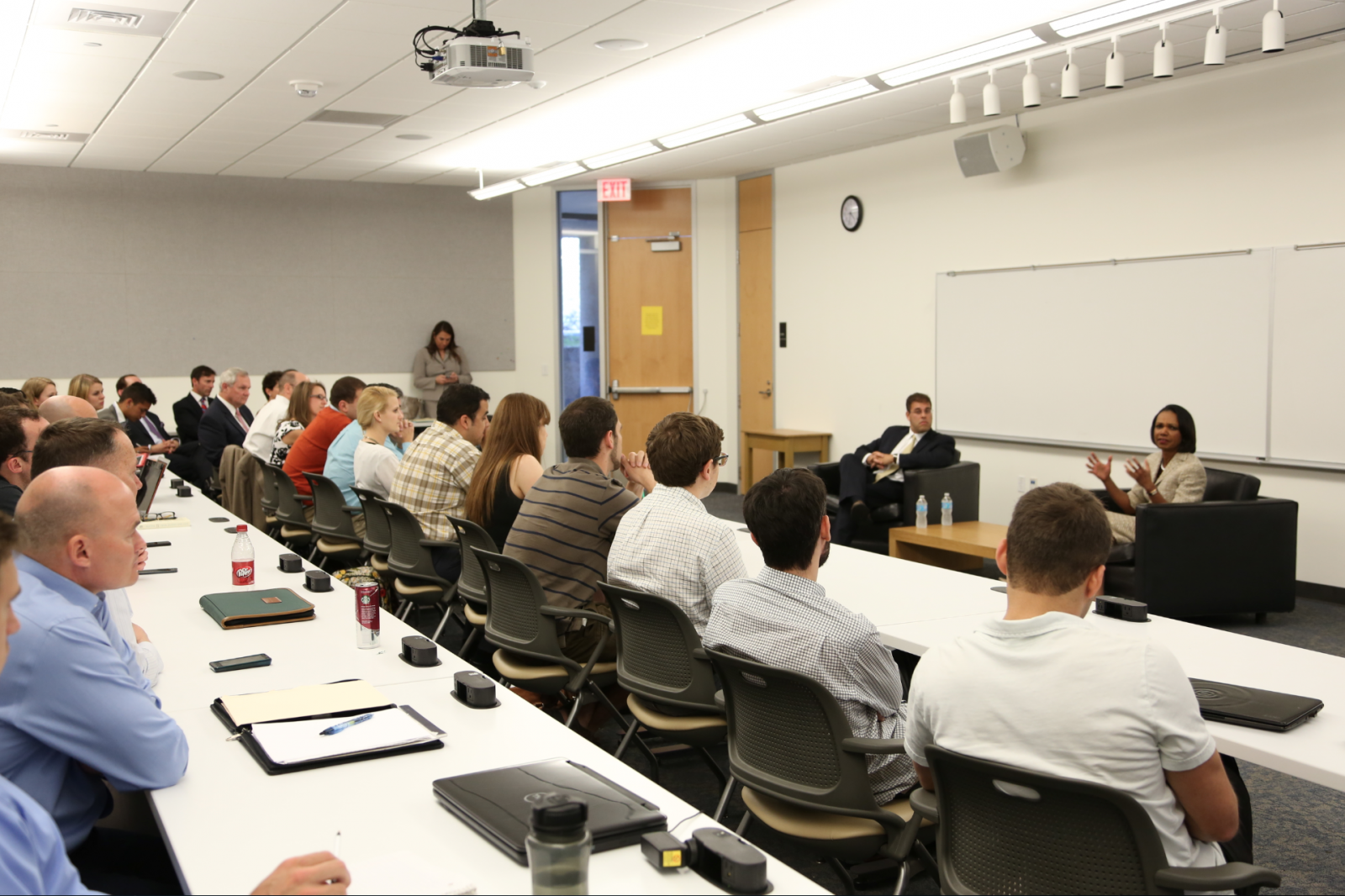 Dr. Rice first addressed LBJ School students in a small, fireside chat-style event where she took questions from the audience in an open Q&A session pictured left.
Later that evening, Dr. Rice spoke to a capacity crowd in the Lady Bird Johnson Auditorium at an event co-sponsored by the LBJ School and the LBJ Presidential Library. Library Director Mark Updegrove opened the event. LBJ School Dean Robert Hutchings introduced Dr. Rice.
In her remarks, Dr. Rice touched on the importance of education to her personally and to our nation as a whole, her experiences living through the events of 9/11 as the National Security Advisor and many other policy and personal insights from her long career.
After her formal remarks, Dr. Rice answered questions from LBJ School graduate students and undergraduate Next Generation Scholars from The University of Texas at Austin. Topics included the challenges of being a woman in a male-dominated sector, nuclear proliferation, the Arab Spring and international development.
Dr. Rice spoke openly about the Iraq war, stating that if given the chance to do things differently, she would still work to overthrow Saddam Hussein. Dr. Rice admitted that there were mistakes made during the rebuilding process, citing a greater need for military and civilian cooperation. In retrospect, building from the countryside toward Baghdad as opposed to starting with Baghdad and building out would have been the better strategy.
Justin Sykes, a first-year Master of Public Affairs (MPAff) student at the LBJ School, was among the students who prepared questions for Dr. Rice.
"Dr. Rice gave a much broader speech than I expected, covering not just foreign policy but also economics, education and her own personal story," said Sykes. "I was especially impressed by her responses to the student questions. She tried to connect with each student on a personal level."
Kelsey Hawley, a second-year Master of Global Policy Studies (MGPS) student, was also among the students to pose a question.
"I appreciated her point about maintaining America's promise, that it should not matter where you came from but what you make of yourself," said Hawley. "Her theme throughout the talk was that today's headlines and history's judgment are rarely the same. The theme tied her discussion on national security, comprehensive immigration reform, education reform and foreign policy together well."
Related:
Former Secretary of State Condoleezza Rice reaffirms Iraq War support on eve of 10th anniversary - The Daily Texan, March 19, 2013
Former Secretary Rice in Longhorn Country - The Baines Report (LBJ Journal), March 19, 2013
Condoleezza Rice Discusses Iraq War on the 40 Acres - The Alcalde, March 19, 2013