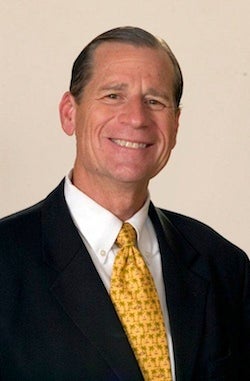 AUSTIN, Texas, Feb. 18. 2013 -- The Distinguished Public Service Award (DPSA) is the highest honor the LBJ School of Public Affairs bestows on its graduates and is reserved for those who go above and beyond in their leadership and commitment to public service. This year, the LBJ School is pleased to announce Robert N. Campbell, III (MPAff '73) as the recipient of the 2012 DPSA.

"Bob Campbell is a dedicated public servant whose career has influenced government leaders, federal agencies and state and local governments on the major policy issues affecting our country these past 40 years," said Robert Hutchings, dean of the LBJ School. "While Bob has been a widely respected force in helping government achieve better results, his impact has also extended to the LBJ School community where we have been grateful for his longstanding counsel and involvement."

Campbell recently retired from his position as vice chairman and U.S. public sector leader at Deloitte LLP. Campbell serves on the Executive Committee of the Board for the East West Institute and is the current Chair of the LBJ School Advisory Council.

Campbell was nominated for the award by his fellow alumnus, Albert Hawkins (MPAff '78), former commissioner of the Health and Human Services Commission who received the Distinguished Alumnus Award in 2001. Hawkins met Campbell 30 years ago when Hawkins was a young state worker.

Hawkins writes in his nomination letter, "I was and remain immensely impressed not only by Bob's knowledge and ability, but also by his integrity and commitment to quality… Bob's professionalism, integrity and dedication have been unchanged and undiminished by the passage of time and the real-world pressures he has endured."

Harry Raduege, Jr., director, Deloitte Services LP and chairman of the Deloitte Center for Cyber Innovation also wrote in on Campbell's behalf.

"Bob Campbell is an experienced advisor in professional services leadership and a master at relating to people of diversity from all walks of life – two of Bob's most significant distinguishing characteristics," writes Raduege. "He is respectful, intensely interested, and has built deep trust and lasting relationships among individuals throughout both government and industry."

Campbell will be presented with the Distinguished Public Service Award at a ceremony on Friday, March 22, 2013, at the LBJ School in conjunction with the annual alumni reunion weekend.
More on Bob Campbell
While at Deloitte, Campbell oversaw services to state, local, education, public health care and nonprofit clients. He guided leading public policy research from Deloitte Research, the Deloitte Center for Health Solutions and the Deloitte Center for Cyber Innovation. Campbell also helped to lead the Deloitte senior advisor program of eminent former government leaders including Governor Tom Ridge, General Harry Raduege, General Charles Wald, Dr. Paul Keckley, Dr. Wade Horn and Dr. James Zingale. Campbell served on the 19-member Bipartisan Policy Center's U.S. Debt Reduction Task Force, bringing perspective from his 37-year career with Deloitte and leading a number of the most impactful governmental transformation initiatives while working with leaders of major federal agencies and more than 40 states.

Campbell is a frequent writer and speaker on government management issues. He recently coauthored the book Letting Go of the Status Quo, which addresses the big issues facing today's governors and state legislators. He also edited If We Can Put a Man on the Moon and has been quoted in several leading business and trade publications.

Campbell received a bachelor's degree with honors from Austin College and a master's degree in public affairs from the LBJ School. He has served on various community boards and is presently a member of the Executive Committee of the University of Texas Chancellor's Council. He also advises a number of nonprofit organizations. He and his wife Laura have been married for 40 years, and they have four children and four grandchildren.

More on the Distinguished Public Service Award
The LBJ School Distinguished Public Service Award was established in 1989 and is presented annually to an LBJ School graduate whose career and public service record best represents the values on which the School was founded. The 2012 DPSA Selection Committee was composed of Leigh Boske, LBJ School Professor; John O'Brien (MPAff '81), 2011 recipient of the DPSA; Christopher Bjornson (MPAff '96), board member of the Washington, D.C. Alumni Chapter; and Lauren Oertel (MGPS '12), vice president of the Austin Alumni Chapter.

As used in this document, "Deloitte" means Deloitte LLP and its subsidiaries. Please see www.deloitte.com/us/about for a detailed description of the legal structure of Deloitte LLP and its subsidiaries. Certain services may not be available to attest clients under rules and regulations of public accounting.