Since 1992, The University of Texas at Austin has welcomed between five and eleven Army War College Fellows each year through a partnership with the Army War College. The fellows—Army officers who have succeeded operationally and are being prepared to take on high-level strategic positions in the military—spend their year at the university taking master's level classes in several departments including the LBJ School of Public Affairs.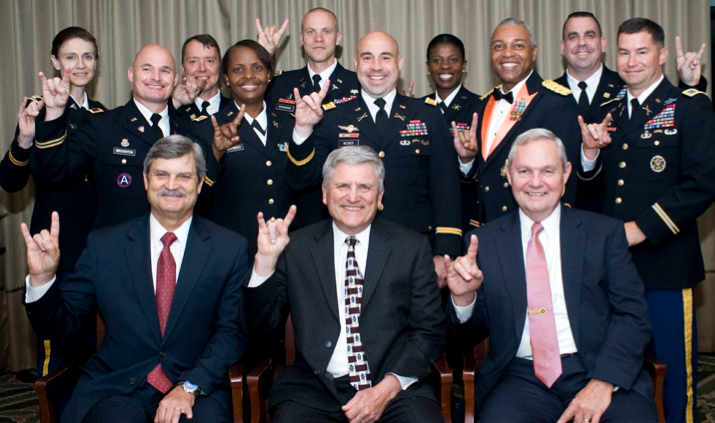 The yearlong executive education program is designed to expose the officers to new viewpoints so they can interact effectively with other branches of the service, civilian leaders in Congress, the Department of Defense and other countries.
"The Army War College is a capstone course for Army officers," said Dr. Howard Prince, II, a retired Brigadier General in the U.S. Army and the Lloyd Hackler Endowed Chair in Ethical Leadership at the LBJ School. "It's actually the stepping-stone to become a general officer."
Army War College Fellows select a full slate of courses tailored to their interests and goals and attend at least three guest lectures each month. They also write a research paper on a strategic topic relevant to military leaders. Recent topics include making leadership training more consistent across units and improving the reporting procedures indicating a unit's readiness.
For Col. Jack Usrey, an Army War College Fellow who just completed the program, studying at the LBJ School was an opportunity to step outside of his comfort zone.
"I've been insulated in the Army for the last 21 years and so I kind of see that piece of the world," said Usrey. "I've been able to engage with ambassadors, engage with a lot of guest speakers, especially the students."
The exchange of ideas goes both ways. LBJ School students learn from the real world, sometimes life-or-death experiences Army War College Fellows bring to the classroom and gain a better understanding of the personal side of the military.
Clinical Professor of Public Policy Practice Angela Evans had two Army War College Fellows in her public management class. "They added so much in terms of perspective of real-life situations, things that they experienced, problems they had, mistakes they made, challenges they faced," said Evans. "It really brings a perspective the students cannot have without having them there."
According to Professor Ed Dorn, a former Assistant Secretary of Defense and Under Secretary of Defense for Personnel and Readiness, nobody is better able to share with students how the world really works than an Army colonel.
"I teach defense policy and the officers who sit in my class with my other graduate students are terrific at correcting me when I say something that works great in theory but not in practice, but also great at helping the students understand the way the real world works," said Dorn.
On August 19, five more Army War College Fellows will arrive in Austin to begin their year of intellectual broadening at UT. Their presence at the LBJ School will broaden the understanding of students as well.