The Distinguished Public Service Award (DPSA) is the highest honor the LBJ School of Public Affairs bestows on its graduates and is reserved for those who go above and beyond in their leadership commitment to public service. This year, the LBJ School is pleased to announce David Berteau (MPAff '81) as the recipient of the 2013 DPSA.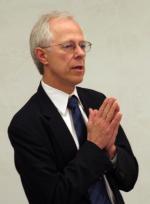 A recognized expert on government and defense management and public-private issues, Berteau is a senior vice president at the Center for Strategic and International Studies, where he is the director of the National Security Program on Industry and Resources. Previously, Berteau served in the Defense Department for 12 years and was the principal deputy assistant secretary of defense for Production and Logistics from 1990 to 1993. He teaches graduate-level courses at the LBJ School, the Maxwell School of Citizenship and Public Affairs, and Georgetown University. Berteau is also an Associate of the Robert S. Strauss Center for International Security and Law at The University of Texas at Austin and a Fellow of the National Academy of Public Administration.
"During his remarkable career, David has always remained strongly connected to the LBJ School," said Dean Robert Hutchings. "His counsel and advice were instrumental in the early stages of the LBJ School's Washington Program, and we have been grateful for David's longstanding involvement as an alumnus, scholar and educator. David is an exemplar of what dedicated and committed individuals can accomplish in the field of public service."
Berteau was nominated for the award by fellow alumnus Eli Massey (MPAff '05). In his letter of nomination, Massey writes, "Many people are recognized as experts on government and defense issues, but David has been repeatedly recognized at the highest levels for his dedication and superior service. More impressive than just the number of times David has been recognized is the humility that David brings to such recognition… For more than all of David's knowledge and accomplishments, I am proud to support his nomination for the DPSA because of his commitment, compassion and genuine desire to make the country we live in a better place."
Berteau will be presented the 2013 Distinguished Public Service Award at the LBJ School in conjunction with the School's annual Alumni Reunion Weekend in April.