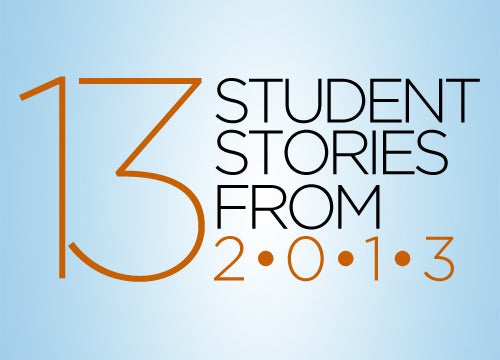 Whether it was publishing original research in the LBJ Journal, penning policy editorials for the Baines Report student blog, or participating in faculty-led policy research projects about some of today's most pressing issues, LBJ School students spent their 2013 immersed in the world of public affairs, striving to be the next generation of change agents adding value to society. Below are 13 stories from 2013 that highlight the diversity of our student body's activities over the last 12 months.
The LBJ School of Public Affairs is celebrating the launch of the redesigned Baines Report as the School's officially sponsored, student-led policy opinion publication. The new web site has a streamlined layout and an enhanced focus on social and digital media. The Baines Report now also publishes podcasts in addition to opinion pieces and blogs.
---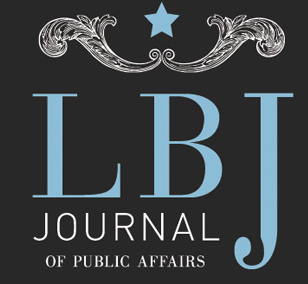 Students looking to gain a wider audience for their research can submit it to the
LBJ Journal
, one of the oldest student-run public policy journals in the nation. Starting this year, the
LBJ Journal
will be published exclusively as an e-journal at
http://www.lbjjournal.com/
.
---

Amid growing public frustration over congressional gridlock, a new LBJ School report is recommending a number of reforms with the goal of improving congressional procedures and encouraging compromise."Reclamation of the U.S. Congress" is the product of nearly a year of extensive research by 16 graduate researchers at the LBJ School in consultation with current and former U.S. senators, two former speakers of the House, congressional scholars and legislative staffers, as well as extensive examination of past efforts to reform Congress' internal operations.
---
LBJers were out in force at the Texas Tribune's third annual Tribune Festival. And now that the excitement is over, we've gathered together our Top 10 LBJ student tweets from the festival.
---
In preparation for the 83rd Texas Legislative Session, LBJ School students have compiled an
in-depth preview of the major challenges facing state policymakers. The preview covers the following issues: budget, criminal justice, education, elections, healthcare, immigration, payday lending, the sunset advisory commission and water and energy.
---
A multidisciplinary team including an LBJ School Ph.D. student recently won first place and a $10,000 award in the Power Across Texas Energy Innovation Challenge. As part of the competition, teams developed proposals to bring power to colonias, unincorporated neighborhoods with inadequate infrastructure and substandard housing across Texas' border with Mexico.
---
DiscoverHope is an Austin-based NGO that provides microcredits and business training to women in Cajamarca, Peru. These videos provide help visualize the organization's mission.
---

For over a year, 17 LBJ School student researchers spent over 900 hours collecting more than 1 million data points on how Members of Congress use social media. To their surprise, they discovered that these elected officials used social media most often to publicize their positions on policy issues, not for self-promotion, campaigning or media appearances, as the researchers originally thought.
---
The 2013 edition of the Thinkers and Doers Summer Internship Blog has launched with 7 student bloggers focusing on policy issues for a variety of governmental, non-governmental and non-profit organizations around the world and close to home. From agriculture, food security and nutrition, to juvenile justice issues in Texas, entrepreneurial development, education and poverty, these student interns will share their on-going stories as they develop the skills to become change agents in the world of public affairs. We invite you to meet our bloggers and learn about their various policy interests and then follow along as they describe their fieldwork.
---
The LBJ School of Public Affairs will admit the first class of students for its new Executive Master in Public Leadership (EMPL) program beginning in May 2014. This is the school's first full degree program in executive education and the only program of its kind in Texas.
---
Since 1992, The University of Texas at Austin has welcomed between five and eleven Army War College Fellows each year through a partnership with the Army War College. The fellows—Army officers who have succeeded operationally and are being prepared to take on high-level strategic positions in the military—spend their year at the university taking master's level classes in several departments including the LBJ School of Public Affairs.

---
This summer the LBJ School of Public Affairs hosted thirteen students from Mexico's Centro de Investigación y Docencia Económicas (CIDE) and three students from Israel's Lauder School of Government, Diplomacy and Strategy at Interdisciplinary Center Herzliya (IDC) for a two week Public Management and Leadership Program.
---
The LBJ School of Public Affairs welcomed its newest incoming class of students with a week of orientation activities that culminated with the "Gone to Texas", a reception hosted by Dean Robert Hutchings, which ends in a march to the UT Tower for a special presentation of music, student videos and inspirational speakers. The LBJ School orientation week featured a series of events ranging from information sessions on academic and research opportunities to social events, all with the aim of providing an opportunity for new students to become comfortable as the newest members of the LBJ School community.