The first time Allison Ramirez visited El Salvador, she knew she was destined to return.
During an undergraduate semester abroad in 2005, Ramirez discovered a passion for the country, its people and many of the issues she encountered there. The next summer she did return to work with a small Salvadoran nongovernmental organization (NGO) focusing on immigration issues.
"When I arrived, the NGO put files and files in front of me of migrants who had gone missing," said Ramirez, who is graduating this spring with a master's degree in Global Policy Studies from the Lyndon B. Johnson School of Public Affairs. "It was a life-changing moment to realize what was going on for Central American migrants. I was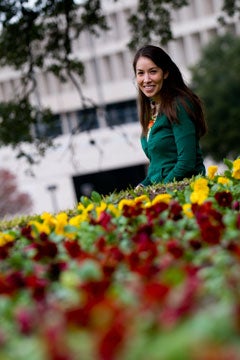 already on the side of immigrants in the United States, but this added a completely new dimension."
From that moment, Ramirez was committed to working with the families of migrants who left El Salvador to travel through Central America toward the United States looking for a better life, but became victims of human rights violations along the way.
"It's one thing to have lost a loved one," said Ramirez. "It's another thing not to know what happened to them, to not know if they are alive or dead, or if they've been tortured."
Ramirez has journeyed to El Salvador many times, once as a Fulbright Scholar to work on a documentary about the history of oppression and injustice in the country, always with the aim of supporting the families of missing migrants through advocacy work.
While working on her graduate degree at the LBJ School and a second degree in Latin American Studies, Ramirez returned to work with the same NGO in 2010. While there she helped families search for loved ones while also working to gain greater cooperation from Mexico, where the majority of human rights violations against migrants occur. In 2011 Ramirez spent another eight months performing research and advocacy work in El Salvador, trying to understand the most effective advocacy strategies for human rights organizations to use with their government.
After graduation, Ramirez plans to continue her work in advocacy, with a focus on migrants' rights, either in El Salvador or in the United States.
She said, "Working with the families I realized the kinds of policies that we have in the United States can trickle down through Latin America and the devastating effect that has on average people trying to make lives for themselves."