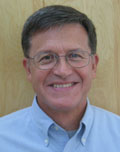 AUSTIN, Texas, April 30, 2012 — Kevin Bacon, adjunct professor of Public Affairs at the LBJ School of Public Affairs, has been named the 2012 Robert A. Fox Executive-in-Residence at the UC Davis Graduate School of Management.
Each year the Executive-in-Residence Program invites a prominent executive to teach a quarter-long Master of Business Administration course that reflects their management expertise as a top business leader.
Professor Bacon brings over 30 years of senior executive experience providing consulting services to public sector organizations and over two decades as a management consultant and partner at PricewaterhouseCoopers. He has worked with federal, state, and local agencies in implementing large projects designed to improve the quality, cost and speed of their services.
This spring, Professor Bacon's course will focus on developing the skills and abilities to effectively run large, complex companies, government agencies and nonprofits.