BY: Justin Sykes
Former astronaut and U.S. Senator John Glenn spoke to students and answered their questions about how to restore civility in politics on Oct. 30. "Civility comes from knowing people and getting together," Glenn told a classroom filled to capacity, pointing to how students are able to be civil with their classmates.
According to Glenn, making an effort to get to know one another is not as common as it used to be in the U.S. Senate. When Glenn served as a senator, Majority Leader Robert Byrd held all-Senate dinners every six weeks or so. This gave senators a chance to meet those they did not know and form personal bonds.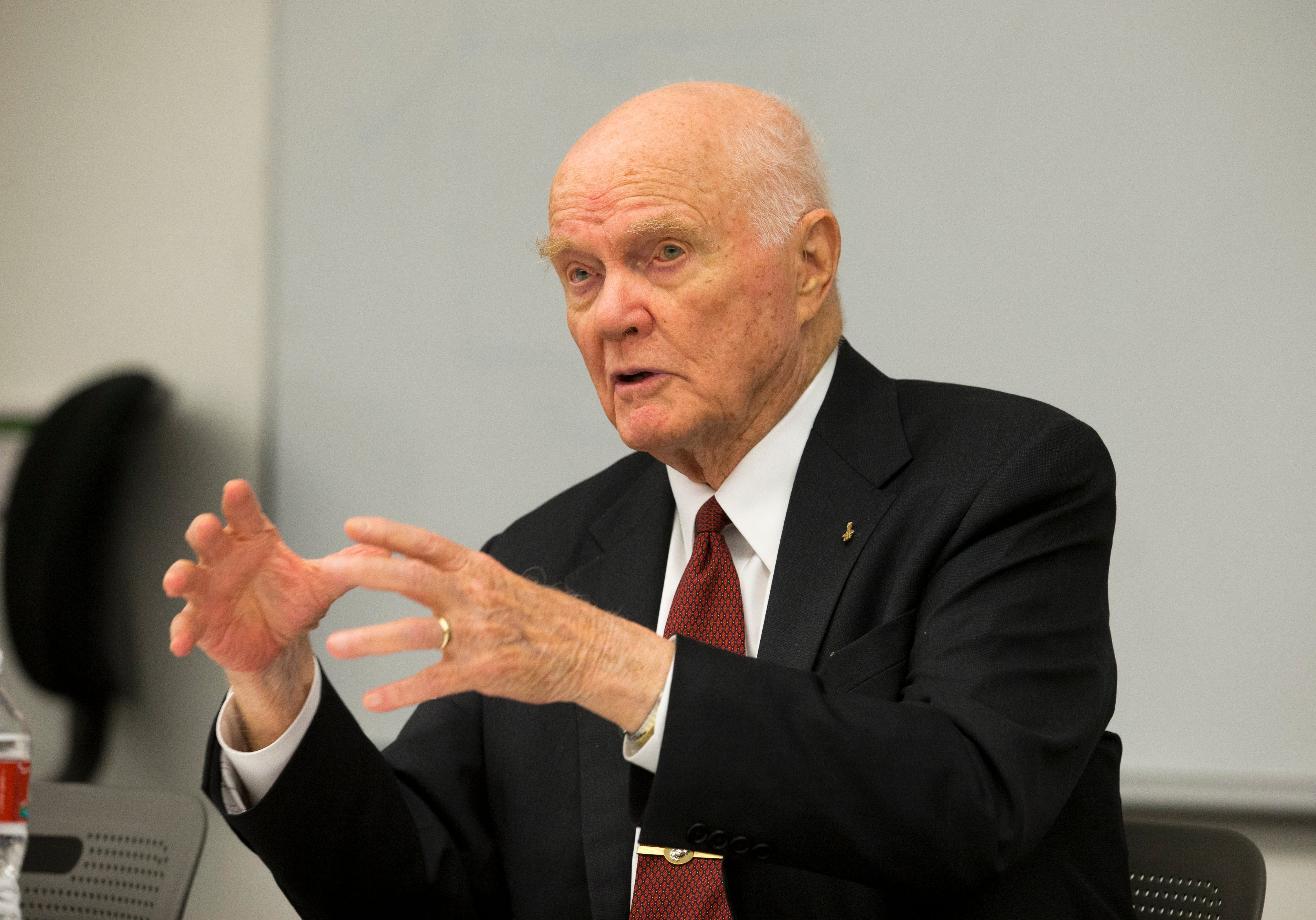 The dinners featured performances by senators ranging from a Republican Men's Quartet to Byrd playing the fiddle to Hawaii Democrat Daniel Inouye playing the piano. Inouye, who lost an arm in World War Two, once told the story of learning the piano while recovering from his war injury and played "Danny Boy" for his Senate colleagues.
"Things like that bind people together," said Glenn. "I'm just sure that after that very few Republicans had any hesitancy about going and talking to Daniel about some legislation that was coming up."
Glenn also blamed the huge influx of money into politics, the ease of returning home when Congress is not in session and the increasing number of House members being elected to the Senate as reasons why the body has become less collegial.
Students asked a variety of questions including what Glenn would do to make Senate deliberations more functional, whether science and technology issues could be a catalyst for bipartisanship, and how, at age 91, Glenn managed to stay so healthy.
Many of the students who asked questions are enrolled in Professor Angela Evans course on "The Reclamation of the U.S. Congress," which will publish a report next semester with recommendations for making Congress more effective as an institution.
Brandon Archuleta, a first-year MPAff student in Evans' class, asked Glenn if there were any changes the Senate should make to facilitate deliberations. Glenn suggested doing away with the 60-vote requirement to end debate because this allows for the "tyranny of the minority."
"I grew up thinking that a majority vote in this country was what you should go with," said Glenn.
"I thought that his answer was clear and concise," said Archuleta after the event. "I thought he had a great deal of candor and was really interested in almost a mentorship role in how we can make our research project relevant in both a scholastic setting and for Congress."
Sam Spahn, also a first year MPAff student in Evan's class, said his biggest takeaway from hearing Glenn was that if the Senate had more social events senators might act more bipartisan. "He was mentioning people across the aisle that weren't the same ideology but they were friends," said Spahn. "There weren't teams, there were people."