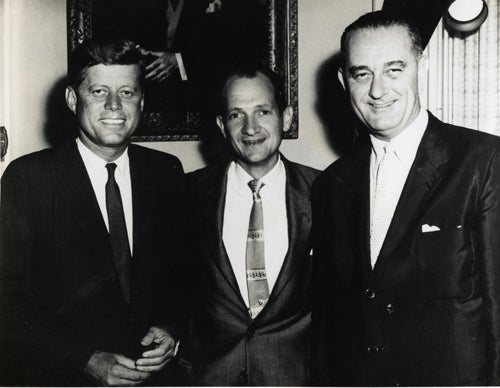 Congressman Jack Brooks, one of the longest serving members of the House of Representatives from Texas, died on Tuesday, December 4, 2012. Brooks earned national recognition for his major contributions to civil rights legislation. As a ranking member of the Judiciary Committee, he helped write the Civil Rights Act of 1964 and the Voting Rights Act of 1965 and was one of the few southern congressmen to support civil rights legislation.
At a press conference at the LBJ Presidential Library in March of 2008, Dr. Don Carleton, executive director of The Center for American History, announced the acquisition of the papers of Congressman Jack Brooks, which chronicle five decades of congressional service. The Brooks Congressional Collection include photographs, legislation, correspondence, research materials, memorabilia, official documents, and campaign materials that span the entire career of Congressman Brooks.
James B. Steinberg, then Dean of the Lyndon B. Johnson School of Public Affairs, expressed his gratitude to Congressman Brooks for contributing his collection to UT Austin and providing scholars and researchers greater understanding of the nature of effective political leadership.
View photos of the 2008 press conference here. A webcast is also available.
View the tribute to Jack Brooks on the LBJ Presidential Library site http://www.lbjlibrary.org/press/lbj-in-the-news/a-tribute-to-jack-brooks