The recent international Public Management Research Conference held at Fudan University in Shanghai brought together over 150 scholars from 22 countries to discuss global issues of governance, fiscal policy and social policy.
According to LBJ School Professor Carolyn Heinrich, one of the conference organizers, hosting the event in China was an important step to including a growing population of Chinese academics in international public affairs discourse.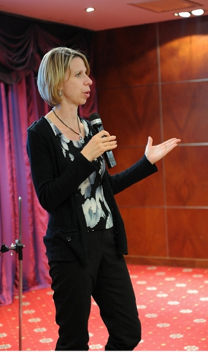 "The field of public affairs and public management is exploding in China as more and more Chinese scholars are looking to the international community for guidance in shaping their research agenda, methods and approaches to studying the important implications of governance in China for public outcomes and well-being across many areas of policy," said Heinrich.
In addition, the Chinese government is becoming gradually more open to making data and information available for studies of how to increase public sector effectiveness with few resources, said Heinrich.
The conference, sponsored by three international public affairs research associations, featured 25 panels over two days covering a wide range of topics, including budgeting and performance, public networks management, and clean government and anti-corruption strategies. Several panels focused solely on issues pertaining to China.
"The Chinese governance issues discussed in the conference were many, and they parallel discussions happening in other countries aside from the Asia region," said Heinrich.
Those issues included fiscal policy and local tax burdens, public safety, emergency response operations, e-government, the role of non-profit organizations in public management, social entrepreneurship, human rights reforms and infrastructure and urban public services.
According to Heinrich, a 2014 conference co-hosted in China is already being planned. Heinrich is president of the Public Management Research Association, one of the three main organizing bodies of the conference. Hosting a conference like this internationally is important to the sharing of ideas, said Heinrich.
"Increasingly, public sector management practices and reforms are disseminated internationally, with governments in one country learning from others about strategies for how to improve the impact and effectiveness of governance structures," said Heinrich. "It is also more and more the case that actions by one government can have long-range implications for others, as we are currently witnessing in our management of fiscal, economic and social crises around the world."
This conference is a collaborative venture between the Public Management Research Association, the International Research Society for Public Management and the China‐America Association of Public Affairs. Other conference committee members included Alfred Ho, University of Kansas, USA; Yijia Jing, Fudan University, China; Stephen P. Osborne, University of Edinburgh, Scotland, UK; and Richard M. Walker, City University of Hong Kong, Hong Kong, China.
"There is tremendous interest in opportunities for international collaborations and engagements like this one in China and across the globe," said Heinrich. "We had many more conference proposals than we could accept, and the quality of research was very high. The demand for participation exceeded our expectations."
In light of that, said Heinrich, the groups plan to build on international partnerships by creating faculty exchange programs, collecting new data across countries, and building networks for scholarly collaborations on specific research themes.