BY Alisa Holahan
On March 29, 2012, students from Dr. Jacqueline Angel's topical seminar, Women and the Changing World of Work, presented a roundtable discussion on issues impacting the female workforce. This event was part of (Dis)locating Justice: 19th Annual College of Women and Gender Studies Graduate Student Conference. The research presented at the event was part of a larger project with the Women's Bureau of the U.S. Department of Labor, which has adopted a variety of policy initiatives aimed at improving women workers' compensation and increasing their participation in areas of the labor market in which they are underrepresented. Issues discussed by the panel included obstacles to high-paying jobs, women's involvement in green jobs, and balancing family and workplace responsibilities.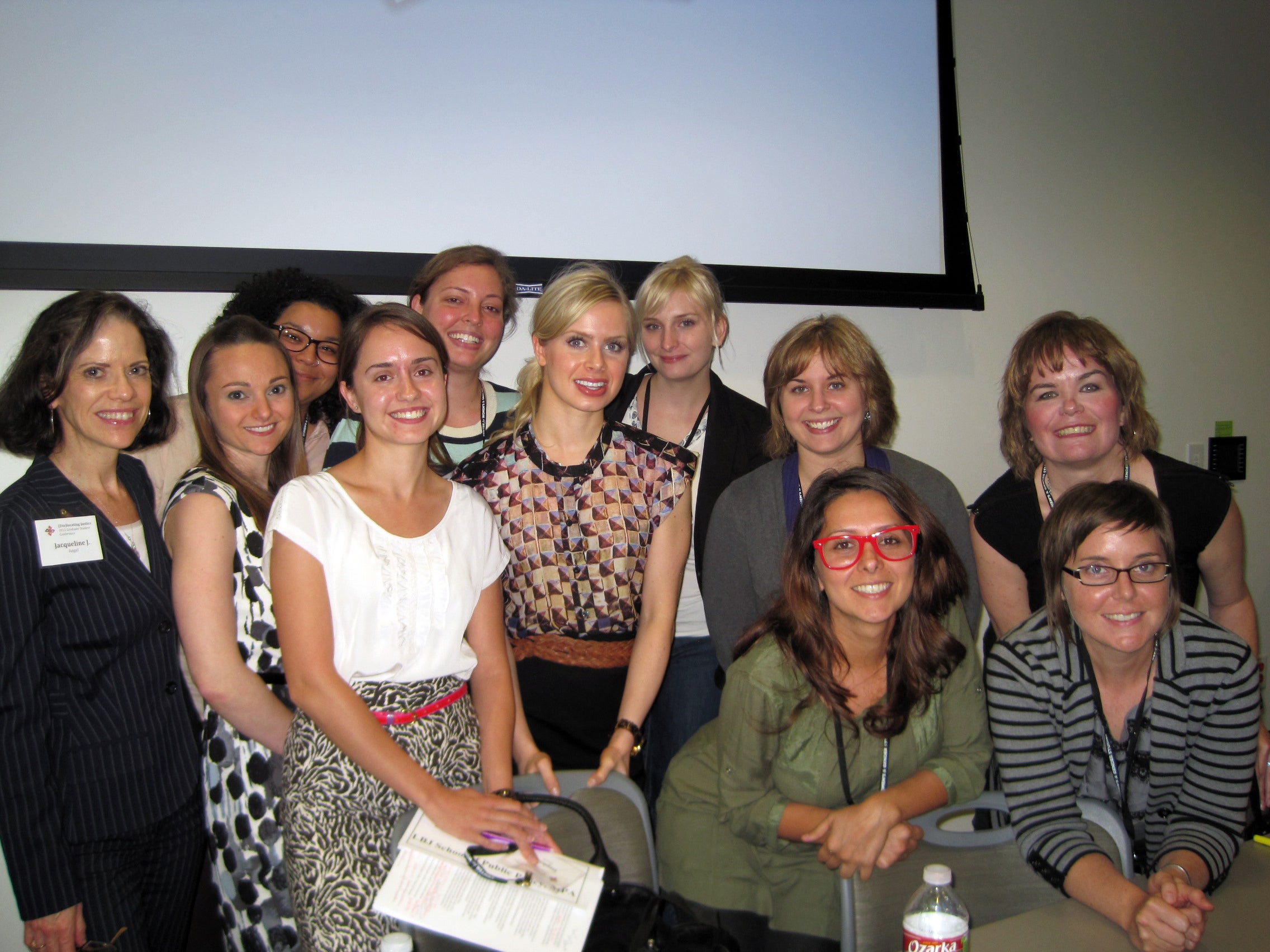 Following introductions by Dr. Angel and Kristen Redford, a graduate student in the Department of Sociology, students presented on a variety of topics related to women and work. Erika Grajeda and Michelle Mott, both PhD students in the Department of Sociology, provided the audience with background information about women and work. According to the speakers, while there have been large increases in women's workforce participation since the Second World War, women still face significant barriers in the workplace. These barriers include occupational segregation, low wages, organizational structure, time commitment requirements, and lack of family sensitivity in the workplace. Ms. Grajeda and Ms. Mott also noted shifts in family structure and domestic labor, with a greater number of children born outside of marriage and 60% of all married couples now dual earners.
Next, Tanya Holland Lavelle, a graduate student at the LBJ School, defined central challenges faced by women today in the working world. She noted that while women have largely closed the employment gap, they have not caught up to men in terms of high-paying jobs or overall compensation. In fact, according to Ms. Holland Lavelle, "women are far behind men in median pay and high-paying jobs." Women earn only 80% of what men do, and minority females are especially underrepresented in high-paying jobs.
Rhiannon Goad, also a graduate student at the LBJ School, presented a case study of a project at Austin Community College, designed to increase women's participation in green industries. As Ms. Goad pointed out, while many green industries benefited from the economic stimulus, women are underrepresented in these fields. As a result, the Department of Labor is promoting women's involvement in green industries as a way to improve pay for women. Ms. Goad discussed in particular the Department of Labor's initiative to increase the number of green jobs training courses in community colleges, with Austin Community College as a pilot site. Ms. Goad highlighted some problems with the initiative, such as the fact that estimates of the number of future available jobs vary considerably and that the political will to create these jobs must continue into the future.
Meghan Prichard (a master's student in Global Policy Studies and Middle Eastern Studies), Stephanie Glover (MPA student at the LBJ School), and Jennifer Estrada (a graduate student in Educational Administration), made a variety of policy recommendations, each from complementary perspectives. Ms. Prichard drew on policies in European countries and suggested that the U.S. follow these countries' models by providing work training programs, guaranteed paid leave and job protection, and expanded U.S. government subsidized child care. Ms. Glover addressed ways to raise women's pay in high-level jobs. Her recommendations included creating reduced working hours, having workplace flexibility, and increasing mentorship opportunities. Ms. Estrada discussed how to raise the status of female-dominated careers, stating that these careers are the most undervalued and underpaid. She pointed out that many women do not have the ability for or interest in changing careers, so an important focus should be increasing pay equity. She recommended that the U.S. adopt pay equity legislation similar to that of Canada, which mandates equal pay for equal work for employees in the same company.
Summary recommendations, presented by Alley Hartzell, a PhD student in Sports Management, included encouraging women to pursue a field with higher wages and salaries, increasing pay, monitoring and enforcing gender equity, encouraging women to move into management and leadership roles, and developing/improving work-family balance. Overall, the event offered comprehensive and informative commentary on an issue of vital importance. Ms. Hartzell concluded that achieving true equality for women in the workplace will require a complex approach and a fundamental change in the way we view women and work: "This issue is very multifaceted. There is not one simple solution. What is most important is a shift in the way society views gender."