As the highlight of the 16th Annual Barbara Jordan Forum, Georgia State Rep. Stacey Abrams (MPAff '98) addressed current students and alumni in a keynote address as part of a luncheon on Feb. 21 at the LBJ School of Public Affairs.
The luncheon kicked off a week of student-planned activities designed to highlight Jordan's lifetime of significant contributions to society as a politician, policymaker, activist and educator. Jordan joined the LBJ School as a faculty member in 1979 and was a beloved teacher and mentor until her death in 1996. That same year, students created a forum to honor her. Additionally, a new element to the luncheon was introduced whereby alumni, many of whom are former students of Barbara Jordan, were invited to host tables and engage current students and attendees in conversation about Jordan's legacy.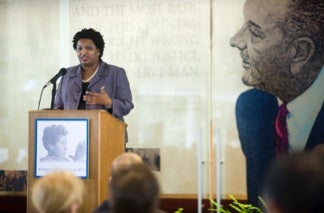 Abrams, the first woman to lead the Georgia General Assembly and the first African-American to lead the Georgia House Democrats, framed her address around three key themes: authenticity, courage and action. "Basic constructs that define the very foundation of our body politic," said Abrams. "Hallmarks that were the pillars of the life of Barbara Jordan."
According to Abrams, the core of an authentic, ethical life is the ability to make mistakes and own up to the consequences.
"Barbara Jordan's life is a testament to authenticity," said Abrams. "To a willingness to take actions not regardless of the consequences but because she understood that consequences did matter."
But authenticity is only the first step, said Abrams, in what she called the quiet battle for the soul of America. Abrams called for Americans to have the courage to demand democracy in light of recent attempts to reapportion voting maps that she said ignore the growing power of the Latino and African-American voters.
"It is perplexing to me that the very men and women who clamor for sweeping change during the Arab uprising have set as a moral good the suppression of votes at home," said Abrams.
Abrams went on to argue that in the face of apparent attacks against the Voting Rights Act, we should be guided by Barbara Jordan's example of work toward equality, empowerment and change.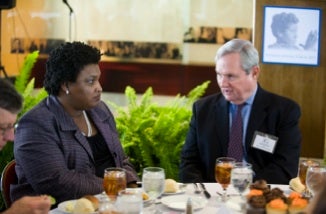 "Each of us is obligated to act in three steps: educate, activate and agitate," said Abrams. "Pick an issue that matters to you and make it your mission to be the expert."
Abrams says that the America we pursue will not be easily won, and if captured, it will be difficult to hold.
"That America, that flawed and wonderful America, is our very birthright and together, following the guidepost that was Barbara Jordan, we can finally claim it," said Abrams. "We have only but to act."
Following her speech, Greg Anderson, a policy adviser to the office of the mayor pro tem of Austin, presented Abrams with a proclamation announcing Feb. 21, 2012 as Stacey Abrams Day.
The Barbara Jordan Forum continues through Feb. 24, with student organizations holding various events focusing on policy issues championed by Barbara Jordan. The week's activities will conclude on Feb. 24 with a service project.
More on Stacey Abrams:
Stacey Abrams is the House minority leader for the Georgia General Assembly and state representative for the 89th House District. She is the first woman to lead either party in the Georgia General Assembly and is the first African-American to lead its House of Representatives. She was recently named one of "12 to Watch in 2012" by Governing magazine.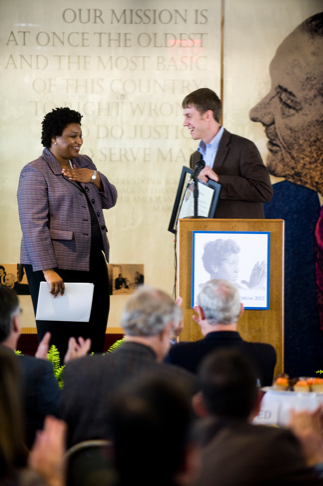 She is the CEO of SageWorks, LLC, a legal advisory firm that serves as general counsel for the Atlanta Dream WNBA professional basketball team. She co-founded and acts as chief operating officer of the Insomnia Group, a firm specializing in development, investment and consulting for complex infrastructure projects. Abrams also co-founded and serves as COO of Nourish, Inc., a beverage company with a focus on infants and toddlers. Formerly, Abrams was deputy city attorney for the city of Atlanta. Prior to her tenure at the city, she was special counsel at the Sutherland Asbill & Brennan law firm in Atlanta, with a focus on tax-exempt organizations, health care and public finance.
Abrams is a term member of the Council on Foreign Relations, a Next Generation Fellow of the American Assembly, an American Marshall Memorial Fellow and an alumna of Leadership Georgia, Leadership Atlanta and the Regional Leadership Institute. She has published articles on issues of public policy, taxation and nonprofit organizations, including pieces in The American Prospect, The Christian Science Monitor, Yale Law and Policy Review and the Southern University Law Review. Abrams received her J.D. from the Yale Law School. She graduated from the LBJ School of Public Affairs at The University of Texas at Austin. She earned a B.A. in interdisciplinary studies (political science, economics and sociology) from Spelman College, magna cum laude.
Related: