Former presidential candidate and Speaker of the House Newt Gingrich discussed "Leadership Challenges Beyond the Election" at an event hosted by the LBJ School of Public Affairs and the LBJ Presidential Library on Oct. 25. His remarks focused on America's challenges and opportunities regarding national security, technological innovation and governing.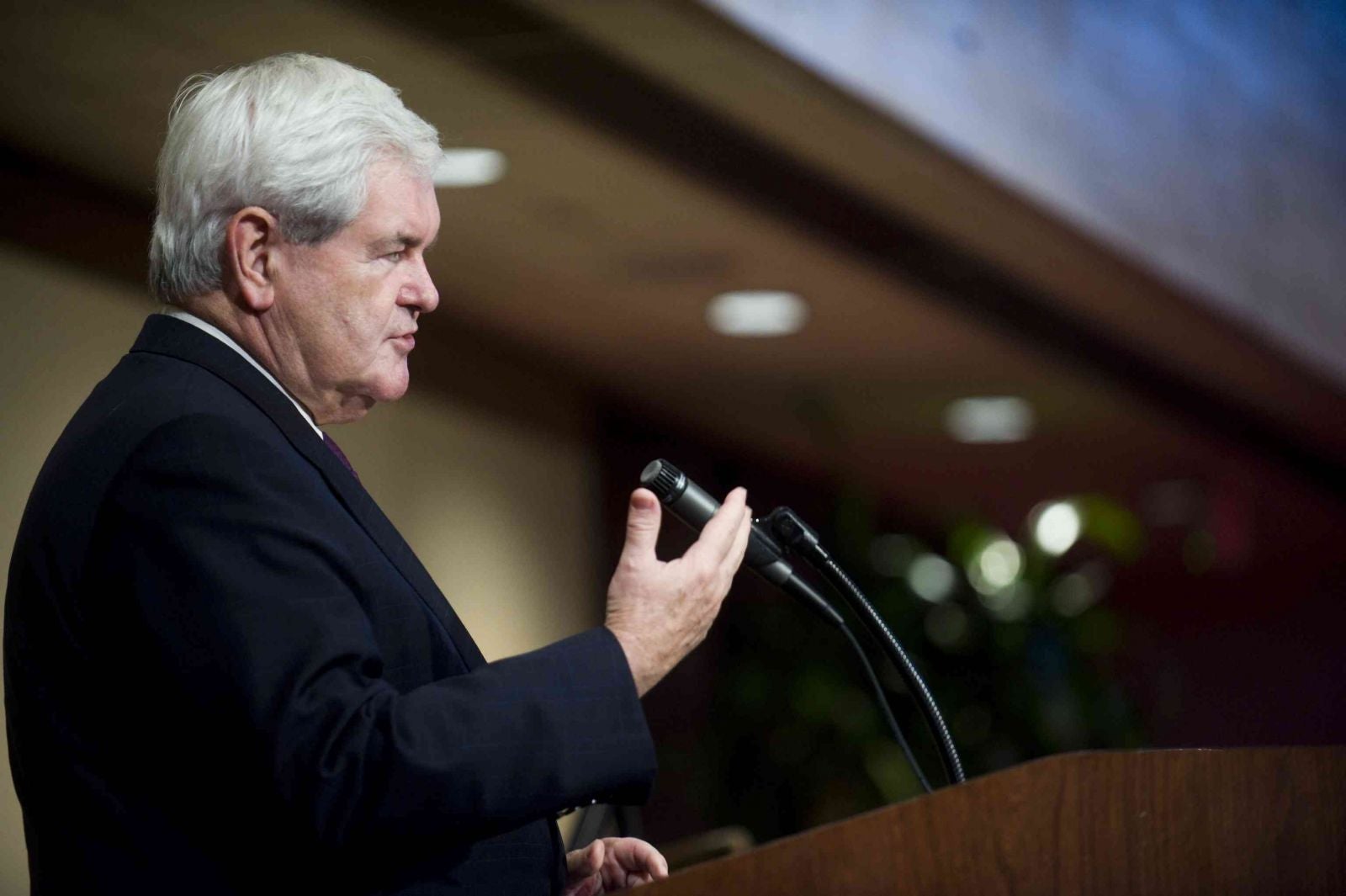 Speaking to a packed house of over 220 students, faculty and community members, Gingrich touched on issues ranging from the role of China on the global stage, to advances in brain research and energy extraction, to the political gridlock in Congress. He repeatedly referenced past successes in American history as a way of understanding the path forward.
According to Gingrich, when history is written many years from now, there are three possible ways the present era will be described: as the age of muddling through, the birth of freedom on a planet-wide basis, or the decline of western liberal democracy.
"I wanted to talk about leadership challenges beyond the election because I think these are challenges that are going to exist whether Obama wins or whether Romney wins," said Gingrich. "I think these are issues that transcend where we are."
Gingrich began his discussion of international security challenges by outlining the impact of American exceptionalism over the last century.
"There is literally, to the best of my knowledge, no society in history – not the British empire at its peak, not the Roman empire – that had a capacity for allowing people from anywhere to have the opportunity to become virtually anything."
Gingrich went on to highlight what he characterized as "intellectual challenges" facing the United States, including Islamic extremism and the uncertain future of China.
"China is a fact, it's not a problem. But it's going to cause problems because you have a very large country with a very proud history which is going to crowd all of its neighbors because it can't help itself," said Gingrich. "China has a truly undecided future. I mean you have no idea today whether the Chinese can go though a transition to a free society or not. And you have no idea what the cost of repression will be."
Referencing America's successes from World War One through the Cold War, Gingrich attributed it to America's long-term strategic thinking.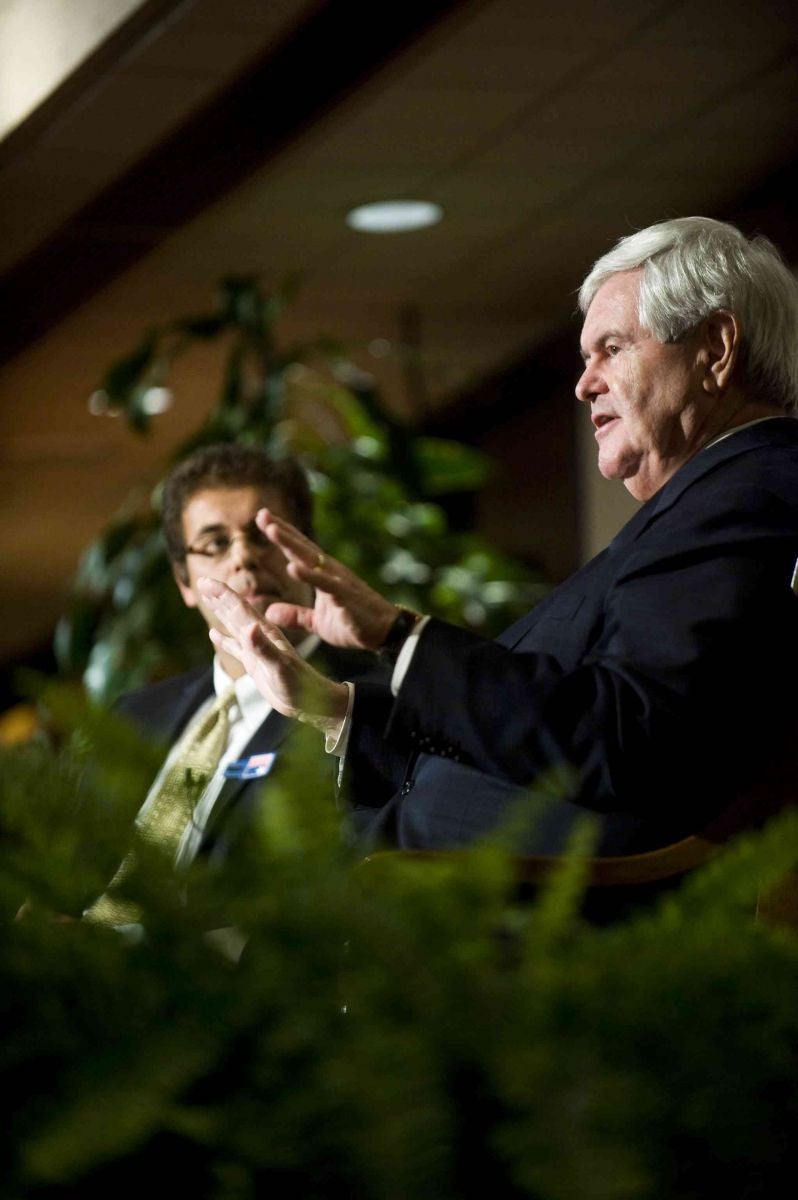 "We had more methodical thought, more intelligent, informed debate than any other society on the planet," said Gingrich.
Gingrich sees promising opportunities ahead but also obstacles. He is optimistic about the advances in brain science and regenerative medicine to help people live longer, healthier lives, but worries the political system may pose a roadblock to innovation.
"You have a Congress which is structurally incompetent on a grand scale," cautioned Gingrich. "It is embarrassing how unwilling to think critically the Congress is about itself."
After Gingrich spoke, Jeremi Suri, the Mack Brown Distinguished Chair for Leadership in Global Affairs, moderated a dialogue with questions from the audience. Clare Magee, a master's of public affairs student at the LBJ School, asked the former Speaker what he sees as the government's role in research and development in the area of energy. Gingrich pointed to the private sector in his response.
"I am passionately in favor of scientific research," said Gingrich. "I love the Academy of National Sciences, which was a private organization, which housed all of the material from Lewis and Clark because there was no Smithsonian… I want a National Science Foundation to do basic research."
Gingrich is also a big believer in prizes as a way of obtaining technological breakthroughs because they do not require credentialing or approval—just vision and achievement.
"Shouldn't you have ten or fifteen percent of your money set aside so that people as crazy as the Wright Brothers would have a shot at it?" said Gingrich.
Related:
Gingrich says country more polarized, Perry not done - KVUE TV, Oct. 26, 2012
LBJ School of Public Affairs connects students with politics, Gingrich speaks about America's future - The Daily Texan, Oct. 26. 2012
Gingrich Calls President Obama's Recent Energy Policy Shift A Cynical Campaign Strategy - KEYE TV, Oct. 25, 2012
Gingrich predicts Obama will lose 'amazing number of states' - On the Record with Greta VanSusteren, Oct. 25, 2012
Gingrich: Obama 'peddling a set of falsehoods' on Benghazi - On the Record with Greta VanSusteren, Oct. 25, 2012
Gingrich Touts Value of Academic Research at LBJ Library - The Alcalde, Oct. 30, 2012