From the rising cost of healthcare to financing Texas' public education system, there's very little Billy Hamilton didn't touch on during his tenure as the Texas Deputy Comptroller. Hamilton (MPAff 1975) is known in the world of public service as an insightful and compassionate manager. A long-time employee of the Texas State Comptroller's Office, Hamilton answered over 14,000 employee questions in six years on his "Ask Billy" blog. A member of the third graduating class of the LBJ School, Hamilton has risen through the ranks of state government with a reputation as a public servant dedicated to flattening communications between employees and top-level administrators. Hamilton currently operates his own consulting firm in Austin.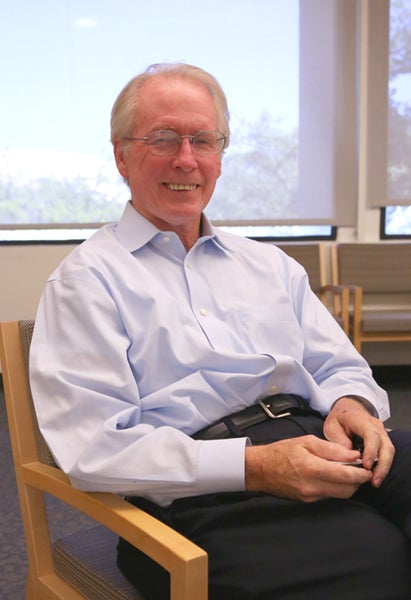 We asked Billy to share his thoughts on several pertinent issues surrounding the state of public affairs, Texas politics and leadership.
Q: What are the biggest public policy issues facing Texas in 2012?
A: We have structural budget issues that will have to be addressed. Our system works in such a way that problems tend to get addressed in two-year increments. We do long-range thinking but not a lot of long-range planning. There are six lawsuits now against the public school system. There are long-term needs in water and in infrastructure. We have these unanswered questions. For instance, the state demographer is saying that by 2013, 30% of the state's adult population won't have graduated from high school. Overall, I think the state has done a pretty good job of wrestling with the problems as they come, but every year you put off some of these big issues, like dealing with highway and transit needs, they just grow bigger. They don't go away, especially when you have a rapidly urbanizing and growing population
Q: How have you seen policy problems changed over the years?
A: Amazingly, I think with state governments, and it's probably true with local governments too, the issues don't change. I think the thing that is different now, though, is healthcare costs. When I started paying attention to state budgets it was an after thought in state budgeting, but it has ballooned in importance. We've been in court over public education from time to time since the 1970s and the issue comes up periodically. I don't think we've answered that question, but we keep adjusting and moving on. I think, really and truly, within a democratic process, that's about the best anybody can do.
Q: Having managed a staff of over 2,800 employees as the Chief Deputy Comptroller of Public Accounts of Texas, what do you think makes a good manager?
A: The first thing that makes a good manager is the willingness to decide. The odd thing about life is that most people don't want to decide big issues. You have to put yourself into the position as a manager by dint of study and listening. You have to have the desire to lead an organization, to be willing to decide and not to defer or procrastinate or shift responsibility. You have to develop a trust with the people that you work with, and a willingness to listen to what they have to say. A lot of times you have the people who know the answer to the problem, it's just nobody ever asks them. You can't micromanage a large organization. You have to set a direction and let people do what they are going to do and reward success and punish failure. But if you are smart about it then you will have more successes than failures and more rewards than punishments. You have to demand more of people than is probably rational or what they would consider rational because people are capable of amazing things if you challenge them to do it. For me, that lesson goes back to the man who was my mentor, Bob Bullock, who looked to President Lyndon Johnson as his mentor. They set high standards. They had them for themselves and they had high standards for others. If you lead in a way that people can understand, they want to perform to a higher standard and they will.
Q: What has public service meant to you over your career?
A: I grew up in the shadow of Lyndon Johnson. He was able to convey a sense of what government meant in the economy and in individual people's lives. Back then people believed that there was a role for public service. Both my parents worked in public service. We were closer to public service then. The president was here. He was larger than life and in people's minds.
I actually think that public service in general has been devalued in the past 30 years because people have been fed a fairly steady diet of the notion that government isn't part of the solution, it's the problem and that it's wasteful. In my management, I tried to tell people that public service is important. If it were excised, people would notice and be unhappy about it. There is an essential role for government at the state level, at the local level, and at the federal level.
Q: What has been the value of your LBJ School education?
A: I came out of high school and undergraduate really not having a clear idea of my future, but I always had in mind that I would like to work in government. Both my parents had been in government. The thing that the LBJ School did for me was to expose me to people like Emmette Redford and Lodis Rhodes, people who had been in government who had played a role at the national level or at the state level. The LBJ School unlocked a door that students today probably don't know even existed. Back then, how to go about being a career in government or anything related to government was sort of an unknown thing to kids like me from small town Texas. Here at the school, we did policy research projects that brought us into contact with actual government agencies. We had our summer internships that did the same. In my case, I went to work for a department of community affairs and actually saw how agencies operated and began to form an idea of what worked and what didn't work. The LBJ School gave us the educational tools that we could sell. We were something besides undergraduate government majors or undergraduate economics majors. The degree gave us a credential that we could sell in that marketplace. In the end, it created a network for us within the state government, within the federal government and out in nonprofits.