I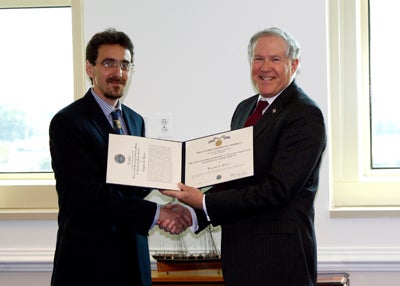 n a ceremony that took place this summer, Strauss Distinguished Scholar Eugene Gholz received the Office of the Secretary of Defense Exceptional Public Service Medal, one of the highest awards the Secretary of Defense can bestow on a private citizen.
The award was presented for the contributions Gholz made as a senior advisor to the Deputy Assistant Secretary of Defense for Manufacturing and Industrial Base Policy from 2010 to 2012.
Gholz works on innovation, defense management, and U.S. foreign policy. He is the coauthor of two books: Buying Military Transformation: Technological Innovation and the Defense Industry, and U.S. Defense Politics: The Origins of Security Policy. His recent scholarship focuses on energy security.
He previously taught at the University of Kentucky's Patterson School of Diplomacy and International Commerce. He is also a research affiliate of MIT's Security Studies Program, a member of the Council on Foreign Relations, and associate editor of the journal Security Studies. His PhD is from MIT.