Washington, DC, February 15, 2012 –– The Aspen Institute today announced that Dr. Christopher King, Senior Research Scientist, Lecturer and Director of the Ray Marshall Center for the Study of Human Resources at The University of Texas at Austin's LBJ School of Public Affairs, will be in the inaugural class of its Ascend Fellowship program, one of a select group of 20 leaders from across the country who are pioneering two-generation approaches to move families beyond poverty.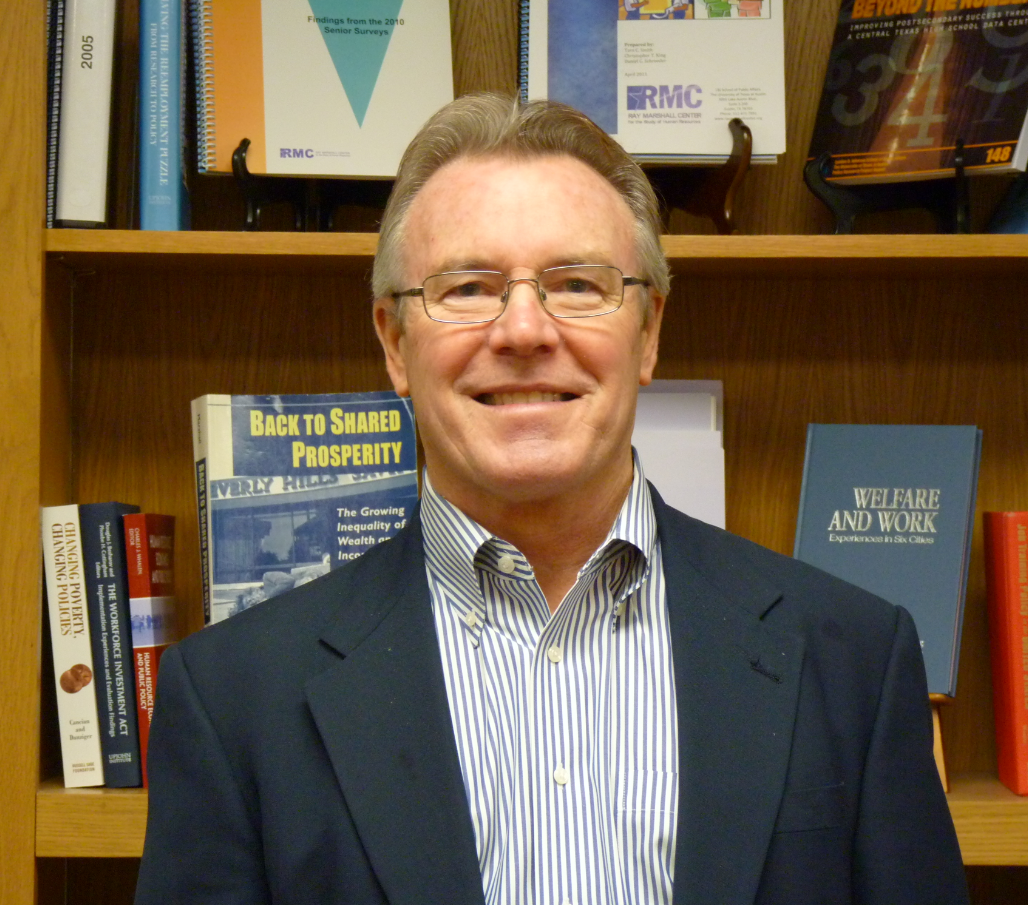 Dr. King leads a team that designed and is analyzing the implementation and outcomes of a jobs strategy for low-skilled, low-income parents of children in Tulsa's Head Start and Early Head Start programs. He is a labor economist with four decades of experience conducting policy and program analysis, designing innovative programs, and evaluating the impacts of education and training interventions. He has written widely on education, workforce, and social policy. He also teaches at the LBJ School.
Ascend was launched in 2011 with support from national foundations and women philanthropists, and is a hub for breakthrough ideas and proven strategies that move parents and children—two generations—toward economic security together. Educational success is central to its work.
"Ascend Fellows are exceptional leaders from government, philanthropy, research, non-profits, the media and private sector," said Anne Mosle, Ascend Executive Director. "Each one will pursue cutting-edge work that illustrates two-generation strategies in their various fields."
"Christopher King's work designing and evaluating two-generation strategies at Head Start programs in Tulsa is a great example of breakthrough thinking," Mosle continued. "I am honored that Chris will be a part of the Ascend network of leaders in two-generation strategies to build a legacy of educational success and economic security."
The Ascend Fellows will work to break the cycle of intergenerational poverty through public, private, and nonprofit sector innovation and collaboration; state-of-the-art research; public engagement; and different market-based and philanthropic models.
Fellows will receive scholarships to support participation and execute action plans to pursue two-generation approaches. They will be eligible to apply for grants from an Innovation Fund that Ascend is developing to support such work.
The announcement of the fellowship program coincides with the release of an Aspen Institute report, "Two Generations, One Future." The report makes the case for focusing on educational success for parents and their children together as a promising way to move families out of poverty.
"A two-generation approach can be a game-changer for families with low incomes," Mosle said. "We are seeing promising results from programs and policies around the country that promote education and skills for parents and provide quality early-learning opportunities for their children. We believe a focus on education, economic supports and social capital, the core components of the two-generation approach, can lead to economic security for families."
The full list of Ascend fellows:
Ms. Katie Albright
San Francisco Child Abuse Prevention Center, Executive Director
Ms. Cara Aley
American MoJo, President and COO
Mr. Reggie Bicha
Colorado Department of Human Services, Executive Director
Ms. Mia Birdsong
Family Independence Initiative, Vice President
Dr. Lindsay Chase-Lansdale
Northwestern University, School of Education, Institute for Policy Research, Professor of Human Development & Social Policy and Social Policy Faculty Fellow
Ms. Karla Davis
Tennessee Department of Labor and Workforce Development, Commissioner
Mr. Steven Dow
Community Action Project, Executive Director
Dr. Chris King
University of Texas at Austin, Lyndon B. Johnson School of Public Affairs, Ray Marshall Center, Director
Ms. Andrea Levere
CFED, President
Mr. Steve Liss
AmericanPoverty.org, Director/photographer
Dr. Meera Mani
The David and Lucile Packard Foundation, Children, Families and Communities Program, Director
Dr. C. Nicole Mason
NYU Wagner Women of Color Policy Network, Executive Director, Assistant Research Professor
Ms. Margaret McKenna
Lesley University, President Emeritus and Professor of Leadership
Mr. Wes Moore
Author, Host
Reverend Vivian Nixon
College & Community Fellowship, Executive Director
Dr. Eduardo Padrón
Miami Dade College, President
Ms. Gloria Perez
Jeremiah Program, President and CEO
Dr. Mario Small
University of Chicago, Chair and Professor of Sociology
Mr. Henry Wilde
Acelero Learning, Senior Vice President of Operations
Dr. Richard Wylie
Endicott College, President
About The Aspen Institute
The Aspen Institute's Ascend program is a hub for breakthrough ideas and proven strategies that move parents, especially women, and their children beyond poverty towards educational success and economic security. For more information, please visit www.aspeninstitute.org/ascend.
The Aspen Institute's mission is twofold: to foster values-based leadership, encouraging individuals to reflect on the ideals and ideas that define a good society, and to provide a neutral and balanced venue for discussing and acting on critical issues. The Aspen Institute does this primarily in four ways: seminars, young-leader fellowships around the globe, policy programs, and public conferences and events. The Institute is based in Washington, DC; Aspen, Colorado; and on the Wye River on Maryland's Eastern Shore. It also has offices in New York City and an international network of partners. For more information, please visit www.aspeninstitute.org.
Related:
The Aspen Institute Announces "Two-Generation" Approach to Move Families Beyond Poverty - MarketWatch, Feb. 15, 2012