A West Pointer at Annapolis: Howard Prince Participates in U.S. Naval Academy's 2011 Leadership Conference
Austin, Texas, April 11, 2011 -- Dr. Howard T. Prince II, Director of the LBJ School's Center for Ethical Leadership, was an invited distinguished guest of the United States Naval Academy at the Naval Academy's 2011 leadership conference.
The theme for the leadership conference was "Leader Development: The Cycle of Success" and Dr. Prince participated in a panel on the origins of leadership.
"The Naval Academy leadership conference provided a forum for undergraduate students and faculty from both military and civilian institutions throughout the United States to interact and discuss some of the most critical issues of leadership in government, business, and the military," said Midshipman First Class Ralph Grossmann, the student conference chairman.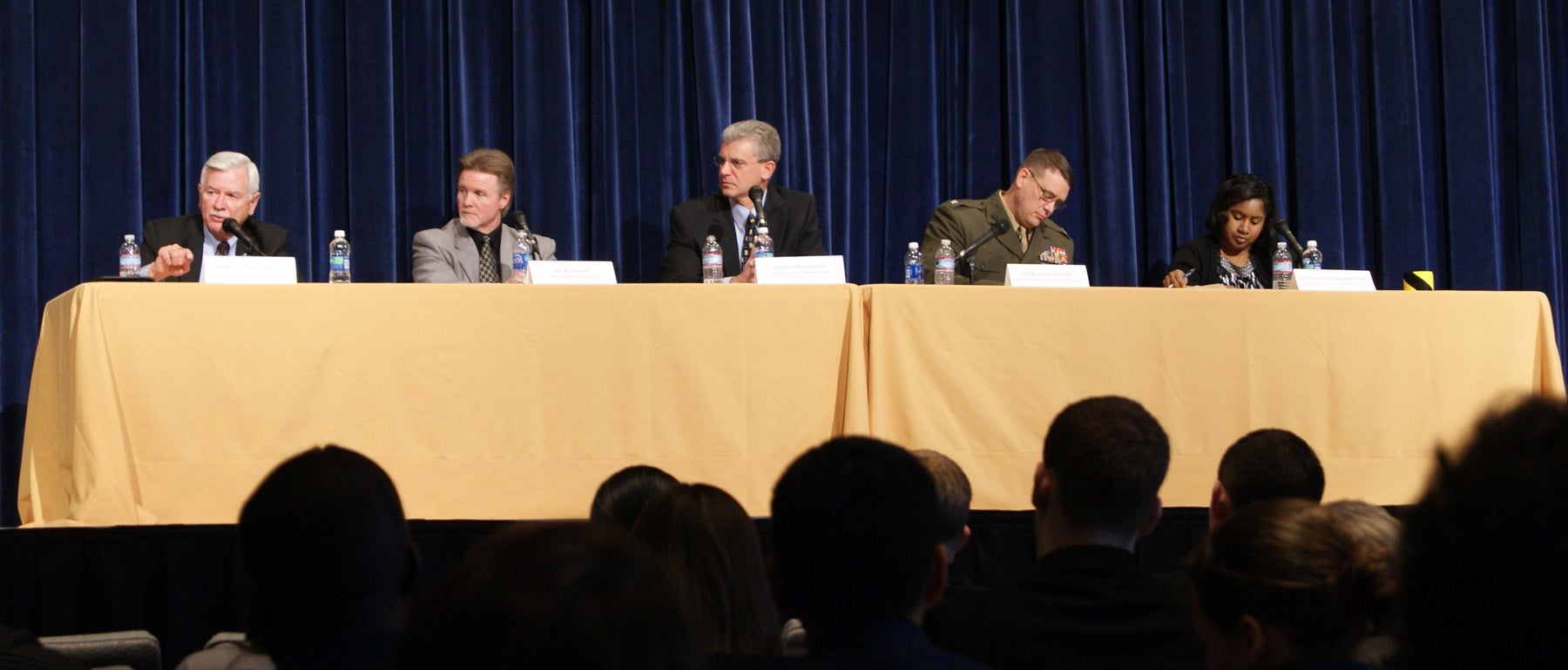 Among the participants at the Naval Academy's leadership conference were students from the Jepson School of Leadership Studies at the University of Richmond, where Prince served as the founding dean from 1990–1996, as well as students from The University of Texas at Austin who had taken a leadership class with Dr. Prince in the spring semester of 2010.
Colin Billings, a current student at the Jepson School of Leadership Studies noted the continued impact of Prince's legacy at the Jepson School.
"As the first undergraduate program of its kind in the nation, Prince had his work cut out for him at Jepson," said Billings. "What he was undertaking was revolutionary, untested idea."
Citing one example of Prince's enduring Jepson legacy, Billings noted the internship program that Prince created at Jepson. As founding dean, Prince went out into the community and challenged a group of successful business and community leaders to use Jepson interns not as gophers to answer phones and file papers, but to put them in meaningful leadership positions and work them hard, said Billings.
"The internship program is just one example of Dr. Prince's continued impact on the Jepson School," said Billings. "Of course, the biggest impact of all is that the Jepson School actually exists, and its existence is a lasting tribute to Dr. Prince and everyone else who worked hard to make a revolutionary idea work."
Two University of Texas at Austin students also attended the conference, Ryan Wilhelms, and Amin Habibnia. Habibnia wrote a short essay about his experiences at the Naval Academy's conference, which can be found in the sidebar to this article.
Captain Steve Trainor, Chair of the Leadership, Ethics, and Law Department at the Naval Academy said he was truly honored to have Dr. Prince as a panelist at the conference this year.
"He not only enhanced the audience's understanding of the eternal debate in leadership—whether leaders are born or built—but he provided amazing insight from his years in the military and academic fields," said Trainor. "He gave great advice that young leaders can use in their careers—whether in the military, government, or private sector. I think it was particularly beneficial for participants to hear that the social experiences they have in college are a critical part of their leadership development and that leadership is not ultimately about trying to effectively apply theoretical principles, but rather about acquiring a deep understanding of and appreciation for human behavior and psychology. Dr. Prince challenged students to be ready to learn, to never shy away from conflict and failure, and to always pay it forward and eagerly mentor those who follow in their footsteps."
As Howard Prince reflected on the Naval Academy's conference, he noted that "It is always an honor when a West Point graduate gets invited to speak at Annapolis. I thoroughly enjoyed being at the Naval Academy, and I drew inspiration from looking out and seeing all of the future civilian and military leaders in attendance. They represent the future of our country, and the future is bright."
Related
A Leader Walks Into the Unknown By Amin Habibnia
"A leader walks first into the unknown." Dr. Howard T. Prince eloquently shared this on January 31, 2011, to a captivated audience at the U.S. Naval Academy's 27th Annual Leadership Conference. This year's conference was dubbed "Leadership Development: The Cycle of Success." Dr. Prince, recipient of the 2006 West Point Distinguished Graduate Award, joined Col. Bryan P. McCoy, USMC, Dr. Kathie-Ann Joseph, Ryan Setzer & moderator, Professor Brad Johnson of the USNA's Leadership, Ethics & Law Department, in the first panel, "The Origins of Leadership."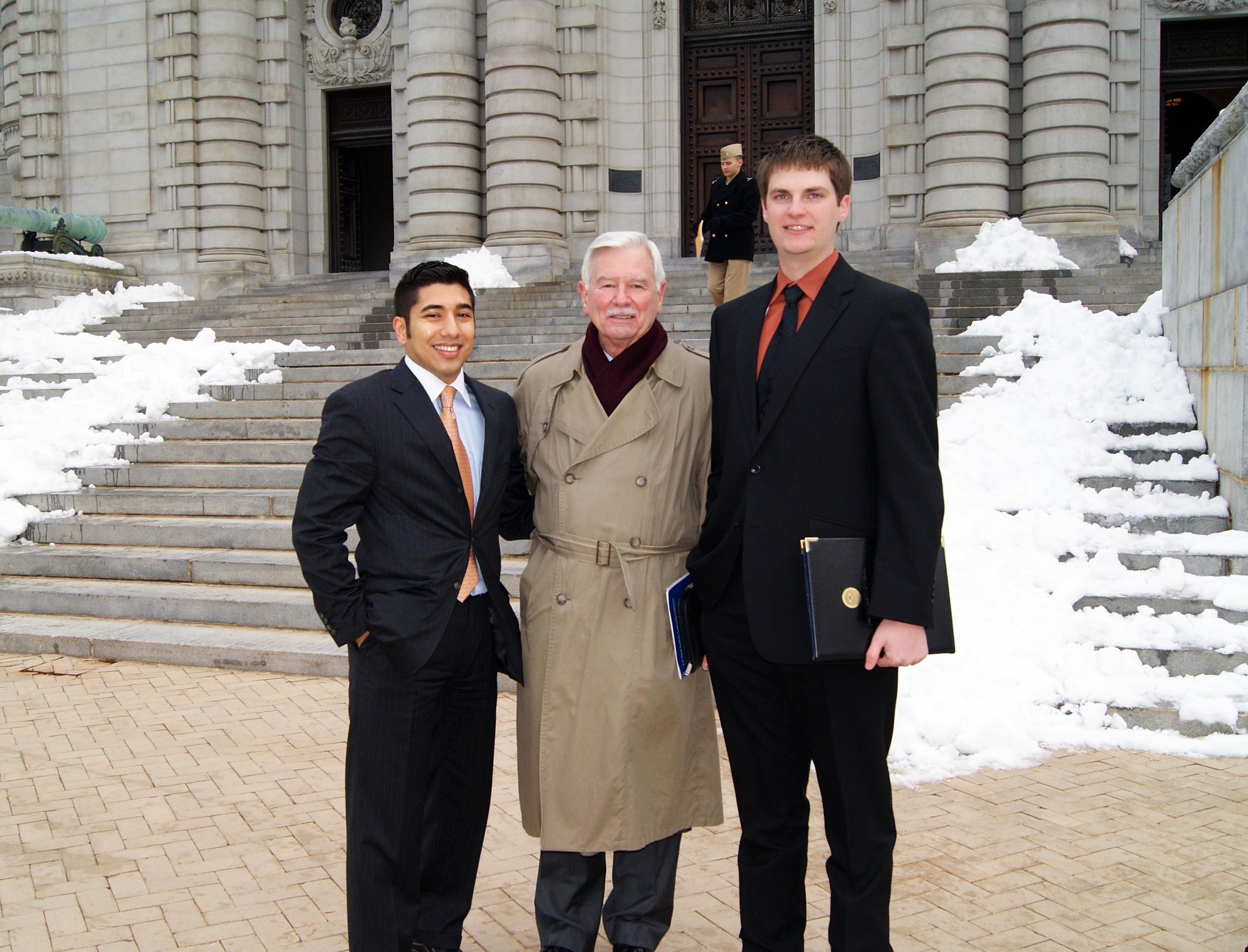 Dr. Prince's declaration, "A leader walks first into the unknown," caught the conference attendees' attention. He chose to make his time on the panel about the potential sitting in the audience in front of him. Instead of using this opportunity to recite various moments of personal leadership over the course of his own wonderfully compelling life, Dr. Prince challenged the conference's midshipmen, university student leaders, and Naval Academy alumni to embark on a lifetime of developing each one's own leadership.
Dr. Prince's panel discussion remarks ranged from declaring that when it comes to different ethical systems, "humanity trumps a poor culture," to "the experience of shame and guilt can be profound consequences of unethical conduct." Further, he made clear how those in positions of authority are not automatically leaders. A slight chuckle spread across the audience when he shared that those who say they were president of their fraternity or sorority do not immediately impress him. Quite simply, Dr. Prince pointed out that acquiring knowledge from different people in varying situations helped those truly interested in developing leadership. Watching the students representing their various universities approach Dr. Prince after the panel to bend his ear was extremely gratifying to me as a former student of Dr. Prince's.
It was impressive that not only did Dr. Prince have his material meticulously prepared for his panel discussion, but that he sat in on each portion of the conference leading up to his own. Dr. Prince exhibited that he too is a lifelong student of leadership development and that he expected presenters such as USNA Superintendent Vice Admiral Michael H. Miller, former Homeland Security Secretary Tom Ridge, and author Marcus Buckingham would provide more insight to compliment his own scholarly viewpoint in developing a culture of ethical leadership. Afterward, the many students who went beyond the standard pleasantries to speak with Dr. Prince were not shy in sharing their own unique thoughts on leadership developed during the conference's breakout sessions.
Finally, it was memorable that prior to Dr. Prince's departure he made sure to leave his University of Texas delegates with these last words, "make sure you learn something." Dr. Prince went above and beyond the call of teaching; and his gesture will not go to waste. As conference attendees, we were not the first to walk into this specific unknown, but we are now armed with the resolve to walk into future unknowns, prepared to lead.