LBJ School Initiative to Combat Spread of Nuclear Weapons
Aims to Reduce Terrorism and Proliferation Risks of Civilian Technology
AUSTIN, Texas, April 28, 2011 – The Lyndon B. Johnson School of Public Affairs announced today the establishment of the Nuclear Proliferation Prevention Project (NPPP) at The University of Texas at Austin.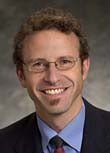 According to Alan J. Kuperman, Associate Professor of Public Affairs and the project's inaugural coordinator, the NPPP's mission is to conduct research and education to reduce the risks of nuclear proliferation and nuclear terrorism, and especially to ensure that civilian applications of nuclear technology do not foster the spread of nuclear weapons to states or sub-state actors.
Kuperman has worked on nuclear nonproliferation since 1987 – in the U.S. Congress, non-governmental organizations, and academia. Kuperman also leads the NPPP's initial year-long Policy Research Project on the prospects and challenges of a Global Phase-Out of Bomb-Grade Uranium. In that capacity, he supervises 14 graduate students in nuclear engineering and public affairs as they conduct research in 11 countries, funded by a grant from the Nuclear Threat Initiative.
"The global spread of nuclear technology – which may offer some environmental, scientific, and health benefits – also raises security risks," said Kuperman. "The NPPP is one of the few initiatives that will train students and conduct research to minimize the resulting threat to U.S. and international security."
The NPPP is initially funded by a gift of $133,200 from the Nuclear Control Institute (NCI), which closed its doors in 2007, following the death of its founder, Paul L. Leventhal. NCI also donated its core paper archives, a unique collection now catalogued at the Briscoe Center for American History at The University of Texas at Austin. The university also hosts an electronic archive of NCI's award-winning website.
"We are very grateful to the Nuclear Control Institute and the Leventhal family for their generous gift that will help educate future generations to prevent the spread of nuclear weapons," said Kuperman.