LBJ School and Fine Arts Professor Francie Ostrower Elected President of ARNOVA
The Association for Research on Nonprofit Organizations and Voluntary Action (ARNOVA) has elected LBJ School and Fine Arts Professor Francie Ostrower as President Elect for 2011.
"I am deeply honored by my election as ARNOVA's next president," said Ostrower. "Since its creation 40 years ago, ARNOVA has played a central role in building and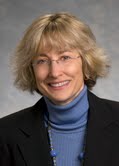 strengthening the field of nonprofit and philanthropic research, and bridging research, policy, and practice. I look forward with excitement to ARNOVA's future as it builds upon and expands its contributions, and I am grateful to the University of Texas for its support as I take on this role."

Founded in 1971, ARNOVA is a neutral, open forum committed to strengthening the research community in the emerging field of nonprofit and philanthropic studies. ARNOVA brings together both theoretical and applied interests, helping scholars gain insight into the day-to-day concerns of third-sector organizations, while providing nonprofit professionals with research they can use to improve the quality of life for citizens and communities. Principal activities include an annual conference, publications, electronic discussions and special interest groups.

Ostrower is a professor in the LBJ School of Public Affairs and the Department of Theatre and Dance, Director of the Portfolio Program in Arts and Cultural Management and Entrepreneurship, and Senior Fellow in the RGK Center for Philanthropy and Community Service. Prior to joining the University of Texas in 2008, she was Senior Research Associate at the Urban Institute Center on Nonprofits and Philanthropy. In recent years, she has served on the Nonprofit and Voluntary Sector Quarterly board, the Aspen Institute's Community Foundation Initiative advisory committee, the National Endowment for the Arts 2012 SPPA Working Group, and as Vice President for Publications and board member of ARNOVA.