LBJ Professor Michele Deitch receives Tower Award from University's Volunteer Service Learning Center
LBJ School Senior Lecturer Michele Deitch was selected as a winner of this year's Tower Award for Outstanding Service Learning Professor by the University's Volunteer Service Learning Center.

AUSTIN, Texas, April 29, 2011— Professor Deitch is one of two winners of the teaching award, which recognizes excellence and commitment to promoting meaningful service in the classroom and throughout the community. The award was presented to Deitch at the Tower Awards ceremony on Wednesday, April 27 at the Texas Union, Quadrangle Room.

Deitch is an attorney with over 25 years of experience working on criminal justice and juvenile justice policy issues with state and local government officials, corrections officials, judges, and advocates. Her areas of specialty include independent oversight of correctional institutions, prison conditions and management, the management of juvenile offenders, and juveniles in adult court.

Jeanne Meurer, a Senior District Court Judge, has worked with Deitch on service learning projects with students.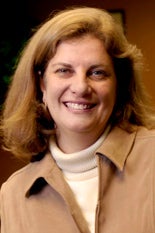 "A standing ovation. That's what she deserves. Michele takes creative thinking, passion for public policy and quite possibly a magic wand to influence change," said Meurer. "Her students are obviously inspired by her. They have provided invaluable service learning work on issues such as juveniles in the adult criminal justice system, school re-entry, and gangs in detention. Their research has illuminated paths for legislative and policy change— a shining example of the power of university-community partnerships. Michele is the deserved awardee, but truthfully, our community is the big winner here because of her leadership."

While Meurer emphasized Deitch's invaluable contributions to her students and community, in accepting this award, Deitch recognized the students and community leaders who have inspired her work in service learning.

"I am truly honored to receive this award, but feel it more properly belongs to the committed and talented students and to the extraordinary and inspiring community leaders with whom we have worked on these projects," Deitch said. "It has been one of the most rewarding experiences of my professional career to have been able to bring the skills and resources of the university and its graduate students to bear on the research needs of key stakeholders in the juvenile justice reform effort in Texas."
The Tower Awards, founded in 1999 by the Volunteer and Service Learning Center, are presented annually to honor excellence in volunteerism, service learning, and community contributions among the students, faculty, staff, and community partners associated with The University of Texas at Austin.

The Outstanding Service Learning Professor Award was introduced in 2000 with the establishment of the Academic Service Learning program launched by the Volunteer and Service Learning Center. Honorees are chosen through selection committee of 10 individuals consisting of UT staff, student leaders, past winners, and community nonprofits. Nominations for the award were submitted through an online form earlier in the spring. Nominations typically come from students, staff, and community nonprofit leaders.