LBJ School Publishes Report on Juveniles in the Texas Adult Criminal Justice System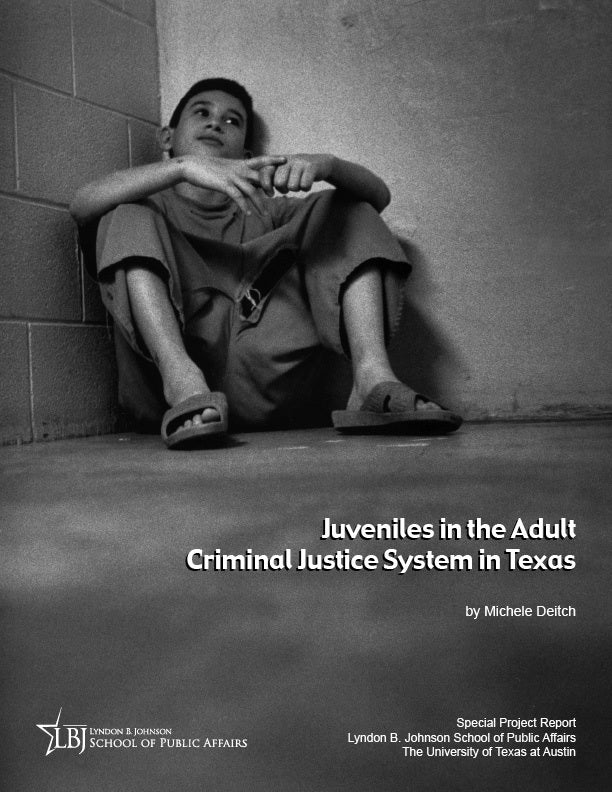 Download a PDF of the report Juveniles in the Adult Criminal Justice System in Texas by LBJ School Senior Lecturer Michele Deitch
Download a companion Powerpoint (.ppt) presentation of the report.
Press:
Harris Co. leads state in trying teens as adults - The Houston Chronicle, March 24, 2011
Report: Whether youth offenders are certified as adults mostly depends on where they live - Grits for Breakfast, March 24, 2011
Report: Hundreds of Youths in Adult Prisons - The Texas Tribune, March 24, 2011
AUSTIN, Texas, March 24, 2011 -- LBJ School Senior Lecturer Michele Deitch has published a new report titled Juveniles in the Adult Criminal Justice System in Texas (LBJ School of Public Affairs, 2011). The report provides a comprehensive look at Texas's methods for dealing with the state's most serious juvenile offenders. It gathers all available Texas data with respect to certified juveniles—those youth who are transferred to adult criminal court—and compares them to the population of determined sentence juveniles who are retained in the juvenile justice system. The report also compares the significant differences in programming and services for the two populations of juvenile offenders—those who get sent to adult jails and prisons, and those who receive placements in the Texas Youth Commission (TYC).
The report and its findings are especially timely during the Texas Legislature's ongoing effort to reform and restructure the state's juvenile justice system.
Among the report's most significant findings about juveniles transferred to the adult system are these:
Minimal differences exist between certified juveniles in the adult criminal justice system and determinate sentence juveniles in TYC, except for county of conviction.
Certified juveniles do not represent the "worst of the worst"—they are neither more violent nor more persistent in their criminal behavior than those retained in juvenile court and sent to TYC.
While the large majority of certified juveniles have committed violent offenses, only 17% have committed homicide.
About 15% of juveniles transferred to adult court are charged with non-violent felonies, including state jail offenses.
72% of certified juveniles do not have a prior violent criminal history,
29% of certified juveniles are first-time offenders.
89% of certified juveniles have never been committed to TYC, indicating that most certified youth have never had the opportunity to benefit from effective rehabilitative programs in the juvenile justice system, such as TYC's highly regarded Capital and Serious Violent Offenders Program, which has a 95% success rate.
The report also examines what happens when juveniles are housed in adult prisons and jails in Texas. National research shows that housing juveniles in adult prisons and jails compromises both public safety and the personal safety of the youth. Juveniles housed in adult prisons and jails face vastly higher risks of suicide, sexual assault, physical assault, and mental illness, and they have been shown to have a 100% higher risk of violent recidivism.
In Texas, juveniles as young as 14 who are certified as adults and awaiting trial are sent to adult county jails, where they can languish in isolation for periods of a year or more. Adult jails are simply ill-equipped to house juveniles safely. And if they are convicted, they are sent to adult prison, where the therapeutic programming and educational opportunities are very limited compared to the services that would be available to them in the juvenile system. What's more, roughly 32% of the juveniles in Texas prisons are not provided with any specialized programming at all or even sheltered housing—they are either co-mingled with adult offenders or are housed in 23-hour a day solitary confinement.
Professor Deitch's report offers a number of policy recommendations to better serve the needs of serious juvenile offenders in Texas and to protect public safety through improved outcomes.
This new report is a state-specific follow-up to Deitch's previous report titled From Time Out to Hard Time: Young Offenders in the Adult Criminal Justice System (LBJ School of Public Affairs, 2009). The earlier publication provided national data and research on very young children who get tried as adults, and garnered national media attention for its findings.
Related:
Juveniles in the Adult Criminal Justice System in Texas
From Time Out to Hard Time: Young Children in the Adult Criminal Justice System