Courtney Brown Named 2010 Distinguished Public Service Award Recipient
In Its 21st Year, Award Honors Graduate and Former LBJ School Employee
AUSTIN, Texas-- Sept. 23, 2010-- Public policy contributions, community service engagement, demonstrated leadership and commitment to promotion of the LBJ School are the defining characteristics of the annual recipient of the LBJ School Alumni Association's Distinguished Public Service Award (DPSA). This year's recipient, Courtney Brown, who graduated from the LBJ School with a Master of Public Affairs (MPAff) degree in 1983, is no exception.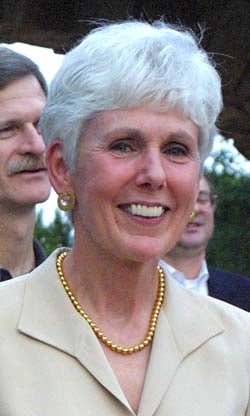 "Having worked at the School for 20 years, in addition to being a graduate, I got to know some of the most incredibly qualified, talented, creative, other-directed, kind people imaginable," Brown said.
After graduating, Brown went on to work in the LBJ School's Office of Student and Alumni Programs (OSAP) for 19 years, the last six of which she served as the office's lead.
"I worked for 20 years in OSAP," Brown said. "People shouldn't be rewarded for having such a good time. I even got to travel to Poland, Hungary and England. It simply doesn't get any better than that, and I worked with the best young people in the country. I loved them and I loved my job. It was more than enough repayment."
Although Brown won the award this year, there were three other well-qualified nominees for the 2010 LBJ Alumni Distinguished Public Service Award. Brad Livingston (MPAff 1991) is now the Executive Director of the Texas Department of Criminal Justice. John O'Brien (MPAff 1981) is the Director of the Texas Legislative Budget Board. Finally, Mike Temple (MPAff 1980) is the Program Manager for the Gulf Coast Workforce Board. Besides her fellow nominees, Brown mentioned several other LBJ School graduates who she feels deserve recognition for their roles as public servants.
"My classmate Craig Cornett has been slaving away on behalf of the State of California's solvency for years," Brown said. "Sue Stendebach is with the EPA and serves as a liaison with China. Jim Mason has worked his heart out for HHS since the 80s. And, David Hobbs was President Bush's Congressional liaison."
The LBJ School DPSA was established in 1989 and is presented annually to an LBJ School graduate whose career and public service record best represents the values on which the School was founded. The 2010 DPSA Selection Committee was composed by Camellia Falcon (M.P.Aff. 2005), board member of the Washington, DC Alumni Chapter; Jyothsna Buddharaju, (M.P.Aff. 2006); Michael Henry (M.P.Aff./JD 1997); Naila Ahmed (M.P.Aff. 2006), President of the Austin Alumni Chapter; Pooja Jhunjhunwala (M.P.Aff. 2002), board member of the National Alumni Association, Stephen Niemeyer (M.P.Aff. 1992); LBJ School Professor Angela Evans, Meghan Vail (M.P.Aff./MA Latin American Studies 2011 expected) and Fernando Rodriguez (M.P.Aff. 2005), board member of the National Alumni Association and Chair of the 2010 DPSA Selection Committee.
Brown said she is most touched by the recognition from students.
"I am overwhelmed, grateful and very humbled by the fact that some of those young graduates really believed I made a difference in their lives," Brown said. "Clearly, they would have soared without me."
For more information on the LBJ School Alumni Association's DPSA, click here.
Related:
OSAP Coordinator Courtney Brown Announces Retirement
BY Kelly Owens Pratlett