Prison Oversight, Juvenile Justice Expert Michele Deitch Appointed Senior Lecturer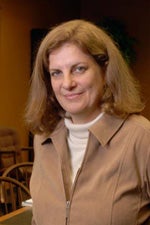 AUSTIN, Texas-- Sept. 2, 2010-- Michele Deitch, criminal justice and juvenile justice policy expert at the LBJ School of Public Affairs has been appointed Senior Lecturer. Deitch, whose research interests focus on two areas, independent prison oversight and the management of juvenile offenders, is an attorney with over 23 years of experience working on criminal justice policy issues with state and local government officials, corrections officials, judges, and advocates.
Her areas of specialty include independent oversight of correctional institutions, institutional reform litigation, prison conditions and management, prison and jail overcrowding, prison privatization, and juveniles in adult court. Her most recent publication, "From Time Out to Hard Time: Young Children in the Adult Criminal Justice System" was published in 2009 by the LBJ School and discusses why pre-adolescents, no matter the offense committed, don't belong in the adult criminal justice system. The report receieved wide-spread distribution among academics and the legal community and drew national attention to the issue of juvenile transfer to adult criminal court through mainstream media coverage and commentary on legal blogs. For more information on the report, including a list of opinion editorials, commentary and news articles on this report, visit http://lbj.utexas.edu/news/story/856.
Additionally, Deitch organized a major international conference entitled "Opening Up a Closed World: What Constitutes Effective Prison Oversight?", held at the LBJ School in April 2006. Articles and related materials from the conference will be published by the Pace Law Review in an upcoming edition.
Deitch has lectured on criminal justice subjects both nationally and internationally, provides invited legislative testimony, has organized academic conferences, is a frequent commentator in the media, and has a host of publications in the field.
Related:
UT Professor Calls for Lawmakers to Step-Up Efforts to Reduce the Transfer of Young Children to Adult Criminal Court
LBJ School Releases First-Ever Comprehensive Policy Study on Trying and Sentencing Children as Adults, "From Time-Out to Hard Time: Young Children in the Adult Criminal Justice System"
LBJ School Alumni Discuss Work on Newly Published Nation-Wide Policy Research Report Focusing on Juvenile Transfer to Adult Court