Decorated Vietnam Veteran and LBJ School Clinical Professor Howard Prince Subject of 'The Alcalde' Magazine In-Depth Career Profile
Prince's Groundbreaking Work in Leadership Development Focus of Texas Exes
Publication Feature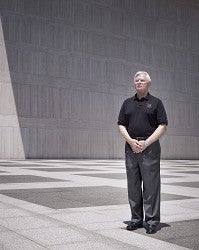 AUSTIN, Texas-- Aug. 31, 2010-- LBJ School Clinical Professor Howard Prince, Loyd Hackler Endowed Chair in Ethical Leadership, is the focus of an in-depth career profile for The Alcalde, a publication of the Texas Exes, that takes a comprehensive look into Prince's distinguished career as a member of the prestigious 1st Cavalry Division in Vietnam, as a clinical psychologist and as an expert on
leadership development.
Not only does this feature delve into Prince's distinguished professional history but also it outlines his work as a proponent of teaching leadership to students, stating that leadership isn't just something certain people are born with, but is something that can also be taught in the classroom.
From stories of how Prince's father, who only had a fourth-grade education, urged him on to academic success, to harrowing battles in Vietnam where Prince incurred injuries that led to a near year-long hospital stay, The Alcalde tells a story of disillusionment with leadership and redemption, outlining how, after Vietnam, Prince vowed to dedicate his life to dispelling the idea that leadership can't be taught.
The piece follows Prince through his time as a Ph.D. student at the University of Texas at Austin, to his return to West Point where he revolutionized the institution after a cheating scandal prompted the institution to incorporate formal leadership education into their curriculum with Howard Prince at the helm.
The feature goes on to track Howard Prince's career through his time at West Point, ending with his current work at the LBJ School of Public Affairs.
Download a PDF of the original article.

Related:
LBJ School Professor and UT Graduate Howard Prince Receives Lifetime Achievement Award from Society for Military Psychology of the American Psychology Association