LBJ School Senior Lecturer Michele Deitch Honored as Outstanding Juvenile Justice Advocate of the Year
LBJ School Professor Michele Deitch Receives Award from the Texas Criminal Justice Coalition
AUSTIN, Texas-- Aug. 30, 2010-- Michele Deitch, recently named Senior Lecturer at the LBJ School, was honored with the Juvenile Justice Advocate of the Year award from the Texas Criminal Justice Coalition (TCJC) during the 26th Annual TYC Youth Community Connections Conference on June 13.
According to the TCJC, Deitch was chosen for her outstanding expertise, research, leadership and passion in service to Texas youth, citing that her research is fueling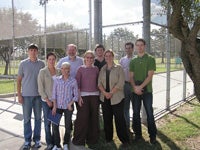 meaningful reforms in the Texas juvenile justice system.
Impacting the lives of children behind bars through countless hours of research and policy recommendations were the determinants that led to Deitch's receipt of the award, according to the TCJC. The coalition cited her ability to inspire future leaders and affect life improvements for system-involved youth and said that her academic leadership and dedication as a professor provided further evidence that Deitch was the right candidate for the award.
With over 23 years of experience in working on criminal justice policy issues, Deitch's current research focuses on two issues: independent prison oversight and the management of juvenile offenders, the latter of which is also the subject of her most prevalent publication. "From Time Out to Hard Time: Young Children in the Adult Criminal Justice System" was published in 2009 by the LBJ School and discusses why pre-adolescents, no matter the offense committed, don't belong in the adult criminal justice system.
"The adult criminal justice system is a poor fit in every way, and research shows that the practice of transferring juveniles to adult court not only puts these children at great physical risk but also compromises public safety," Deitch states in preface of the report.
Related:
UT Professor Calls for Lawmakers to Step-Up Efforts to Reduce the Transfer of Young Children to Adult Criminal Court
LBJ School Releases First-Ever Comprehensive Policy Study on Trying and Sentencing Children as Adults, "From Time-Out to Hard Time: Young Children in the Adult Criminal Justice System"
LBJ School Alumni Discuss Work on Newly Published Nation-Wide Policy Research Report Focusing on Juvenile Transfer to Adult Court